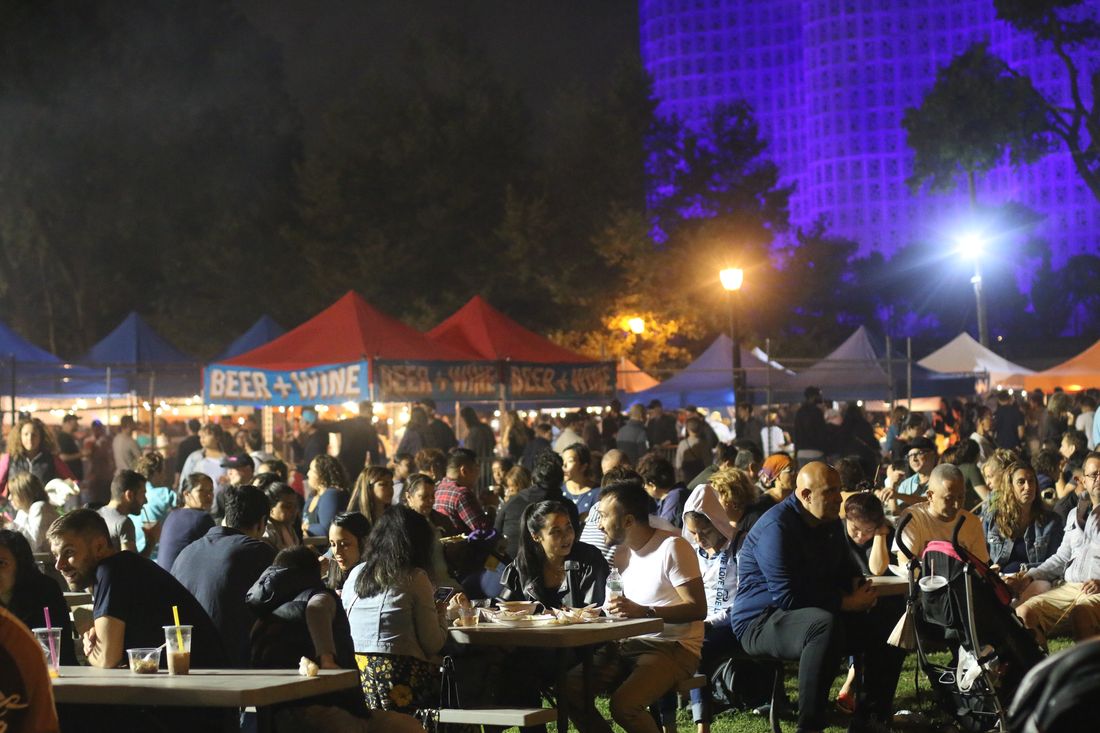 Photo: Storm Garner/Queens Night Market
It was the last Saturday of the Queens Night Market's season. Organizers were prepping for the annual Halloween costume contest. Vendors were hoping for big business, and one, Baba's Olives, had come to offer a "taste of Palestine" with dishes like musakhan (sumac-spiced roasted chicken) and to share a message, via a sign affixed to its tent: "Your tax dollars are funding the genocide of Palestinians. End the occupation — Free Palestine."
The sign stayed up until, as recorded in a widely circulated video, it didn't. The market's founder, John Wang, says he learned of it after a few customers complained to the info booth. "The gist was, one, 'We don't feel safe with that sign up,'" he says. "Two, 'We feel uncomfortable with that sign up.' Three, 'This is not the place for that kind of message.'"
Around 8 p.m., security asked the Baba's Olives owner, Tala, who requested she only go by her first name, to take it down. She refused. Wang got involved. "I said, 'No, this is a form of censorship,'" she recalls. Wang had security take it down. Customers put it back up, and Wang had the sign removed. "This is Queens, bro. That's fucked up," the person recording says.
Since it was launched in 2015, the Queens Night Market has been celebrated as a representation of an idealized New York: diverse, accessible, and affordable, a place for immigrant and refugee cooks to make their food and find a platform. The majority of vendors hadn't run their own food business prior to the market, and many haven't cooked professionally before, like Tala, who does this on top of her full-time job. She started Baba's Olives in 2018 as a hobby, using olives bought from Palestinian farmers in Nablus and the motivation from realizing she couldn't find olives like the ones her grandfather would marinate. In 2021, it became an official business.
After the sign was removed, Tala says she gave away the rest of her food and talked to customers about what happened. They left once they ran out, around 10:45. In the Instagram post, shared on Sunday, she wrote that the market had censored her and that Wang wanted the sign down "because it is 'political.'" Wang says she violated her vendor contract, which requires all signs to be submitted for preapproval. "They're free to comment as they want with the customer," he says. "Had we not touched the sign, I think it's very possible that we would have had an outcry in the other direction."
Since then, Wang has received outraged messages. "Some bucket of responses we got were like, 'You are inhibiting free speech,'" he says. "I'm like, 'Well, the intent of the Queens Night Market is not to provide a platform for free speech.'"
Muslim Foodies, a food-influencer account, wrote that taking down the sign "devalues all that the Queens Night Market supposedly represents." The Halal Guide, another New York–area account, called for a boycott. Vendors appear divided. "A lot us at Jhal are pretty fucking mad at what just happened. Me, I'm debating whether I want to vend there again," says Shah Miraz, who is part of the young crew behind Jhal. Described as a "social enterprise venture," Jhal has popped up at the market selling Bengali snacks like jhal muri and fuchka. Baba's Olives supporters pointed out that another vendor fundraised in times of heightened political conflict: Blintz Box, which raised money for Ukrainians amid the war.
Other vendors say they felt Wang made the right call. "I agree that Queens Night Market should not be a place for politics," said Nigel Sielegar of Moon Man, which sells Indonesian street foods and sweets. "If the language is not so inflammatory, I can tell you, it wouldn't have been a problem."
"'If they're taking this offensive, it's a fact. This is reality. This is what's happening,'" Tala says she told Wang. "And I implored him to not silence a group of people in a community that is always silenced, and I implored him to let us use the space to talk about the genocide. And he said no."
Since that Saturday, Tala has maintained that she won't return to the market. She isn't calling for a boycott because of the impact it will have on other vendors. But, as she sees it, Wang made a choice. "You prefer backlash from the pro-Palestine movement because we have so much less power," she says. Her thoughts are elsewhere, but she remains anxious about what she feels is an inevitable doxing campaign — just for putting a sign up.
"I just feel like it's not a matter of will they come for me," she says. "Obviously, I think all of these arguments that they make, calling people antisemitic, make no sense. There's no logic, there's no basis. But they could come for me, and even if I don't get fired, they could completely slander my reputation."
This post has been updated to clarify that only Blintz Box raised money at the market.