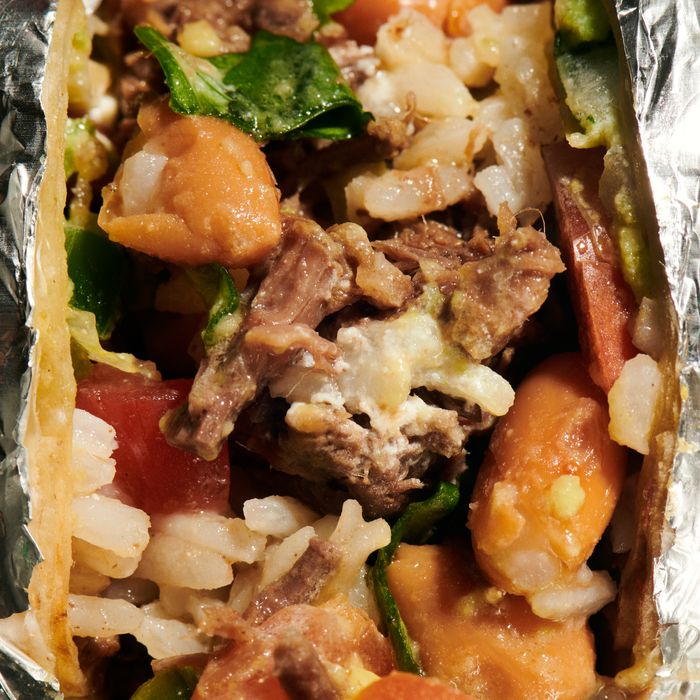 Tacoomar's beef burrito is imposing and impressive.
Photo: Hugo Yu
Earlier this year, a new taqueria appeared in a narrow storefront in Windsor Terrace. From the outside, Tacoomar gives no indication that it is among the growing number of great Mexican spots popping up around the city — Taqueria Ramírez, For All Things Good, Sobre Masa — but I recently realized that I had been overlooking this hidden gem after ordering the ridiculously simple beef burrito.
A good burrito is, in and of itself, a perfect meal: warming rice and beans sit alongside bright salsa and rich guacamole. When it's made with care, and in the proper proportions, there is nothing better.
Tacoomar's beef burritos start with skirt steak, which is braised in well-seasoned jus for five or six hours until its natural flavor is concentrated and the meat pulls right apart. Pinto beans are tender and scattered alongside white rice for bulk and absorption, with — and this is the most important part — an equal amount of chopped tomato, onion, and jalapeño, pico de gallo that's chopped to order. Next: lettuce, sour cream, and guac are distributed across the cylinder, making sure there is a little bit in every bite of the soft flour tortilla. It may be the best way to spend $15 on lunch and likely dinner, too.
Somewhat surprisingly, Tacoomar's owner, Omer Gormus, is from neither the Baja peninsula nor Northern California. Instead, he was born in Turkey, and this is his first time cooking Mexican food professionally after a two-decade career spent cooking mostly Italian and Mediterranean food in the city's restaurants. He now lives in Windsor Terrace and says that he "saw the neighborhood needed a taco shop." Instead of waiting for someone else to come to the same conclusion, he decided to open it himself.
He didn't grow up eating birria or al pastor tacos, but he keeps his menu simple and focuses on freshness, evident in even little touches like his salsa verde. His recipe — Kermit green in shade — favors jalapeño and garlic, without the mellowing influence of tomatillo. There is a sharp and lingering heat and a brightness that pops against the warm, soft steak.