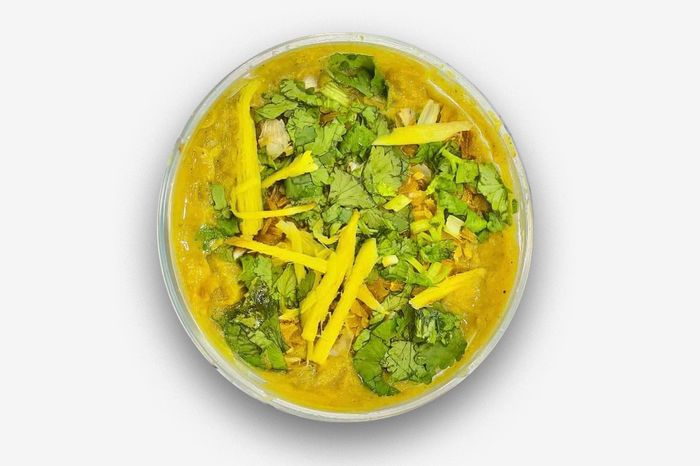 Shingara's haleem.
Photo: Shingara
In the corner of Kensington known as Little Bangladesh, there's a tiny takeout spot called Shingara. It's located steps from the stairs to the Church Avenue stop, on the quieter half of the intersection with MacDonald Avenue. Across the street, crowds gather at neighborhood spots like Radhuni and Ghoroa. Shingara has no room for tables, but you should always make room for their food. The shop specializes in fried snacks like the namesake shingara, cousin to the samosa, and fuchka, deep-fried shells of bread with fillings like shredded egg, potato, and onion. But the best thing here is haleem, a heavily spiced stew made with mutton, beef, or lamb and variations of cooked-down lentils, wheat, chickpeas, yellow split peas, rice, and more. At Shingara, this dish is the destination.
The version here is very creamy, with traces of cardamom and a faint heat, garnished with a flurry of cilantro and fried onions. The chunks of beef are tender, and the lentils cooked satisfyingly smooth. What makes the difference, though, is a hit of lime. "I'm surprised by the haleem because I've had shitty haleem at so many places. This is probably, honestly, the best haleem I've had in New York," says Shah Miraz, a Bangladeshi American photographer who was raised on the Lower East Side. "In Bangladesh, too."
For Shingara's owner, Murad Bhuiyan, the secret to the haleem is simple: "People can take shortcuts and not add spices, which is needed. We don't do that. We put everything, whatever is needed." A native of the port city of Chittagong, he moved to New York in 2014, first to Kensington and then Long Island. During the day, he works for Northwell Health, and his work in health insurance has brought him to other parts of the city including the Bronx, where he found a lot to like in the Bengali restaurants of Parkchester. In 2021, wanting a place of his own, he opened Shingara. The cooking is done by a mix of full-time employees — including Ali Ahsan Al Fahad, who says they divvy it up based on specialization — and other people who provide the shop with some of its snacks. (One person for the shingara, another handles the dim paratha — a flatbread with egg — and gets called up whenever the shop is running low.)
For Bhuiyan, the small size of the storefront was appealing: "In our country, in Bangladesh, we have lots of snacks and stores like this," he says. "I used to go to those stores, have snacks on the street, and go away. It's like one, two, three. I always wanted to have something like that." (He says he's thinking he might want some room for tables now, though.)
Nothing at Shingara costs more than $12, and a whole lot of it is less than $3. The snacks are fried to order; it's worth the extra wait. Dal puri are light and puffy, chicken samosas drip with juice. As for the fuchka? They're as good as any you'll find at the Corner of Fuchka and Fuchka in Jackson Heights, the center of fuchka activity in New York City. The shells are thin and crisp, but sturdy, and not overstuffed with their filling of shredded eggs, potato, and red onions. Or, opt for the doi fuchka, a variation that comes dressed with a tangy, thin yogurt.