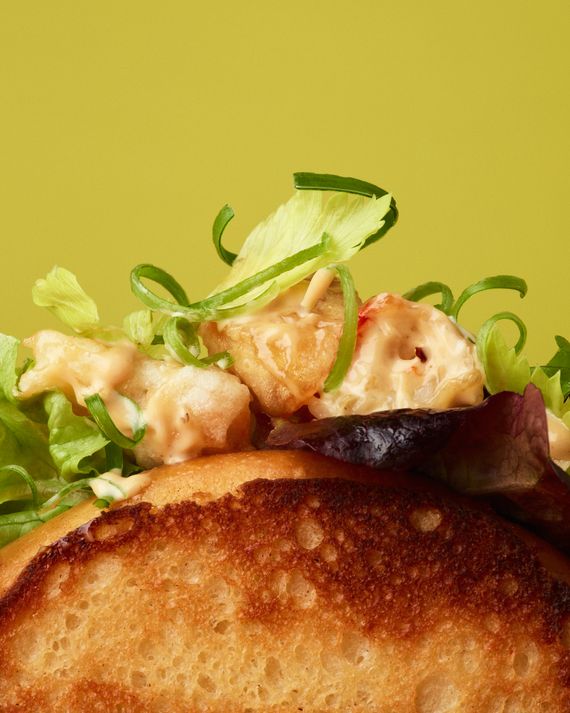 Last time we checked in on Figure Eight, the American-Chinese restaurant taking over the former Pearl Oyster Bar space at 18 Cornelia Street, chef Calvin Hwang was weighing one very important question: Given the restaurant's focus on seafood, and the historic significance of the space, would his kitchen be willing to offer some kind of lobster roll as a kind of homage to its former tenant and chef, Rebecca Charles?
Charles, after all, had been close with Figure Eight co-owner Emmeline Zhao, given that the latter runs Silver Apricot with chef Simone Tong right next door. When Charles was ready to retire, she offered the space to Zhao. "She wanted it to go to a good home," Zhao says.
Given this, the restaurant will make its debut tomorrow night with its own version of a lobster roll on the menu: Hwang first fries lobster claw and knuckle meat before tossing it with lobster mayo, fermented black beans, daikon, and celery for crunch. The mix is tucked with a bit of lettuce into a mini toasted milk bun. It is decidedly snack size, a couple of crustacean-y bites for $18. Hwang credits the bread — baked by pastry chef Janice Sung — as the thing that convinced him to add it to the seafood-centric menu that is simultaneously Chinese, southern American, and New England depending on where one looks.
The seafood tower is particularly impressive, with lobster tails, stone-crab claws, and composed dishes like jalapeño-pickled mussels and shrimp cocktail served with "shrimp ketchup" that's seasoned with Chinese horseradish. There's also a whitefish dip inspired by Shanghainese smoked fish, where just-fried seafood is placed in a soy-sauce marinade and served cold. Hwang's take entails curing whitefish in soy sauce before smoking it and adding mayo and crème fraîche to serve alongside fried saltines.
Beyond the raw-bar bites, larger plates will be served in the semi-enclosed dining room. You can order a half or whole soy-poached chicken with stir-fried collard greens, directly inspired by the adaptations Zhao's parents made as Chinese immigrants cooking in North Carolina.
Hwang, meanwhile, comes from New Jersey and Figure Eight is his first executive-chef role. It's also the first time his parents have eaten anything he's cooked professionally. "They're a little older" and committed to their ways. Hwang says that the dishes he made at restaurants such as Crown Shy and Saga held little appeal for them, but they were taken by the "breakfast chowder," made with clams and soy milk and served with sourdough youtiao, when they tried it at a pre-opening dinner for Figure Eight.
Though the menu pulls from a variety of different spots, Zhao cautions against using the F-word to describe her restaurant: "Fusion is a deliberate combination of cuisines that don't necessarily go together," she says. Figure Eight's goal is instead to find and highlight the similarities of these styles. It helps that the team is made up of people who worked in high-caliber kitchens such as One White Street, Eleven Madison Park, and Nomad. "We're like the white-tablecloth retirement home," she laughs. "Food aside, I walk in every day and we have an incredible Asian American team."
For Zhao and Hwang, it was important to find people who understood the kind of hybrid cooking they wanted to offer. "You just want to be surrounded by people that also have very like-minded goals and visions," the chef says.