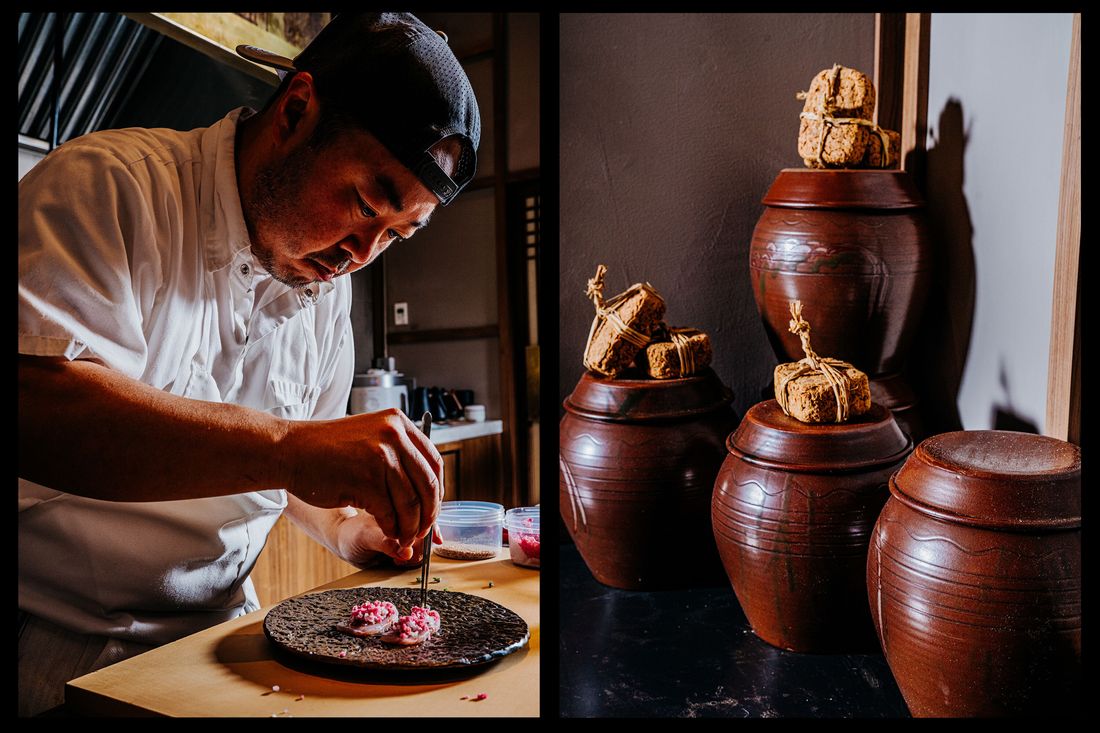 Hooni Kim's Meju employs ancient fermentation techniques as the basis for its modern Korean cooking.
Photo: Janice Chung
Was this my Ratatouille moment? I was wet, cold, and running late to dinner. I had just returned to New York from Seoul earlier this week when I herniated my back. Then came the rains, another reminder that we're just one meteorological disaster away from infrastructural collapse. The subway wasn't running; we got stuck in traffic. Still, I made it to Meju, Hooni Kim's intimate eight-seat chef's table in the back of Little Banchan Shop in Long Island City, just as the first course descended, a pale, custardy tofu with a bright-red accent of gochugaru, chives, and poached mangadak (shimeji) mushrooms. The waiter then poured a broth of dwenjang-guk, a fermented soybean paste stew, that returned me to my senses. "Happy Chuseok," Kim said, as I took a deep sip of the copper-toned broth: earthy and dank with an enlivening minerality and kick of spice. I felt a time skip in my gut.
The dwenjang came from his 2015 batch. Meju refers to the dried blocks of soybeans tied with dried rice stalks that, in a bustle of probiotic activity, eventually yields the three pillars of Korean cooking: dwenjang, ganjang (soy sauce), and gochujang (fermented red-pepper paste). With Meju, Kim lights another path for Korean fine dining in New York, one built around time and a relationship with the earth. Meju elevates the familial relationship to food, where each house would have their own field of jangs to draw from. "I was born to cook, but not born to cook in a New York restaurant," says Kim, who also opened Danji and Hanjan over the past decade. "I designed Meju so it makes you feel like you're visiting me at my home." (The speakers come from his house, which is across the street.) He only does one seating a night, three nights a week, in part so dinners can linger into the night.
The food served over the next couple of hours traces the development of his philosophy: He'll speak of his mentor, a Korean medicine man that he makes jangs with, and how he learned to stop "chasing flavor." Next was ganjang, and he prepared a variety of jeons delivered piping hot from the frying pan, just like mom would, including a molten zucchini coin, golden pollack, and yukjeon, a thin slice of beef battered, fried, and brushed with a 128-year-old soy. Instead of caviar, he dabbed some of the century-old soy sauce onto the backs of our hands. For two ssamjangs — a mix of dwenjang and gochujang that Kim also adds walnuts to — there's a bouquet of lettuce, perilla leaves, and vegetables, an array of banchan, and servings of strip steak and galbi. After that there's pork belly and kimchi jjim alongside a bowl of white rice and a fried egg: The lobes of cabbage are soft with that sweet sourness kimchi acquires after too much time in the jar. There's nowhere to hide — no MSG, caviar, or truffles. All of it is astonishingly honest food. "I made Meju as a response to Jungsik, Atomix, all that," Kim says.
Meju is unlike any of the modern Korean fine-dining establishments that have recently ascended in a sea change that the Times' Pete Wells recently wrote "brings to an end the unquestioned supremacy of French cuisine that lasted for decades." Still, the European and New York influences of this cohort are unmistakable: graduating from the CIA followed by time in kitchens like Le Bernardin. It was while working at Zuberoa in Basque country, after stints at Aquavit and Bouley, that chef Jungsik Yim said he had the idea for "new Korean cuisine" that would become Jungsik. After Jungsik opened in Tribeca in 2012 and became Michelin anointed, his style of cooking has become paradigmatic for a generation: Familiar Korean dishes or ingredients get spun through the deconstructive impulses of molecular gastronomy and French technique. They're bolstered with agar, whipped into foams, folded into béchamel, and topped with caviar, uni, or truffles. "I'd like to give the message that Korean food is not just kimchi and Korean barbecue; far, far from it. Korean food has limitless possibilities," Yim has said.
On a recent visit to Jungsik, the food could get lost in this contradiction of cosmopolitanism: If Korean food can be anything, then what is it? The meal began with "banchan" — referring to the diverse array of small plates that often crowd the table — that consisted of five amuse-bouches, each atop its own white pedestal. Most were overfamiliar, like yet another beef tartare with truffle and brioche, save for a steamed egg custard with green threads of seaweed that tastes like a creamy bit of ocean. Too often a course was blandly decadent, like a just-cooked langoustine topped with caviar (of course) over a dongchimi emulsion, where the pickling liquid lost the specificity of its character. When their famous octopus dish arrived, a single tendril curled around a blob of orange-hued gochujang aioli, my dining companion and I went on the hunt for the alleged pepper. The dish is an abstracted version of nakji bokkeum, where the mollusk is stir-fried over high heat with a ton of alliums and enough gochugaru to kick you in the back of the throat. Here, there was little trace of the determining flavor; the original reference was far, far away.
I felt similarly when I ate at Jua, the restaurant by Hoyoung Kim that he opened after working at Jungsik for eight years. There are some delicious bites — crisp cylinders of seaweed wrapped around truffled rice, pickled yam, and beef tartare, topped with caviar in a bite of land and sea — but the restaurant, which touts a wood-fired grill, lacked any of that elemental proximity. Galbi was a fan of wet, limp slices of beef that looked as though it had only seen the interior of a sous-vide bag. There was no sign of the smoky caramelization fans crave from Korean barbecue.
The best meals working within the new Korean genre have come from JP Park (another Jungsik alum), who along with his wife, Ellia, have opened a murderer's row of excellent restaurants ranging from fun fancy to chaebol fancy: Seoul Salon, Atoboy, Naro, and Atomix (in that order). With the Park's restaurants — all part of their hospitality group, Na:eun — there are often delightful Proustian feints. Dongchimi appears in a clearer expression at Naro, where the vinegary brine is frozen and shaved over octopus naengchae. Combined with the scent of mustard, it reminded me of naengmyun, a cold buckwheat noodle soup. A hunk of lotus root was braised in dark soy before being scored to resemble duck breast, so rich that the waiter said I wouldn't even think about the wagyu course I could have had instead. On the whole, their vegetable cookery is on another level, and their vegetarian tasting menu ($165 for dinner) is, bite for buck, the best I've had in the city.
It's why I have trouble with Atomix, particularly at a pre-tax price tag of $395 to feel that it is more than a beautiful intellectual exercise. As part of their practice, the servers deliver each dish along with a beautiful card that describes the food and its inspiration. "It is difficult to surmise or define Atomix's cuisine in one word," reads a card for a Japanese butterfish with scallop XO sauce. "But there is one guiding principle that has been consistent in our research and development, in creating the flavor experience that marks the signature Atomix experience. This singular principle is 'balance.'" Indeed, no note overpowers another. White kimchi, already milder than its crimson counterpart, is transformed into an airy espuma with crème fraîche; smoked tomato mingles with the natural sweetness of crab meat. These are the subtle pleasures of restraint.
To be clear: This isn't about that old bugbear of authenticity. Whether the miniature everything bagel made of meringue and salmon roe I had at Joomak Banjum is supposed to be "Korean" is beside the point. I'm glad so many Korean chefs have found a foothold in fine dining in New York, but am dismayed by the same-saminess of the food. Eating these tasting menus for the better part of the year, I sense a certain hesitation to really paint with the full palette of Korean flavors. During a visit to Seoul last month, I frequented Bokdeokbang (the word for realtor), a neighborhood spot in Mangwon featuring natural makgeolli. The proprietor, Sunggoo Kang, sources natural rice wines around the country and even makes his own; his mother cooks in the kitchen. The food, like a buckwheat pancake rolled and pressed around a kimchi mandu stuffing paired hand-in-glove with a makgeolli from Gimpo he described as "a walk down the produce section." Selfishly I wanted him to open a place like this in New York; he said he would think about it.