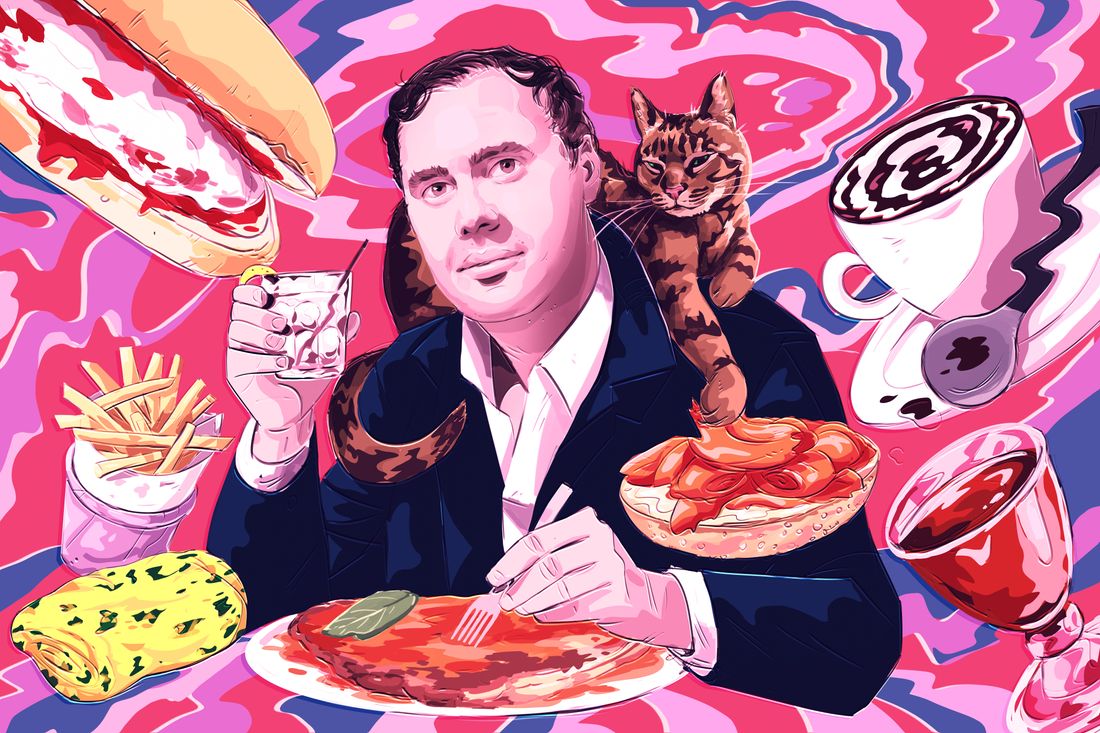 Byrne (and his cat), sharing a bite.
Illustration: Ryan Inzana
When Mark Byrne launched Good Vodka (with his business partner, Tristan Willey) in 2020, it marked a pivot away from his previous food– and travel-writing career. Though for Byrne, the change was hardly sudden: "There was a long lead time. We spent five years in R&D on the project. I was writing and consulting, but I was also in the background diving really deep into coffee production and supply chains." Good employs spent coffee fruit to produce its alcohol in an ecofriendly process that required its co-founders to make many trips to South and Central America, travels on which Byrne couldn't quite turn off his inner reporter. "I would be walking around Bogotá with my Notes app open, looking at the crowd, asking about the cool restaurants I need to see," he recalls. "I did that six or seven times before I realized I wasn't using that information because I wasn't there to write about the five best places to eat."
Tuesday, October 17
I took an Amtrak into the city from our house upstate. I co-own a small ecoconscious alcohol company, and tonight we're providing cocktails for a panel discussion on sustainable fabric production at Mara Hoffman's store in Soho. My business partner, Tristan, is a real, skilled bartender; I'm just some guy. But Tristan is out of town, which means I'm pretending to be a bartender for the night. I spend the morning gathering ingredients to pre-batch Tristan's spec for a Cosmo Spritz and then start mixing.
While I'm working on the cocktails, our friends Dan and Sarah come by our place with their sweet, tiny, week-old baby. They live one block from us in the West Village, and we discuss an age-old question of our particular corner of New York: Do we actually like Cafe Cluny, or is it just, like, right there? I suspect that about 75 percent of the restaurants in New York City survive on this particular ambiguity. Before the pandemic, I would go to Cafe Cluny for lunch three to four times a week. I take a lot of meetings there. Dan proposes that it's too expensive for what it is, which feels fair, but this is Manhattan: "Too expensive for what it is" is written in rat's blood on the stoops of our walk-ups.
Dan and Sarah leave around 2:30, and my wife, Ali, has errands to run, so of course I head across the street to Cafe Cluny for a late lunch. And when I get there, who do I run into? Dan and Sarah. "All that talk …" Dan concedes.
I sit at the bar and order an omelet with chèvre and spinach and a side of fries. I get an iced tea as well because I'm trying to make peace with the fact that iced coffee makes me feel terrible. I drink approximately 26 glasses of water. Every time the bartender refills my water glass, I drink the entire thing right away. I am aware this is annoying to wait staff, but it's a compulsion. I can't chew food without a water chaser. I probably drink a couple of gallons of water every day. After lunch, I have a single espresso. Cafe Cluny makes the worst espresso in the City of New York, which is part of what gives the place the charm of an authentic Parisian bistro.
Late afternoon, I pack up my cocktail ephemera and head to the event. I get there too early to be useful, so I leave my things at the store and walk up the block to La Colombe. When I first moved to the city, I worked weekends at the original La Colombe location on Lispenard. We are now at least 15 generations of baristas removed from my tenure there and La Colombe is a much different company than it was back then, but I still feel a kind of loyalty to the café and a kinship with its baristas. I get another espresso because I'm going to be standing for the next three hours and think it'll be good if I'm also fidgety and shaking.
I make about 60 spritzes and highballs. I soapbox about sustainable supply chains for anybody who asks. I sip, throughout, one small can of Perrier.
After the event, I duck into Jack's Wife Freda on Lafayette for dinner. I like Jack's Wife for two reasons: (1) because Dean Jankelowitz, the owner, was the maître d' at Schiller's back when I was a regular there, which is to say we know each other from a lost version of New York, and (2) because they have a sandwich called a Prego Roll on the menu that is, in my estimation, a perfect sandwich. It's steak and butter on a roll. I have an aversion to mayonnaise, so when I find a place that's willing to honor a sandwich in its purest form (i.e., they don't ruin it with mayo), I have to pay respect. I also ask for a side of the housemade green salsa, and I dip each bite of the sandwich like a French Dip refracted through the passport-control line at JFK. I drink an amaro-and-soda and probably 112 glasses of water.
Wednesday, October 18
I wake up an hour before Ali and make myself a Nespresso pod. I like every type of coffee; I am not picky. I like watery, burnt airplane coffee, and I like $9 pour-overs. I have visited somewhere north of 100 coffee farms in a dozen coffee regions (my company upcycles discarded coffee fruit to produce alcohol), so I can say this with some degree of occupational authority: I have never met a coffee I won't drink.
Ali eventually emerges from the bedroom while I'm on a work call. She leaves the apartment and comes back with a latte for herself and a slice of banana bread for me. The banana bread is from Blank Street. I am unnerved by Blank Street. Its coffee is fine (see above), but there are too many locations and they all seemed to open too rapidly. Anyway, the banana bread is good.
For lunch, Ali and I walk over to the Sweetgreen on University. I get an Elote Bowl (predominantly corn, arugula, and chèvre). I drink a can of sparkling water, too. Afterward, we go next door to Blue Bottle, and I get a single-origin espresso. The barista tells me the origin in question is Mexico.
Ali and I go to dinner at Cervo's. I have the half-chicken dressed in a spicy piri piri seasoning, which is one of New York's great chicken dishes. Piri piri is debatably a Portuguese concoction, though the peppers themselves are from East Africa (peri is a Swahili word for "pepper") and it is extremely popular, present-day, in southern Africa. (See: colonialism.) I spent part of my childhood in Kenya and Zimbabwe, so piri piri hits a very particular nostalgic pleasure point for me. We are old friends with Nick and Leah, who run Cervo's, but even if we weren't, we'd probably go all the time. We also split a salad of pea shoots, watercress, and cave-aged chèvre to start. I wash it all down with back-to-back 50-50 martinis. They make the martinis for me with Good Vodka, even though the drink on the menu is supposed to come with gin. In addition to my martinis, I consume enough water to suspend an adult whale.
We stop at Nine Orchard on the way home. If I walk by a place that serves our vodka, I typically go in and order a drink. We're on the menu here in an espresso-martini variation called the Midnight Reviver, which is delicious, but drinking espresso at 10 p.m. is an activity best reserved for people half my age. I order a 2:1 martini instead. I drink most of it, but I never finish my last drink of the night, no matter how good it is. The last drink is always the one you regret. Not me.
Thursday, October 19
Ali and I grab breakfast at St. Jardim. I get a plate of scrambled eggs, which comes with three half-slices of toast. I spread the butter on the toast and pile a bit of egg on each bite, kind of like a spare, open-face egg sandwich. I also have an espresso. They serve espresso here with a little chaser of seltzer, which I love because the only thing better than having a lot of water is having a lot of water in multiple varieties.
I sit through a few calls at home and then rush to Penn Station to grab a train back upstate. I have to drive from Poughkeepsie up to Red Hook to drop off a bottle of vodka for a bar manager, which means my route passes through Rhinebeck. Along the way, I stop at the new C. Cassis tasting room. It's open to the public on weekends, but I want to say hi and congratulate Rachel, the founder. The space looks great. I trade Rachel some vodka for a bottle of cassis.
On my way home, I stop in Kingston at Fletcher & Lu, which is a cute new market of the shoppe variety. The couple who opened Fletcher & Lu also have a pizza place in High Falls called Ollie's. I'm at Ollie's all the time. Every millennial in Ulster County who drives a hybrid SUV is at Ollie's all the time. Ollie's is my favorite place to test the boundaries of my Ashkenazi lactose intolerance. I'll probably go there this weekend. But today at Fletcher & Lu, I just pick up a semolina baguette and some "deli ham," which looks, in the display case, far nicer than any ham I've ever seen in an actual deli. Even though I'm not really a soda guy, I also grab a can of Cel-Ray, almost entirely because upon seeing it, I said, out loud, "Oh, they have Cel-Ray!"
I get home around three. As I walk in the door, Mimsi, one of our cats, greets me by squealing frantically until I give her a handful of bonito flakes. (She is not aware of how to meow, so instead she squeals like a beautiful little pig.) Mimsi will squeal and squeal until she gets her bonito flakes. She also gently stomps her feet while she's squealing. There's no resisting this. You just have to give her the flakes. As I'm opening the bag, her brother, George, bounds down the stairs. George doesn't squeal like a pig or stomp his feet, but he is a lifelong co-beneficiary of Mimsi's efforts.
As they eat, I make myself a sandwich. I split the baguette, smear some butter on either side, add flaky salt, and pile on the ham. A perfect sandwich. I crack open the Cel-Ray, too, but it tastes sweeter than I remember and the novelty wears off quickly. I only have a few sips.
After lunch, I pull a Nespresso shot directly into a small glass with ice cubes and a couple of ounces of tonic, my typical afternoon pick-me-up. I like this drink because it tricks my lizard brain into thinking I'm having an iced coffee.
Ali is still in the city, so for dinner I make my husband meal: a bowl of rice with some crisply sauteed broccoli and onions. At the last minute, I throw some garlic and ginger into the pan, too. I top off the bowl with enough Fly By Jing Sichuan Crisp to make me hallucinate.
I know this week contains no proof of what I'm about to say, but I am actually a pretty good cook — not particularly inventive, but I've worked in kitchens and I have a baseline understanding of how to turn a bunch of pantry items into a satisfying meal. That said … tonight is a rice-bowl night. I eat it, smoke one millimeter off the end of a Drew Martin botanical joint, and watch literally the worst movie I can find on the streaming apps.
Friday, October 20
I wake up at seven, pour myself a bowl of cinnamon Kashi, and add oat milk. I pull a shot of Nespresso. I drink a liter of seltzer. Mimsi sits on a stool next to me during breakfast. This is a typical morning upstate.
Ali gets home a little before noon, and we both hunker down in our offices. Some repair guys are in the basement working on our boiler, so the hot water is off. I have a break between calls, so I drive into the village of New Paltz to pick up lunch at Green Bar. I get Ali an açai bowl and myself a smoothie called the Go Nuts, which has banana, peanuts, spirulina, and almond milk, plus some hemp protein powder for good measure. New Paltz presents as a quaint rural village with fussy little historic stone houses, but it's primarily populated by college students and old hippies. This is why there are more vegan and vegetarian restaurants than greasy diners. I love it.
Around 4 p.m., I have my tiny espresso-tonic concoction, and at five, I lead a quarterly board meeting for my shareholders, during which I drink two liters of seltzer. Ali and I are both buried in work and too tired to figure out groceries, so we end up at Darlings, a restaurant that opened last year in Tillson. I get barbecued chicken, which comes with collard kale, celery-root mash, and a biscuit. The chicken is good; the celery root should have been a potato.
I also get a pint of Guinness and drink enough water to receive a cease-and-desist from the hamlet of Tillson.
Saturday, October 21
We head up to Stone Ridge for coffee and breakfast at Black Dot. The folks who run Black Dot — a young couple from Kingston — make great coffee. Their shop is whitewashed wood and minimal decorations and great ceramics, and honestly, it feels more like it should be on Abbot Kinney than on the one-stoplight street in the Catskills town where [redacted] has a hobby farm. But it's perfect, and we all love it, including [redacted]. I get a breakfast plate, which is a split baguette, well buttered; a single sunny-side-up egg with a glowing, jammy yolk; and lettuce. I drink an espresso. When I get home, I eat a tart-cherry THC mint from a brand called Kiva and work on budget projections.
Midafternoon, I head into the village of New Paltz for a hot-girl walk, then on my way back, I stop at Karma Road for smoothies to bring home. I get something called a Wake-up Call, which is coffee, peanut butter, banana, cocoa, and agave, though I get mine without the agave and I add hemp protein. I am well aware that another infusion of coffee today is probably pushing it, but live by the sword, die by the sword, you know?
For dinner, we meet our friends Heather and Marty and their three daughters at Ollie's. The adults at the table split a Purple Rain pizza (a white pie with radicchio, garlic oil, and chili flakes), a quartered chicken-parm sandwich, broccolini, a couple of arancini, and a Caesar salad. The kids pick at a stracciatella pie and then go absolutely insane when they get the chocolate turtle pudding for dessert. I have a drink called an Americano Arancio, which is orange wine, cinnamon, lemon, and seltzer. Actually, I order two because it's delicious, but I only have a few sips of the second one. Ollie's is a kind of town square for the triangle of villages up here between Stone Ridge, Kingston, and New Paltz. It would be a top-tier restaurant in any city in the United States. The couple who run it, Sophie and Innis, are almost always around — tonight, Innis is manning the expeditor station and Sophie working the floor. They always take good care of us, and in return, we give them nearly all of our money.
When we get home, Ali makes tea and I engage in my favorite nightly wind-down activity: drinking my body weight in seltzer.
Sunday, October 22
Ali and I wake up late and head into Kingston for breakfast. We end up at Village Coffee and Goods, and I order the frittata of the day (sweet potato, red pepper, ricotta, fennel) as well as an espresso. Right as I'm about to pay, something called a "croissant twist" catches my eye — pepper, garlic, cheddar — so I order that, too. It's outrageously flaky. A former boss once advised me that croissants are not meant to be eaten in public, but I find this to be an impossible rule to live by.
Village Coffee and Goods is like 80 percent café and 20 percent grocery store; its sister spot, Village Grocery and Refillery, is the inverse. We stop there for provisions on the way home. We also stop at the Meat Wagon, a local butcher around the corner from the Refillery, then head back to our place.
We have a lazy Sunday. Around three, I make my tiny espresso-tonic and then start working on dinner prep. I'm cooking Bruno's Lamb Stew tonight. Bruno was the chef at the Beatrice Inn, the Italian restaurant in the West Village that Ali's family ran for about 50 years. (Ali and I both grew up in and around restaurants, but she comes from front-of-house stock so the division of labor in our family is that I cook all the food and she picks out the wine.) Her mom sent me Bruno's stew recipe a while back, and it became a favorite cold-weather, slow-weekend dish. As transmitted by my mother-in-law, the recipe is wholly lacking in specifics. "Start with as much cubed lamb as you like," etc. I have never figured out how to make a volume of this stew appropriate for two people; tonight's batch is easily sufficient for a family of ten. Nonetheless, this being a combination of (a) good lamb and (b) fresh vegetables with (c) lots of chopped herbs and (d) a healthy pour of white wine, it always tastes delicious. We eat it with a baguette and drink the rest of the wine, a Bourgogne blanc.