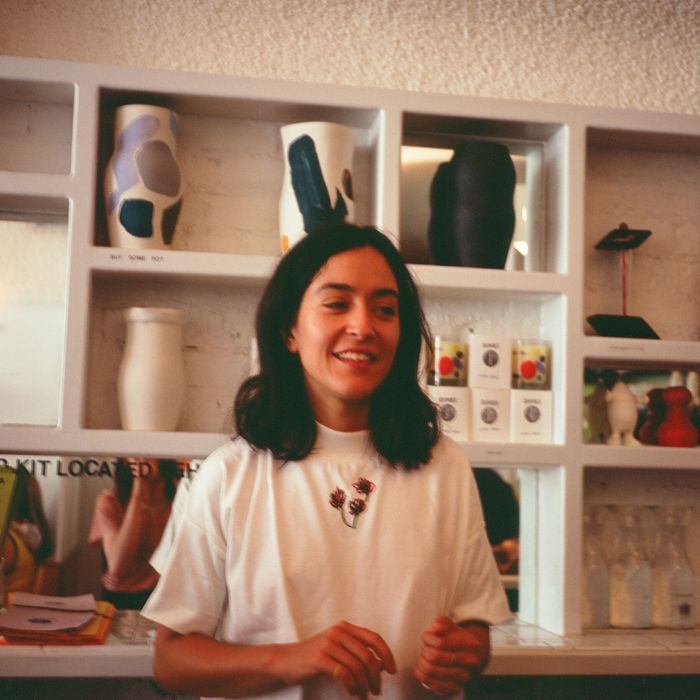 Dimes owner Sabrina De Sousa.
Photo: Meetka Otto
A few weeks ago, a young couple was walking along the eastern tip of Canal Street, one of them toting a guidebook. They stopped outside of Dimes, the all-day downtown canteen, and looked up. They posed for a picture, snapped it on their phones, and then kept walking, apparently content to see the landmark they'd been seeking before moving on to the next attraction.
When it opened ten years ago (in a smaller space on Division Street, 300 feet away from its current storefront), Dimes felt like something radical, a restaurant that had been airlifted in from Venice Beach or Echo Park and dropped into Chinatown. Talk of its clientele often overshadowed discussion of its food, but both — everyone agreed — were beautiful. When people did talk about the menu, they inevitably compared it to Sqirl, the L.A. hot spot that opened in 2012 and instantly became a magnet for celebrities and food influencers. There, people lined up for toast with ricotta and strawberry jam. Dimes, meanwhile, specialized in something more foreign to New Yorkers: bowls, usually dyed purple with açai and topped with granola, yogurt, or other berries. The cooking, at first, was compared — not uncharitably — to "hippie food." But the owners of Dimes were not from Malibu or Boulder or even Miami. Sabrina De Sousa and Alissa Wagner were from New Jersey; they'd worked in the city's restaurant scene, and they said from the beginning that they were not trying to cultivate any kind of scene at Dimes — they just wanted a place where they could hang out with their friends. Their friends just happen to be beautiful. (The restaurant's name is a winking reference to its clientele, all of whom are treated like perfect tens.) The opening of Dimes coincided with the rise of millennial-pink everything, CBD shots in bodega coffee, and glowing neon signs promoting Good Vibes Only. "Instagram was still kind of early," says Sophie Helsby, a partner who joined a year after the restaurant opened, "so I think it was that point in time when it was primed to become a little bit more ubiquitous around having pretty food."
De Sousa agrees that "ubiquitous" is the perfect word to describe the Dimes bowl — for better or worse. "I'm not going to lie, there were times when I hated that was on the menu," she says, "because I was like, 'Oh, you can get that anywhere — it doesn't feel as special.' It was like, it's out of fashion in a way." Today, she's willing to concede that she's come back around on the bowl: "I'm happy we really stuck to the menu."
If "beautiful" was the word that defined Dimes during its early days, "consistent" is the term that I think of now. During its decade in existence, Dimes has stayed the same; it's the rest of the world that changed — most immediately visible in the blocks that surround the restaurant: Kiki's came first, in 2015, offering classic Greek for the Dimes crowd. Scarr's arrived in 2016, followed by Cervo's, the focused wine bar that may as well have invented the phrase "tinned fish." Then Nine Orchard, or, as it became known right away, "the Dimes Square Hotel," and Time, which was once described to me by a friend suggesting we eat there as "sushi for dirtbags with a lot of money." (It's currently closed.)
Even by 2020, anyone who hadn't eaten at Dimes had heard of it because this new micro-neighborhood was named for it. It was an inside joke — here is this magical place where podcast hosts mingled with TikTok celebs, and everybody's wearing Carhartt WIP with Salomon XT6s — that took on a life of its own until it finally just became reality. Of course there were trend pieces and backlash and hand-wringing over what Dimes Square meant. When I asked a 25-year-old about Dimes Square, he told me the neighborhood was "so over." (He was just starting high school when Dimes opened.) In September — of this year — Jack Antonoff told The Face that the Dimes Square movement represented nothing less than the death of downtown culture:
There's no great artistic export. Like, say what you want about downtown in the early 2000s, but goddamn, those first few Strokes albums! Say what you want about the Brooklyn moment in Williamsburg, you could roast it to hell and back, but Jesus fucking Christ, some of that music is just absolutely timeless. [Dimes Square] still falls under this thing where it's like, well, what's the export? What's the book, what's the band? The toxic podcast can't be the genius cultural export.
When I ask De Sousa about "Dimes Square" — I'd challenged myself to see how long I could go without using the name in our interview and made it 15 minutes — she shrugs: "We're just one piece of the whole pun." This is the rub, after all, of any kind of sustained success in the city: You have to be over before you can become iconic. Peter Luger, Balthazar, Bemelmans, the Odeon: They and many others have all weathered periods of pulling in crowds while jaded locals sneer, and they've all done exactly what Dimes is doing now. "We've always been true to ourselves," Helsby says. "It's always been about the restaurant we want to have and not catering to other people."
Sure, they've capitalized on their name recognition — the more casual Dimes Deli, a small homewares business called Semi D — but there isn't much chance of a Dimes Las Vegas or Dimes Santa Monica opening anytime soon. "There's an essence that only exists here, and we're very aware of that," Helsby says.
In a review written shortly after the restaurant opened, The New Yorker's Shauna Lyon wrote that Dimes was "located in an unlikely pocket of Chinatown." Instead, Dimes was located in the likeliest spot of all; it took everyone else the ensuing decade to figure that out.
This post has been edited to correct two quotes that were misattributed to Alissa Wagner; she left the restaurant in 2020.