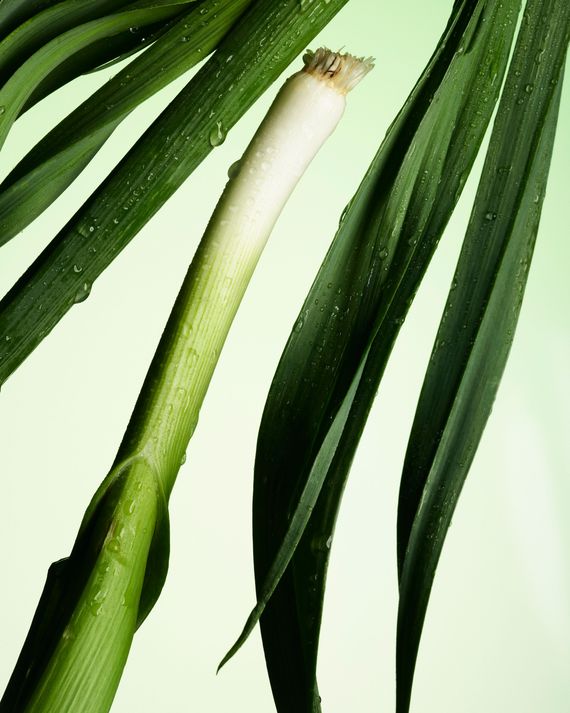 On a recent Sunday afternoon as a fall rain coated Brooklyn with mist, a family of three trudged past a soaked cardboard box of miniature pumpkins and into the Gowanus Whole Foods. They had come to behold a new onion. Not just any onion, however. Sweet Garleek — championed by chef Dan Barber — is the first allium of its kind, a hybrid of garlic and leek. Each Garleek measures 19 inches in length, with a thin white bulb and flat, tender stems the color of spearmint gum. If a shopper had squinted, the bunch of rubber-banded Garleek stalks, propped against a sack of potatoes and a bowl of amethyst Roma tomatoes, might have been a bundle of overgrown scallions. If they closed their eyes and sniffed, it could have been green garlic.
"It's not an artificially enhanced flavor," observed Kim Cohen, who had read about the new onion online and, along with her partner and infant, braved the rain for a taste. "It's really sweet. It's complex. It's unexpected."
Sweet Garleek does hold a certain mystique. It lacks the pungency of a mature clove of garlic but retains a savory, butter-adjacent flavor when cooked. It's a little grassy, a little sweet. "Garleek is not something anyone was asking for because no one knew the love child of garlic and leek was possible," says Barber, who co-founded the Row 7 Seed Company five years ago with a new type of beet. The Badger Flame — an oblong variety with a shade resembling cheddar Goldfish — had been bred by Irwin Goldwin in hopes that he could craft a specimen to win over his beet-hating children. In the process, Goldwin won over Barber, who now collaborates with breeders, farmers, and chefs to proffer seeds for hybrid edibles, having given rise to now-common ones like the Habanada pepper ("all the floral sweetness of the habanero, minus the burn") and the company's magnum opus: the Honeynut squash (a mini, flavor-packed take on the butternut that in certain circles of Greenmarket-loving Brooklyn has made the original all but obsolete).
Sweet Garleek, Row 7's latest creation, comes from allium breeder Hans Bongers, who spent a decade perfecting the concept. Patch Troffer, the culinary director for the seed company, worked with a network of 150 farmers and chefs across the country and abroad to collate feedback about how Garleek behaved in the ground and what it tasted like on the table. Now, Sweet Garleek is available to home cooks at 25 Whole Foods locations across the New York area; next year, it will debut on the West Coast and in the mid-Atlantic; and in 2025, Sweet Garleek will go national.
Charlie Muzzarelli, owner of one of the farms contracted to provide Garleek for Whole Foods, says the hybrid allium is much quicker to grow than leeks are and, unlike green garlic, Sweet Garleek can be planted and harvested multiple times in the same year. Sweet Garleek–curious New Yorkers will find it at Whole Foods through late October, along with Upstate Abundance potatoes, meatball-size spuds that taste vaguely of milk fat when boiled in just salted water. Later this fall, Badger Flames will join the offerings.
On Sunday in Gowanus, Troffer demonstrated one use case for Sweet Garleek: a marmalade made of Garleek sliced into ⅛-inch coins charred and tossed with jalapeño, Champagne vinegar, and verjus. Barber wandered around in a chef's coat and apron offering tastes to potential customers.
"It wasn't something where I was like, 'They needed to come up with this,'" said Jon Fell, a customer whose interest was piqued by the display of Garleek in the Whole Foods lobby. "But I could see using it — it's like a great-aunt to the onion." (According to Row 7 COO Liz Mahler, in the three weeks Garleek has been in Whole Foods stores, it's had an 82 percent sell-through rate, which is onionspeak for "A bunch of it has sold quickly.")
Barber did his part and pitched to the customers he saw: These are vegetables that taste better — more like themselves — and seeds that represent a democratized system for plant-based flavor. He handed over samples before flitting away to educate other waterlogged shoppers who were pushing their carts by the Sweet Garleek, temporarily oblivious to the fact that they were walking past the country's next big allium.