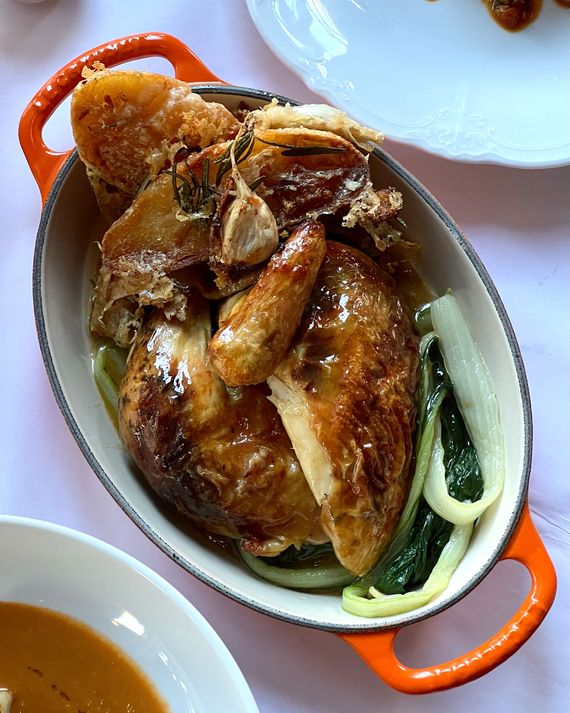 The chicken in question: humble yet heavenly.
Photo: Hugo Yu
During my second meal at April Bloomfield and Gabriel Stulman's new Fort Greene restaurant Sailor, I begrudgingly ordered the roasted chicken in the name of comprehensiveness. I'd always considered roast chicken on a restaurant menu to be a sop to picky eaters and children, those who quailed before Bloomfield's sweetbreads or her excellent smoked pork shoulder. Roast chicken, I privately thought, was an admission of defeat on the part of the diner and the chef both.
And when I called to speak with her on the phone last week, Bloomfield confirmed it wasn't just me. "Some chefs are like, 'Oh, I'm never going to put chicken on my menu,'" she told me. "But when it's a pleasurable thing to cook, you can get a lot of joy out of it."
I had called because, honestly, Bloomfield's roast chicken — a half-bird that frisbees in on a cast-iron cocotte with a few parm-crusted potatoes — is a marvel, an exemplar of the form. It is a simple beauty without the filigrees of other status birds around town: No slick of foie gras beneath the skin, no great bundles of herbs or singed branches for presentation's sake, all the more memorable for being humble.
Stulman had warned me, as I wandered saucer-eyed out of Sailor that night, that it was a labor of love. Bloomfield confirmed. The recipe starts more than 24 hours before it arrives on your table: Her cooks salt the birds (from Sullivan County's Snowdance Farm or Bell & Evans, though Bloomfield is experimenting with a Bo Bo chicken) and set them in the walk-in for a full 24 hours, drying the skin and readying it to go golden and crisp. Given that the dish is one of the restaurant's most popular, this means many chickens. "It is a lot of real estate," Bloomfield admitted. "I think when we first opened it was like, Wow, that's a lot of chickens, but we seem to rotate through them quite fast."
But many recipes advocate for drying out your chicken. The bigger surprise at Sailor is the herb-flecked butter that Bloomfield and her cooks work under the skin after drying with an upended spoon, one that incorporates both fresh and — to my surprise — dried herbs. I grew up on cookbooks and food shows that generally considered all dried herbs, especially of the supermarket-jar variety, to be a medley of sawdust and dead flies. "Growing up as a chef in this industry that I've been in for 33 years, it was like, 'Don't ever use dried herbs!'" Bloomfield said. "But actually, they're the most wonderful and versatile."
She also told me that she only arrived at this conclusion by happenstance. Bloomfield roasts chickens at home with some frequency, and her current recipe came out of the months she spent during the pandemic living on the bay in Massachusetts with a garden. Among the other herbs — the anise, the sage, and so on — mint, that garden pest, was growing wild. Even novice gardeners know that mint will take over a garden, and Bloomfield pulled it up and, lacking anything better to do with it, dried it. "I don't think throughout my career I've ever used dried mint," she told me. But faced with a surfeit of it, she added it, plus dried oregano, to the fresh sage, bay, and thyme. All that, plus some shallots and garlic cooked in white wine, make up her compound butter.
When the buttered chickens cook, the fat beneath the skin renders and combines with the melting butter, which bastes the chicken and provides the base for a pan sauce; the herbs spackle the meat beneath the golden skin. "I particularly loved the mint," Bloomfield says of the result. "It really brought something to the dish that was a bit different." They roast at 375 degrees for 45 minutes, then get a quick pan sauce from the drippings, butter, and lemon, and out they go. Again and again and again.