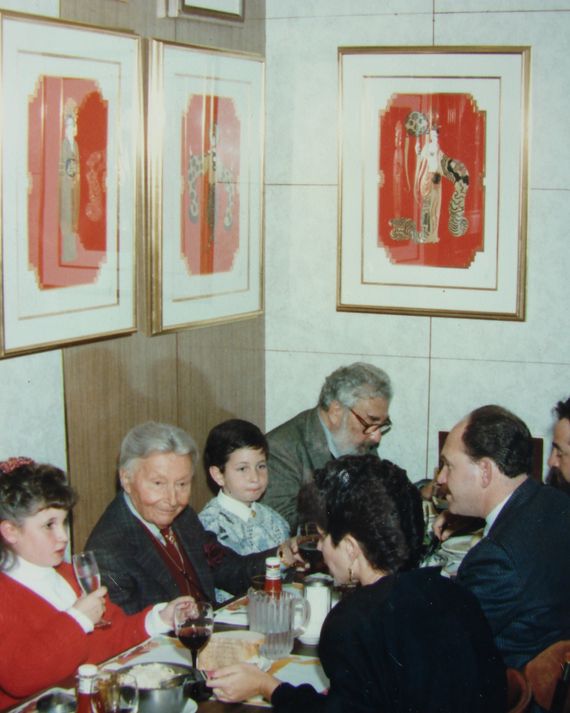 The Schachner family with Erté and Eric Estorick at the Mill Basin Deli.
Photo: Courtesy of the Schachner family
In 1982, thieves broke into the Mill Basin Deli and escaped with the meat slicer, scales, $2,500 in cash, and all of the art on the walls: 30 serigraphs and two watercolor paintings by Erté, the Russian-born French Art Deco artist born Romain de Tirtoff. The owner of the deli, Mark Schachner, offered a $5,000 reward for the safe return of the art, no questions asked. The burglars didn't bite, but he got a call from Eric Estorick, an art dealer and Erté's agent, who told him to fax over a list of the stolen prints with the promise that he would replace them. So Schachner schlepped his way over to Manhattan with two bags filled with corned beef, pastrami, chopped liver — "the whole nine yards," he says — and fed Estorick and his wife Salome. After the meal, Estorick gave Schachner the serigraphs along with a bill for $30,000.
"Me, from Brooklyn, I lost my temper," says Schachner, now 72. "I start cursing and yelling, 'What the fuck is this? I thought you were giving it to me free! I can buy it for half-price as a dealer and you're ripping me off! You're out of your fucking mind!'" Estorick smiled and told him, "I like you. You remind me of me when I used to go wild in Brooklyn." So he offered Schachner a deal: 20 paintings, free for him to sell, with Estorick getting half of the cut.
"That's when I got into the art business," says Schachner, "and I became like a son he never had."
Schachner and I are sitting near the window of the deli under the original neon sign as his son Jordan, 44, sends out platters of food. Mark still owns the deli but has mostly focused on the art side (and boating), whereas Jordan has been trying to rejuvenate the deli after a series of health problems.
Jordan brings out a corned-beef-and-cabbage knish, chopped liver, stuffed cabbage, pickles, coleslaw, and one of their specialties that makes a two-bus transfer out to Mill Basin worthwhile: the PLT, a kosher twist on a BLT made with a thick layer of crispy pastrami, a confetti of iceberg, tomato, and mayo between toasted slices of rye. On a prior visit, I had their $18 soup-and-half-sandwich lunch special — a matzo ball soup and corned beef — along with a serving of their latke chips, cut into thin slices and refried with applesauce. Who doesn't love fried food?
Mark gets up to give me a tour of the place. Mill Basin Deli has seen better times since he first bought it in 1974. The postwar generation of Jews and Italians who used to live in the neighborhood either died or dispersed, like Jimmy Kimmel, whom Mark would yell at to stop wasting all the ketchup on an order of fries. In more recent years, there's been an influx of new-money Russian émigrés into Mill Basin, a peninsular neighborhood that juts out into Jamaica Bay, who have built McMansions and aren't really partial to the deli's food. During the initial onset of the pandemic, they lost five of their employees to COVID, and they don't have wait staff anymore; they've closed down the fountain bar in the back.
Still, there are familiar faces. One of the diners, Joanne, stops Mark to chat: They haven't seen each other in decades! Her first job ever was giving out circulars, round advertising flyers, around the neighborhood when she was 9. She moved out of Mill Basin when she was 17 and came back. She inquires about Donny, his former business partner whose name is on the neon sign with him.
"After about two years, he became a big drug addict: coke, quaaludes," says Mark.
"What, did he start hanging out with D—'s friends?" asks Joanne.
"Sort of," says Mark. "I thought I could buy this off from him cheap because he's a drug addict. He said, 'No, I want twice as much or otherwise I'm staying.' And he would go behind the counter and drool. I called my lawyer and I locked him out of the store. He said, 'You can't. You're 50/50 partners.' So I had to pay him twice the value of the deli to get him out."
Delicatessens are in the Schachner family line — Mark grew up working in his parents' deli just as his son works in his — and his burgeoning art collection twinned to create the only kosher deli/art gallery of its kind, in a far-out part of southeast Brooklyn. Mill Basin Deli would host Erté's birthday parties, including his 96th, the year before his death in 1990. Schachner bought a portion of the estate, which is why he now has a warehouse full of over 1,000 pieces, including paintings, sculptures, vases, and other decorative objects. He would love it if his son got more into the art side, because it would be an easier life. "The deli is really blood money," says the senior Schachner. "It's hard work. Very low profit this day and age. COVID changed the whole world, but thank God we're here going to be 49 years and we'll continue to be here."
"Look at the detailing closely," Mark says, gesturing at a serigraph of Erté's Beauty & the Beast of a woman with an extravagant feather headdress wearing a coat of a black panther, her feet slipping into its paws. It was one of the first Erté pieces he was really taken with. In the vestibule to the bathroom is an Erté mirror where the burnished wooden frame is of two women entwined in a kiss. Toward the back in the private-party room called the Peach Pit — named for the diner in Beverly Hills 90210 — hangs Modern Art I, a Lichtenstein screenprint, and Le Coq sur Paris, a Chagall lithograph. Everything on view is for sale, and Mark's thinking of having a wholesale pop-up around the holidays, "because I have a vast collection and I'm going to probably die with it."
When I ask him to estimate how much the art in the deli is worth, he hedges. "Value is in the eye of the beholder. You understand? I know what I paid for it 50 years ago. What it's worth today is what I can get from you," he says. "How do you put a price on a 100-year-old painting? It's priceless."
Okay, but what about the Lichtenstein?
"Give me a credit card for 150 grand," he says. "And that's a very fair price."
More of The Year I Ate New York
See All