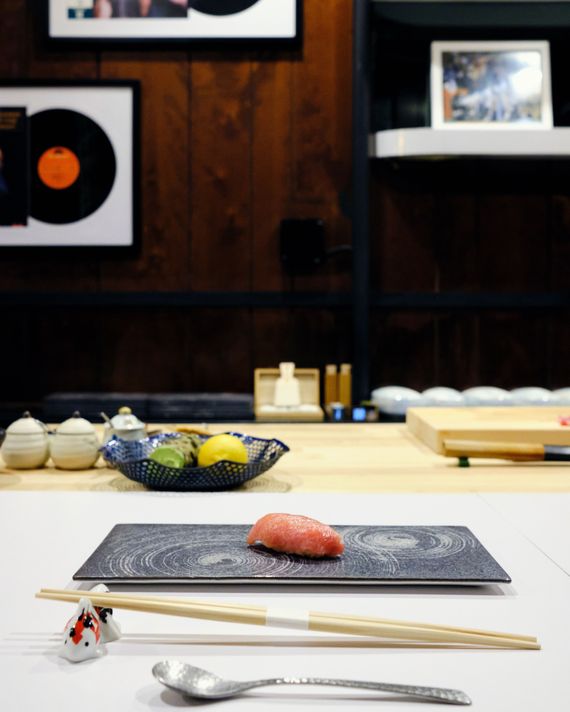 The set menu will run 17 courses.
Photo: Hugo Yu
This summer, Scarr Pimentel moved his pizzeria, Scarr's, to a larger location just across the street. He'd hinted last year that he wasn't done with the original space at 22 Orchard Street and that his plans included "omakase." That was all he'd say, however, and for the past few months we've been wondering if it would actually happen. This weekend, it will.
On Sunday, Sushi Oku will open to the public. Pimentel is still involved, having teamed up with his LES neighbor and fellow restaurateur Ryan Chadwick — who runs Grey Lady in addition to Taikun, one of our favorite fast-fish omakase counters — and Taikun's executive chef, Kei Yoshino.
If you're having trouble picturing how the suburban-'70s look and cramped bar of the original Scarr's might transform into an eight-seat sushi counter, you won't have to imagine very hard. Aside from retrofitting the formica bar so that it can comfortably seat patrons over five-foot-eight with enough room for servers to pass behind, the room is nearly the same, still scattered with sports and movie memorabilia — but look closer and you'll see that all the movie posters, framed records, and even the Mets paraphernalia are now Japanese. The wall behind the bar shelves a collection of sake chosen by Yoshino, as well as dishes he sourced from Japan, though they made sure to match the new wall to the original wood paneling. Also kept behind are two of the original booths in the back, along with the Tiffany lamps that hang overheard.
They chose to call it Sushi Oku, which refers to the concept of a private or inner space in Japanese. To stay true to the name, the counter will be separated by a curtain from the front of the shop, which remains mostly unchanged and still houses the pizza ovens. (The group plans to use those in a series of upcoming pop-ups, perhaps culminating in the vegan slice shop Pimentel also teased last year.)
Sushi Oku is already live on Resy for reservations this Sunday and beyond. There will be three seatings a night — 5:30, 7:30, and 9:30 — for a $165, 17-course set menu that will include soup and a starter like a dish of Hokkaido uni and marinated ikura with a dab of Ossetra caviar and freshly grated wasabi, served over a small piece of mochi, which chef Yoshino uses in place of scallops that are not currently in season. The bulk of the service will be nigiri plus a couple of hand rolls. The restaurant is also offering a $75 beverage pairing composed of three sakes and one red wine.
Yoshino's philosophy is that sushi should be about fish, but he says he's open to including a special kobe-beef piece on the à la carte menu for guests who want something extra after the meal. And, of course, anyone who's still hungry can walk across the street for a slice of pizza.