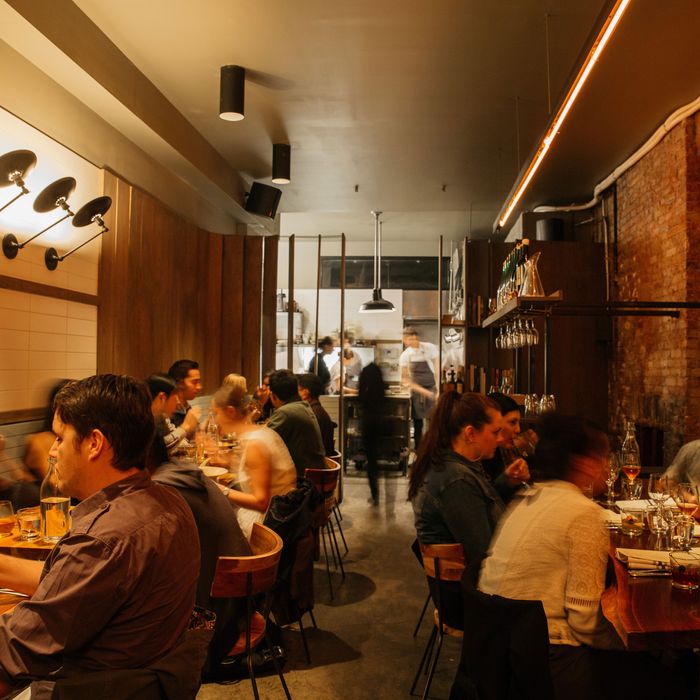 Inside Contra.
Photo: Scott Heins
Since opening in 2013, Contra, the railroad-car-size dining room on Orchard Street, has won fans and critical plaudits for its naturalistic tasting menus and its diligently curated arsenal of natural wines — a movement to which the restaurant committed far before many others in the city. Now, chefs Jeremiah Stone and Fabián von Hauske say they're set to close the restaurant, exactly ten years after first arriving on the scene.
"We've done everything that's possible here," Stone says. "At this point, if someone we really wanted to cook for hasn't come in yet, they're not going to come."
Stone and von Hauske are quick to clarify that this is a "pause," not a permanent denouement. They plan to hold onto the space at 138 Orchard Street — Wildair remains open just next door, as well — and hope to open something new before the end of the year. They aren't specifying what, just yet, except to say that it won't be a fine-dining restaurant.
Contra opened when von Hauske and Stone were 23 and 28, respectively, and their collective résumé — including stints at Jean-Georges and Noma and working for Ignacio Mattos at Isa — informed its earliest menus and an austere style that were as much creative choices as they were informed by business realities: "We didn't have the funding or resources to do something extravagant," Stone says. "It was just three or four of us, no manager even." They called their restaurant Contra, as in "contradictory" and the Spanish word for "against."
Diners paid $55 for five courses. The dishes were refined but deeply quirky. From Stone, there was beef tartare decorated with geometric shapes of raw mushroom and entire fava-bean leaves, as though the cubes of seasoned meat were peeking out from behind the bushes. From von Hauske, guests got little tureens of seasonal granita topped with mousse flavored like popcorn.
"It was fine dining in a way, but for a younger audience who wouldn't want a white tablecloth or a guy in a tuxedo serving them," says one longtime customer, the Hundreds co-founder Ben Shenassafar. "It helped usher in a next generation of eaters, and showed them: You can eat crazy good food and you don't have to be intimidated by it."
To go with the food, the group assembled one of the earliest collections of natural and obscure wines: "Those wines were energizing — Contra was like a new New York, trapped in a little bottle," says actor Eric Wareheim, another longtime regular. "It was so advanced."
In 2014, Times critic Pete Wells gave Contra two stars and called the duo's "quiet, naturalistic, drama-averse" food "mumblecore cuisine." In 2017, the restaurant earned a Michelin star (a distinction it has maintained every year since). Over time, the menu and format of the dining experience have changed, and the food has even taken on a slightly more elegant stance. One recent standout dish was a quivering bowl of silken tofu, crowned with maple syrup and mirin, buckwheat, and caviar. "Those guys," Shenassafar says, "they just get it."
On the off chance there are a few people left who want to try the food and haven't, there's just about a month left to do so.