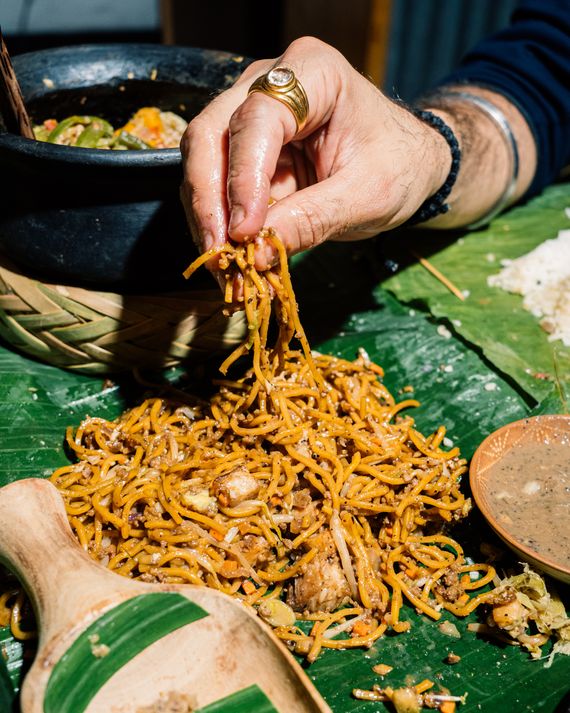 Naks will specialize in kamayan, the communal feast eaten by hand.
Photo: Jutharat Pinyodoonyachet
Chintan Pandya and Roni Mazumdar — the duo behind Adda, Dhamaka, Semma, and more — became the city's most prominent new restaurateurs by mastering a type of Indian cooking New York diners crave but without pandering or transmogrifying the food into some kind of American hybrid. One person who has been instrumental in their success is Eric Valdez, who for the past two years has served as Dhamaka's chef de cuisine. Yet Valdez grew up in Manila, and with him at the helm of their next project, Naks, the group is moving beyond the subcontinent for the first time.
When the restaurant opens in September, it will take over an East Village space that was first intended to be an outpost of Adda. Four days before construction was set to begin, the group changed its mind. "I think the architect still hates me secretly," Mazumdar says. They reworked the plans to make sure the space becomes an appropriate showcase for Valdez's Filipino cooking.
"I want to serve dishes that are not talked about," the chef said during a recent tasting. He tossed a dish called pancit batil patong — egg noodles, pork liver, fried egg, ground beef, bean sprouts, and crouton-size squares of pork belly — and advised everyone to add some sukang iloko, or sugarcane-juice vinegar, but not too much. He next sent out sea cucumber with coconut vinegar, local snails cooked in coconut milk and shrimp paste, and bowls of beef-blood soup.
To prepare, the trio took an eight-day food tour around the Philippines: "It was hours of just eating, eating, eating," Pandya says. ("It was obscene," Mazumdar adds.) The final menu will list about 14 à la carte dishes, like grilled eel, Filipino butter chicken (in which the bird gets fried and coated in melted butter), crispy goat, and sisig made the old-fashioned way with pork brain instead of mayo. After returning from the eating trip, Valdez decided the restaurant must also offer kamayan, the communal feast served over banana leaf and traditionally eaten by hand. Each meal will begin with a welcome drink served in an eggshell inspired by balut. Instead of a duck embryo, however, this will be a mix of the tropical fruit called bilimbi, spiced coconut vinegar, and duck stock.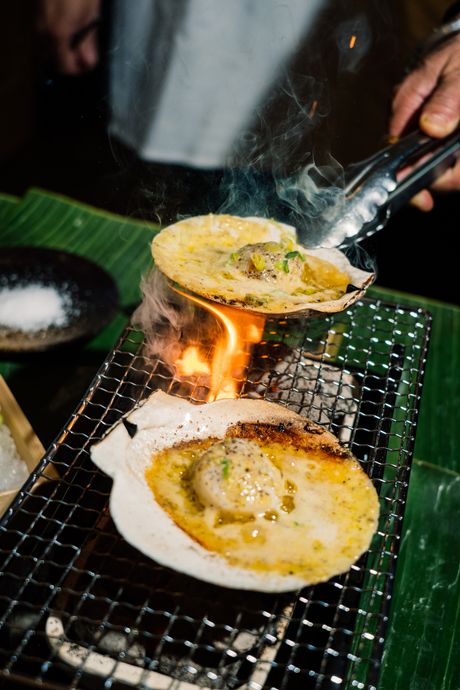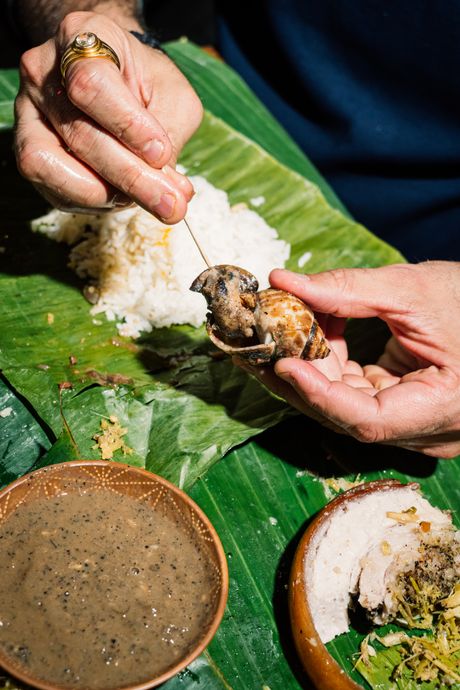 The meal will build with a mix of soups, salads, and appetizers (including a scallop that's grilled tableside in a sauce of margarine and Eden cheese, which is like the Philippines's answer to Velveeta) before it culminates with lechon. Valdez's version of the country's famous roast pork comes from Davao City, where the pig is stuffed with lemongrass, chile, garlic, green onion, and star anise. Dipping sauces include one made with calamansi lime and soy, and another that's infused with pork liver. This is not a version of the dish that's often served in the U.S., which is the point. Like his partners, Valdez doesn't want to water down his ideas; he wants to give the city something new.