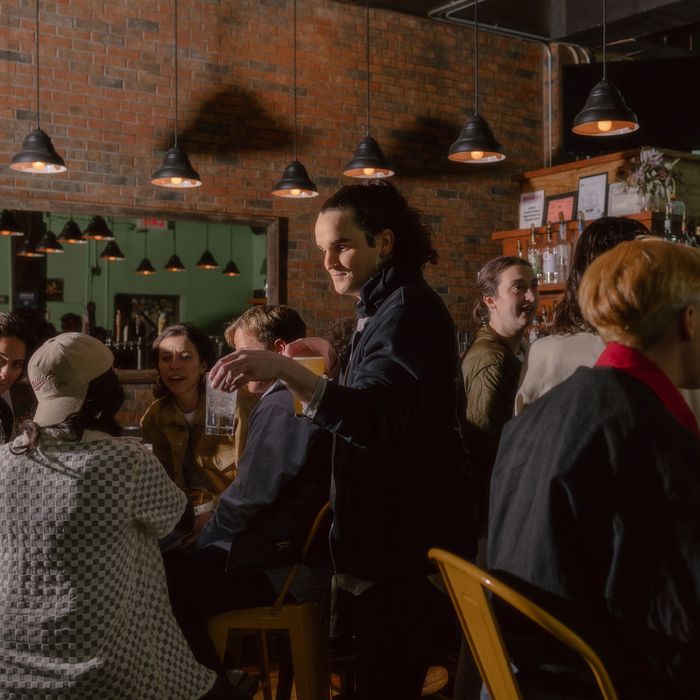 Mary's has been open for just a few weeks, but strong word of mouth has already brought in a crowd.
Photo: Marissa Alper
After Brendan Donohoe moved from Dublin to New York in 2006, he found a hospitality career that attracted many of his fellow expats: as a bartender at an Irish pub. In 2019, Donohoe, who is gay, joined a company that managed a dozen bars, mostly in midtown — but it wasn't a great fit. "I didn't recognize myself in that environment," he says. "It felt very straight-male dominant. I just didn't mold well to it." He became involved with the lesbian bar Ginger's in 2021, partnering with its founder, Sheila Frayne, after the Park Slope institution shuttered during the pandemic. "You're preserving something that's already done well," Donohoe says. "In a very good way, I feel like a steward."
Now he's left his other job as CEO to work full-time on Ginger's and a new project, Mary's Bar, which opened the other week on the border of Greenpoint and East Williamsburg. Mary's, which Donohoe named after his mother, is at its core another Irish pub, but it's modeled after Dublin's public houses, so midtown staples like TVs tuned to ESPN are nowhere to be found. Donohoe wants to offer a traditional Irish sense of warmth in a space that is centered to queer people: "In a proper Irish pub, there is a general expectation of respect and inclusion in the community. You come as you are, and you're welcomed," he says. "My highest hope is that as a pub that is queer, it doesn't need to be identified as a 'lesbian bar,' 'gay bar,' or anything in between."
On a recent rainy Sunday night, groups of twos and fours trickled through the heavy wooden doors, dumping their umbrellas before getting settled. "This is not necessarily a place for all the loud people," says Donohoe. "I don't think that there's that many places for people who are the quieter side of queer." There is no sawdust, but the floors are worn down enough to feel homey. The sprinkling of high-tops that fill in the space point to a pub philosophy instilled by Donohoe's father: Low tables create distance, but when seats rise to bar height, it's easier to entertain conversation with anyone who might be passing by carrying their next round. In time, the décor will favor memorabilia and artwork from Ireland that are focused on queer narratives, along with plans to host a trad-music night before summer begins.
Most of the drinks at Mary's are under $10 — an effort to keep everything accessible — and the first thing any bartender learns is how to properly pour a pint of Guinness: at an angle, wait, top it off, no bubbles. "If I see anybody put a glass down, pull the tab, and walk away as it fills up, I'll cry," says Donohoe.
In Donohoe's view, the heart of an authentic Irish pub is complementary to the philosophy of queer spaces. At their best, both offer a place where you can come as you are without judgment and find community. "It's a really lovely thing, to give people ownership of the space." he says. "I don't want division, I want connections. A public house that's queer and Irish is probably one of the best places for that."