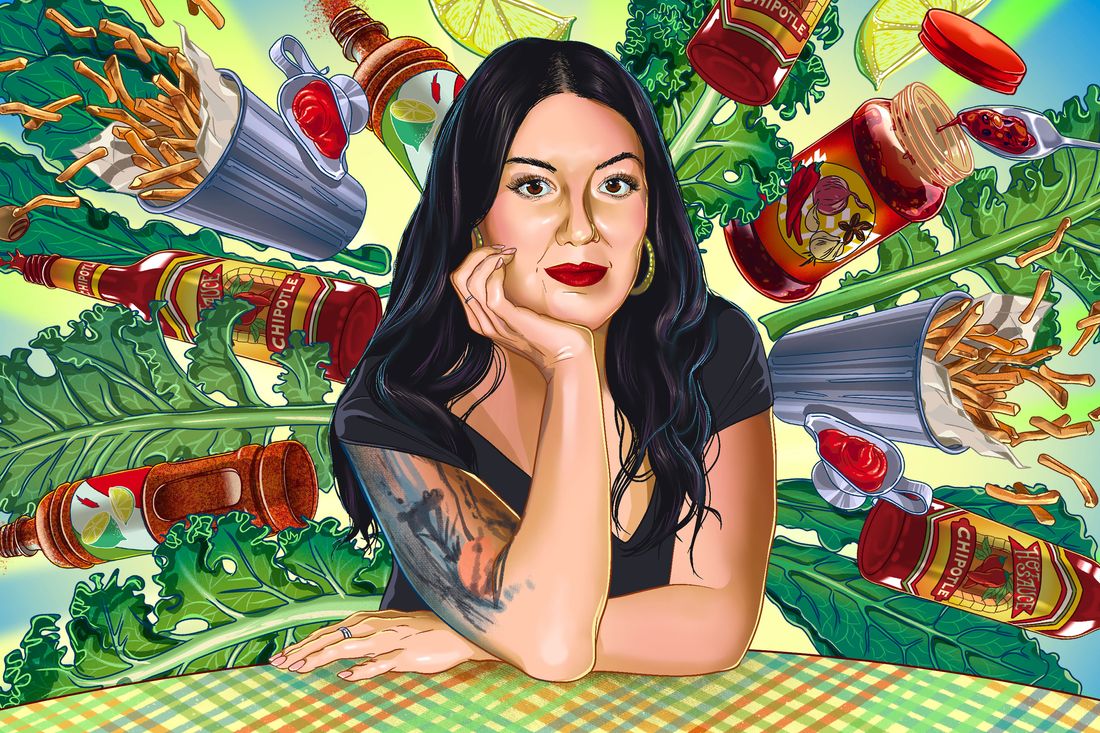 "I am not picky about salsas and hot sauces … but I do have particulars," says Cerón.
Illustration: Adam Mazur
When Bloomberg reporter Ella Cerón started writing her first novel, Viva Lola Espinoza, COVID lockdowns were in full effect. "People were like, 'Oh, Shakespeare wrote Lear in quarantine,'" she says. "And I thought, Hmmm, okay …" The young-adult novel takes place largely in Mexico City, and Cerón wanted the book to reflect the quotidian side of its setting — the details that aren't captured in tourist TikToks shot in the city's trendiest neighborhoods. That focus on the everyday also means a lot of scenes involving food — including one in which a restaurateur character whips up vodka sauce, eager for a foreign flavor profile after serving tacos and sopes all day. "People will ask me a lot, 'Where's your favorite place in Mexico City?'" Cerón says. "And I say, 'My grandma's house, but I can't give you an in there.'" 
Wednesday, May 3
The first creatures to eat every day in my apartment are my cats, Holly and Olive, who paw me awake and demand to be fed. Well, Olive walks over my body and pokes my skull repeatedly in protest of my sleep. Holly is more independent, so she shoves books and my glasses and coasters off my nightstand. Anyway, it's 6 a.m. I feed them and crawl back into bed. My weighted blanket knocks me out for another 45 minutes.
When I finally do get up, the first thing I have is a scoop of Athletic Greens in water. I was in L.A. two weekends ago for the L.A. Times Festival of Books, and I stayed with my friends Nick and Julia, who had Athletic Greens in the mornings. After God knows how many Instagram ads wearing me down over the years, that's what tipped me over the edge. It might be a bit psychosomatic, but starting my day with something visibly green feels like a gentle nudge in the right direction.
I also make a Nespresso coffee with a splash of cashew milk to have while I get ready. I drink what is technically called a "concerning amount" of coffee, which stems from an after-school job I had at Starbucks when I was a teenager. I was very good at the morning rush, but I also made approximately 10,000 Frappuccinos, and now the very idea of them makes me gag. The job did pay for a prom dress and makeup and gas money, so it served its purpose.
There are a lot of Mexican-run bodegas and little kitchens and food vendors in my corner of the Heights, including the tamal tent run by a woman near one of the neighborhood's subway stops. I'm not precious about what counts as "authentic" Mexican food versus what doesn't — I am very pro Baja Blast, and I will answer for my sins in the afterworld — but I do source all my Christmas and Thanksgiving tamales from her. There's usually some intense game of telephone to pick things up on special days, and her lines are always five people deep. This morning, I get a tamal with salsa verde and chicken for breakfast.
Closer to the office, I grab a large iced coffee from Juice Press as well as a Greens and Earth. I would like to blame my love for green juice on … I don't even know what. My Southern California upbringing? My mom's neighborhood in L.A. just got an Erewhon, which blew my mind because Culver City was not a place to Be Seen when I was growing up, and now I gather that it's tech trendy. The point of this sidebar is that my little brother heard me call Erewhon a grocery horse of the apocalypse when I was in town, looked me dead in the eye, and pointed out that I'm its target demographic. The most devastating burn of my life, but an admittedly fair assessment.
I have the tamal at my desk while I answer emails and work through all of my desk beverages — including the iced coffee, a lemon water, and the green juice — into the morning. Edits take me through 3 p.m., at which point I make a struggle lunch from the Bloomberg office's excellent snack selection — today it's instant-oatmeal packets and almond butter mixed together. There are absolutely days I run on gummy bears and more iced coffee, which is a great combo if you like to hear color but not if you want to be productive.
Head back home to feed the cats before dinner, as well as to run a copy of my book to the girls who work at my laundromat. Their family is from Guerrero, Mexico, and they're in college and high school, so it's particularly special to share Lola with them. The younger sister is struggling through an essay on The Great Gatsby when I get there, so I remember what I can about the symbolism of the green light and the abstraction of Daisy as the American Dream. Then I grab a Citi Bike to get to dinner at Oso.
My friend Alejandra is also my neighbor — we followed each other on social media for years, and one day I saw her husband walking her dog in the park and messaged her like a creep. She's the host of The Great American Recipe. We talk about a million things over guac and chips and a salad with tomato and onions and radish and a pepita dressing that's just acidic enough to make even romaine lettuce fun. I get a virgin spicy margarita with seltzer instead of tequila to start, to pace myself, and a full-strength one as my second, extra Tajín on the rim. The chipotle sauce and lime on my shrimp tacos make everything super-bright. Alejandra has the fish for two … for one, and I eat the cebollas that came on top. My favorite thing Oso does is the tortillas — they're thick and chewy and pliable, and I'm pretty sure they're handmade in the restaurant.
I bike home and grab a Gansito from the freezer. When I was little, my dad would insist on bringing cases of Gansitos back with him to L.A. whenever we visited my grandma in Mexico City — I guess the imported ones tasted better to him, like the Mexican Coke principle for chocolate-and-berry snack cakes — and he always keeps them frozen so I do the same. I get mine from my local C-Town, which boasts a stellar selection of Latin American candy, including chamoy Pulparindo, my one true love.
Thursday, May 4
Athletic Greens and Nespresso with cashew milk while I put away the dishes that dried on the rack overnight. I also make a French press of coffee because I've called an audible to work from home today. I let it brew and do a workout on the Peloton app to wake myself up and shadowbox a bad mood away. I'm a Rad sun, Kendall moon, Tunde rising. Using hand weights while I punch helps make me feel a little less like I'm flailing mid-air, and Rad tells me he's proud of me, which I will take even in a parasocial way.
Breakfast is two eggs poached with a little bit of white-wine vinegar in the water, served over blistered cherry tomatoes and half an avocado with everything-bagel seasoning and chipotle Cholula sauce. I let the cherry tomatoes burst in the pan and reduce the juice so they become really jammy. I cycle through about three breakfasts at home, and this combo has become the go-to lately.
Around 12:30 I run my compost over to the bin and head to Salento for an iced coffee. They have phenomenal guava pastries — I like to buy boxes of them for people's birthdays or as host gifts, like an uptown secret weapon. The iced coffee is enough of a Little Midday Treat (tm) for me today, and I stop by Word Up, the local bookstore across the street. I browse but do not buy any new books because my to-be-read pile will stage a mutiny if I do.
I have the leftover salad from Oso with the other half of my avocado and a dollop of mashed chickpea salad for lunch. It's the same principle as tuna salad, and I doctor it up with vegan mayo, tahini, celery, and diced yellow and orange bell pepper.
After I log off, I poke around Shakespeare & Co. on the Upper West Side before, on the subway, I time my Seamless order to Native Noodles so it'll show up when I get home. I always get the soy-ginger cold noodles with cucumber and carrots and extra-crispy tofu and a side order of bok choy, which I combine and slather in Lao Gan Ma. The noodles are slippery and garlicky and wonderful as usual, and I save half for later.
On the topic: I am not picky about salsas and hot sauces and other spice-based condiments, but I do have particulars. Cholula is my all-purpose, El Yucateco is when I want to regret my life choices (which is often), Tabasco is strictly a hot sauce for egg dishes, and Tajín is for fruit and vegetables and popsicles and drinks. I would put the Fly By Jing chile crisp on everything in the world because it's so zingy, but I was demolishing a $15 jar every two weeks. The industrial-size jar of Lao Gan Ma gets me through now. Between this and the coffee, I am daring an ulcer to open up and swallow me whole.
Friday, May 5
The cats walk all over me at 3 a.m. and try their hardest to make me feed them in the dead of night. I prevail, though the false-alarm wake-up leaves me groggy when I get up for real. Athletic Greens, Nespresso, lemon water, etc.
I did not realize until I started tabulating this diet how often I order food from my phone to meet me at some point of my journey, as though the relay race of city living demands constant fuel. This morning it's a cold brew and the kale-mushroom egg bites from the Starbucks at the midpoint of my commute. Here is my truth: I love the egg bites. And because Starbucks did not sell either warm food or nitro cold brew when I worked there 15 years ago, I don't have the same caramel-Frappuccino nightmares.
At some point in the work day, I make myself another bowl of pantry oatmeal with almond milk as my second breakfast slash snack, and I alternate between my coffee and a lemon water as I go. Lunch is a kale salad from Sweetgreen with as many vegetable toppings as the app will let me select, as well as avocado and tofu. Kale is a perfectly rated green because it holds its own against any dressing. That's that kind of resilience I need more of in my life.
Okay, let's talk about it: It's Cinco de Mayo, which absolutely isn't a thing in Mexico outside of Puebla, given it was their battle and all. My co-workers meet up for margaritas at Gina Mexicana, and I am not stubborn enough to say no. When I walk up, there's a mariachi group outside and a woman sitting at the bar wearing an oversize sombrero. I order a jalapeño margarita on the rocks with a Tajín rim. It's very large and very strong, and it mellows my skepticism as we decompress from the week. One drink is all I can handle after a very long day, and I walk through Central Park to the subway and head home. The leftovers from Native Noodles taste great — I eat them while starting Pineapple Street by Jenny Jackson.
Saturday, May 6
I heat up water for my French press and mix up an Athletic Greens while the cats chow down.
For breakfast, I construct huevos enmoladas by poaching two eggs in mole amarillo and spooning them over tortilla chips and leftover roasted broccoli that I need to finish, with half an avocado on top. I like my chips crispy, so pouring the mole over them helps retain the crunch. Otherwise I would sauté them in the mole, chilaquiles style.
A lot of Lola takes place in her cousin's restaurant in Mexico City, and I bought a small collection of Mexican cookbooks to study different regions and their recipes as I wrote. That said, I absolutely do not have the patience to make mole from scratch. I buy the starter packs from Guelaguetza in L.A. ten at a time; my C-Town has mole paste in tubs, but I really like the Guelaguetza recipes. I simmer each one with lots of crushed tomatoes, vegetable Better Than Bouillon paste, and plenty of water — I like my mole spicier rather than sweet, so I leave out the sugar or the Mexican chocolate, even though the sugar would make things even more complex. The end result is always enough to feed a not-small family, so I freeze it in Mason jars and work through it over a few weeks.
Most of the day is devoted to running errands around my neighborhood and working away at my manuscript. Throughout, there's trail mix, an apple, an iced coffee from Salento, a giant iced matcha, rice crackers and guacamole, and a bowl of berries mixed with peanut butter like a very deconstructed PB&J. Full disclosure: I went to the grocery store because I took stock of how weak my snack effort was, so Sunday will be better. Not to be a downer, but I spent years masking a gnarly eating disorder. Recovery for me right now is a constant effort of assessing my habits in the moment and course correcting to the best of my ability without fixating on it. Also, therapy.
I cook a pot of split-pea soup to keep in the freezer on nights when I simply cannot be bothered to put in effort. I know it's getting warmer, but I'm a soup-for-all-seasons girl, and I like one I can stand a spoon in. I can do this one in my sleep: caramelize two onions in avocado oil with a little salt; add carrots and let them brown a bit; and throw in water, a hefty spoon of Better Than Bouillon, a pack of split peas, and whatever spices feel right in the moment. I let it cook down while I get ready for dinner, pack it away in Tupperware, and feed the cats.
Dinner is a late-ish table at Stretch Pizza, which I've been thinking about from the moment I heard about the potato-chip salad. I used to be the monster trying to corral everyone in an 11-person group chat into dinner reservations, but my friend Kyle has introduced a much more civilized method, not unlike musical chairs: You grab a table somewhere, drop the link in the chat, and whoever claims the chairs first goes to dinner.
When I get there I order a mezcal Negroni. The potato-chip salad — with salt-and-vinegar chips! — changes my world. It's so simple but so smart. There are more chips than greens, so I load some of the crumbs on a slice of the ramp pizza for good measure. We get the Old Town pizza, which is mushroom and pumpernickel breadcrumbs; demolish some sleeper-hit carrots; and take turns guessing what's in the sauce that comes with the chickpea fries. (I think it's Calabrian peppers?) My best metric as to whether a restaurant is good is if the sides and vegetables can hold their own, and these do — the carrots are my favorite thing. My friends share a pepperoni pizza, and it all winds up being the perfect amount of food for four. I get a second mezcal Negroni, they order banana soft serve, and I help myself to chocolate-chip cookies that are the size of Cookie Crisp.
Sunday, May 7
The usual morning routine, including the cats waking me up at 6:30 for their breakfast. The avocados I bought the day before aren't quite ripe yet, so I have the cherry tomatoes and poached eggs without them.
For lunch, I chop up a salad with cucumber, the kale I bought, an heirloom tomato, and some browned tempeh. I toss them with Brightland balsamic vinegar and lemon olive oil, plus the remains of a jar of Trader Joe's onion chile crisp that I  find in the back of my fridge. I top it all off with some jalapeño kettle chips because now there is no going back.
I meet my friend Matt at Petite Boucherie on Christopher. The windows are open and the weather is beautiful — it's one of those afternoons that is so disgustingly picturesque it makes you reflect on it in the moment. Matt gets a burger and I get avocado toast with poached eggs and a lot of Tabasco. (Say what you want about avocado toast, but it is reliable.) We split his fries, which I use as croutons for my side salad. (Twice in three hours!) I'm very grateful for writer friends — Matt and I talk about the mechanics of first versus third person and discuss the characters we're working on like they're real people, and it helps me work through some plot holes. He and I part ways at Starbucks so he can write, and I play it fast and loose with a 4:30 p.m. iced coffee before I grab the subway back home to do some drafting of my own.
By the time dinner rolls around, I'm still not that hungry after my second lunch. Enter: One of the Tupperwares of soup. Another Gansito is calling to me, and I smear some peanut butter on it because I can.