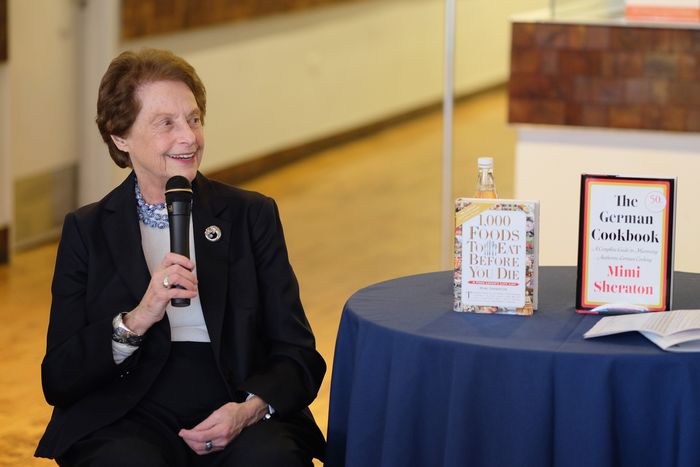 Mimi Sheraton in 2016.
Photo: Neilson Barnard/Getty Images
Mimi Sheraton, the longtime food writer known for her uncompromising and sharp opinions, died on Thursday. The New York Times first reported the news, which was confirmed by her son, Marc Falcone. She was 97 years old.
For six decades, Sheraton was one of the most prominent figures in and around the New York restaurant world. She began her career in 1975 as the restaurant critic for the New York Times, where she set the tone for the job. As the first female restaurant critic, she introduced the use of disguises and fake names for reservations, sensing the preferential treatment that honest reviewers still try to skirt. Over time, she became known for the depth of her reporting, and maybe most famously a New York story for which she tasted every single one of Bloomingdale's 1,196 food products.
Along with her work in newspapers and magazines, Sheraton was a prolific author, publishing 16 books and travel guides. The Bialy Eaters is essential reading for anyone who cares about Jewish and New York food culture, a book about the sadness and horror baked into a food she loves. Published in 2000, it follows Sheraton's search for bialys first in Bialystock, from which it had disappeared because of the Holocaust, and then throughout the Jewish diaspora.
To the end, Sheraton was engaged and sharing her unflinching opinions. She published her last book in 2015, and in her Grub Street Diet that year railed against "the worst croissants I have ever met," while also expressing excitement about food she was still, after all these years, thrilled by including what she called the best Spanish food she ever ate in the U.S. She remained active on Twitter until 2021, doling out zingers and repeatedly taking editors and writers to task for promoting foods like pasta salad and tuna melts.