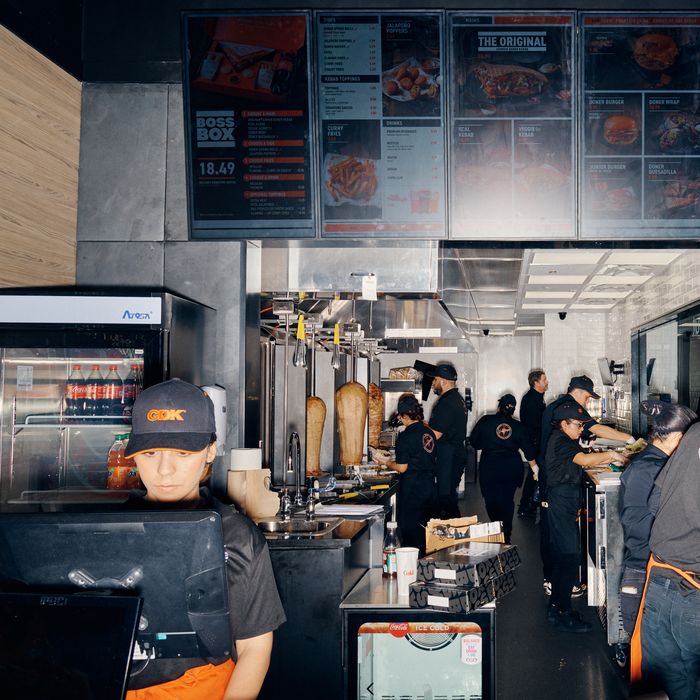 German Doner Kebab, an international chain that has expanded to Astoria.
Photo: Jonah Rosenberg
On my first trip to Germany, my cousin set two things straight right away: Our favorite football club would be St. Pauli, and we would not settle for mediocre doner. Yes, I'd be able to find a version of this Turkish kebab on literally every corner of Frankfurt at almost any hour, but allegedly these were all made with prefrozen industrial meat cones. My cousin, however, knew the spot, a small restaurant where they sliced and layered the meat on the spit on the premises and served it on fresh seeded flatbread stuffed with salad and just enough sauce. As we ate them, he spent a lot of time breaking down why each component was great and what to look out for in an inferior one. He told me to notice how each strip of meat should reveal the strata of lean and fat, for example, using the same precision to his analysis that countless New Yorkers apply to slices of pizza.
Now, closer to home, I heard that German Doner Kebab, an international chain, had just opened its second American outpost in Astoria on a busy part of Steinway Street. (At least three more locations are already planned, including spots in Downtown Brooklyn and Midtown.) If the name is too much, it also goes by the acronym GDK, which doesn't roll off the tongue quite as easily as KFC or BMW but befits the space's minimal black façade. On the inside, balloons from the grand opening were still floating at the entrance. "Welcome to German Doner Kebab," bellowed a tall guy in a company button-down as he greeted each customer. People were lined up around the entire perimeter of the shop waiting for to-go orders while the team worked hectically behind a long glass window, shaving meat off the spits and dusting fries with curry powder.
Based on the pale and skinny state of the kebabs on rotation, GDK NYC has been doing a lot of business, which surprised me because this is not a part of town that is lacking in superlative kebabs. Why would people be excited about a commercial fast-food newcomer? They even have a Doritos-branded "Doner Krunch Burger" made up of sliced kebab meat on a bun and layered with, yes, nacho-cheese tortilla chips and more melted cheese for glue.
The nacho kebab would have to wait for another day. On this first trip, I opted for the "original German doner" which is served on a signature "toasted sesame waffle bread," reportedly sourced from Dubai, while the meat comes from Maryland. The square pocket of waffle bread was split and stuffed abundantly with thinly sliced meat, lettuce, cabbage, onions, and tomato. Pretty, but the meat hadn't really been browned on the spit and was more like a moist deli beef than a crusty kebab. More gallingly, there was definitely not enough sauce, and though the bread was fine, I didn't really see the use in bringing it across the world when there are local bakeries that can do something similar. My cousin wouldn't have approved, and I was left with an unsatisfied craving for the real thing. Luckily, I knew there had to be a better doner within the city limits.
The next doner I tried was at Istanbul Kebab House in Hell's Kitchen, a hallway of a shop with two spits rotating in the window and table service in the back. I ordered a cup of Turkish tea and lamb doner on lavash, as recommended by the server. It was a bit lighter on meat than GDK's but juicier and sliced thicker, giving it more presence. I could see the utility of this spot for a quick bite after a Broadway show, and if I worked in the neighborhood, I'd order this for lunch all the time. However, it's not a true doner destination.
A bit closer in spirit was Kotti Berliner, which I tried at its Dekalb Market Hall location. Its classic doner is a little more dressed up than the average with visible dill fronds and feta cheese (definitely not a standard accoutrement), while the beef was heavily seasoned with a warm blend that has a distinct note of Madras curry powder — good, but all of the extra frippery took it a bit far from the Platonic ideal, and it didn't help that I had to eat it in an underground food court.
I knew I had found the one true kebab when I had the lamb doner at Berlin Doner in Greenwich Village. The lights and noise and drunk people stumbling along MacDougal created the right ambiance, and the lamb was cradled by fresh Turkish bread that had been violently smushed in two directions on a panini press, an interesting technique I hadn't seen elsewhere.
There's barely enough room for someone to squeeze into the entrance past the people who are waiting in line, but at 9 p.m. on a Wednesday night, the handful of tables in the back were occupied by some NYU students and a young couple having a dinner date who were then interrupted by a panhandler who walked in off the sidewalk. I grabbed my own seat and took a satisfyingly messy, crunchy bite. It's not like doner can only be enjoyed on a noisy street after a few drinks, but it helps.
More From the Underground Gourmet
See All