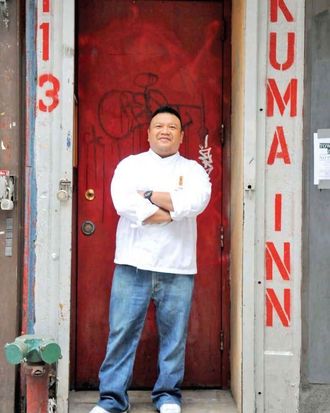 King Phojanakong
Photo: Michael Harlan Turkell
On January 2, the New York chef King Phojanakong died at the age of 54. Over the course of his career, he maintained, in the words of Time Out, a "cult following" with his restaurants, Kuma Inn on the Lower East Side and Umi Nom in Bed-Stuy. Phojanakong had been in and out of NYU Langone's Kimmel Center after visiting the Philippines over the summer and experiencing headaches and double vision there. Since September, he had remained in the hospital, and in December, he was diagnosed with an extremely rare case of granulomatous amoebic encephalitis, a serious infection of the nervous system and brain. King is survived by his mother, Emma; father, King; brother, Paul; wife, Annabel; daughter, Phebe; and son, Eduard. If you wish to donate, there is a GoFundMe to support the family.
"I doubt I'll ever meet anyone else like him," says the photographer Michael Harlan Turkell, who was a close friend of King's. "He was my entryway into New York as a person, as a culinary guide, as a New Yorker. He shared his city, his culture, and his kindness in a way that was unparalleled."
Born to a Thai father and a Filipina mother, Phojanakong grew up in New York City and worked at restaurants operated by chefs such as Daniel Boulud and David Bouley.
In mid-2003, he opened Kuma Inn in a tucked-away Lower East Side location. This was the height of the tapas craze, and Phojanakong's small plates combined Thai, Filipino, and Chinese influences. In a review published a few months after Kuma Inn opened, New York called it "a true destination restaurant" that "takes the tapas concept someplace new, with big flavors and even bigger ideas about how to combine them."
Phojanakong went on to open Umi Nom in 2009, a restaurant that specialized in drinking food like fried chicken wings seasoned with fish sauce, lime juice, and Anaheim peppers and wok-roasted Manila clams in black-bean-butter sauce. In a tweet about King's death, the writer and recipe developer Jenn de la Vega called Umi Nom "the first place in Bed Stuy that felt familiar" to her after moving to Brooklyn in 2010. "I could say to my parents, 'Hey, I'm all right here across the country. I found somewhere to get beef tapa and adobo,'" she says. "Chef was kind to me on every visit. His eyes crinkled just like my uncle when he smiled. I revered him for that and referred to him as 'Kuya King,' like an older relative — first quietly to myself when I dined alone and later addressed him as such."
In 2015, Phojanakong took over the kitchen at Jimmy's No. 43, Jimmy Carbone's now-closed East Village bar. Kuma Inn stayed open for several more years until closing in 2020 during the pandemic. Over the past decade, the chef also launched a hot-sauce company, Small Axe Peppers, taught at the Institute of Culinary Education, and launched Cook Like King, through which he taught classes and put on events. His influence was marked by the chef Yana Gilbuena, who wrote on Instagram that Phojanakong "carved out what Filipino/Filipino American food can be in New York."
This post has been updated with information about a fundraiser for King Phojanakong's family.