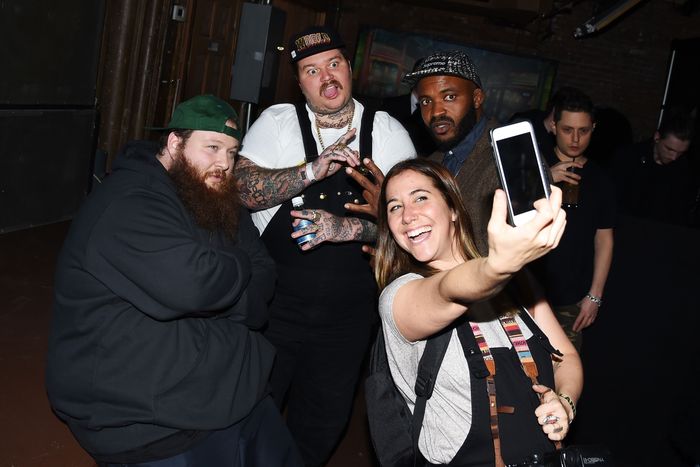 Action Bronson, Matty Matheson, and Sal Masekela at the Viceland launch party in 2016.
Photo: Nicholas Hunt/Getty Images
Eventually, the buzz wears off. Over the weekend, word started to spread that Vice had shut down its food vertical, Munchies, which Semafor first reported in a newsletter Sunday night. Two employees told reporter Max Tani that the company "quietly" laid off staff at the vertical as well as at Vice's music website, Noisey, and an employee confirmed the news to Grub Street. (The website and social-media pages will remain up.) "Some truly talented people started this brand and paved the way for so many," says Farideh Sadeghin, who was the site's executive culinary director. "The news and layoffs have been a lot. I'm disappointed and angry and sad — and excited for what's next. But ultimately just heartbroken that this has happened." (Vice did not return requests for comment.)
Munchies has gone through a few iterations since launching in 2014 with a YouTube video that kicks off with then-marquee Vice personality Action Bronson booming, "We in the motherfuckin' restaurant — you see what's going on over here." Along with a website featuring articles such as "The Painful Exile to Brooklyn," by the late Josh Ozersky, Munchies launched a slate of food-television programming with shows from the likes of Bronson, Eddie Huang, and Matty Matheson. One of its key series was Chef's Night Out, in which a camera crew follows big figures from New York's restaurant scene around town with friends. Shows such as Huang's World and Action Bronson's Fuck, That's Delicious were part of the slate of lifestyle programming on Vice's TV network, originally called Viceland. Vice pitched Munchies as an alternative to the "dull, bland and flat-out boring" programming on TV networks, The Guardian reported in 2014. Vice's ambitions for its television network never panned out, and eventually Huang left, followed a few years later by Matheson and Bronson.
Over the past couple of years, Munchies shifted away from publishing stories about eating in New York, such as "New York's Coolest Shit Is Hidden Inside These Bars and Restaurants," and developed a trove of original recipes and test-kitchen materials, which was led starting in 2016 by Sadeghin. In addition to creating original recipes, she hosted her own YouTube show with videos about fried ravioli and catching salmon in Alaska. Munchies published three cookbooks, including ones inspired by its shows Chef's Night Out and Bong Appétit. One of the site's most lasting contributions to internet food culture was "Why Is Brooklyn Barbecue Taking Over the World?," the photo and headline from which regularly resurface and go viral.
Recipes and cooking videos gained more prominence, though the site continued to publish stories about food culture, including a big package about suburban dining in May 2021. However, last August, Vice announced layoffs as part of its move to video. At the time, the plan was for Munchies to focus more videos and publish less articles. Now it will do neither.
This story has been updated with additional information from Farideh Sadeghin.