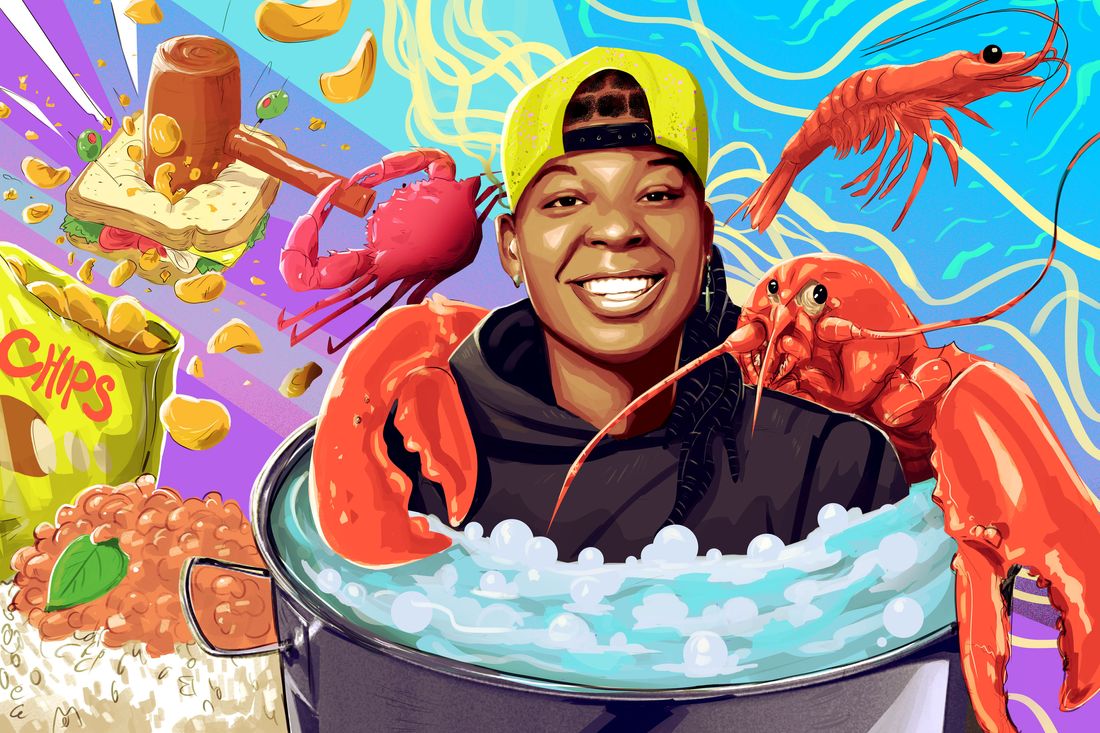 Johnson, who was promoted from featured player ahead of
SNL
's current season.
Illustration: Ryan Inzana
"You have to go into the week saying, 'Whatever's going to happen, happens," says Punkie Johnson, who is about halfway through her third season on Saturday Night Live (her first after being promoted from a featured player). The show's unpredictable production schedule hasn't gotten easier to navigate, necessarily, but Johnson has learned to roll with it: "There will be times you hit your friends up. 'It looks like I can meet y'all on Thursday at 2 p.m.' Come 1:59, you're pulling up to the spot and it's like, 'Punkie, we need you at the studio.' You'll be like, 'Ah, y'all motherfuckers got me again.' You just never know." 
Thursday, December 1
After a hiatus and a long holiday of eating everything — turkey and gravy, New Orleans gumbo, baked spaghetti and cheese, and potatoes and potato salad and cake and pie — after all of that, even if it's not a holiday, I like to come back to some cabbage soup or meal prepping with chicken and vegetables all week. I tried that, but it didn't go that way because my sketch got picked and I was never home.
I started Thursday the way I start every day. I take vitamin B12, I take vitamin E, and I take this gel-type substance called sea moss. Then it's 16 ounces of freezing-cold lemon water. I down it. I take it to the head. That wakes me up and gets me going.
I didn't really have a chance to grab something to eat, so I jumped on the train, and nine times out of ten, I'm having a juice. It's the same juice: cucumber, spinach, kale, apple, orange, parsley, and a shot of ginger. But juice is not food. I know it is food, nutritiously, if that's a word, but my mind is still hungry afterward. So I had some nuts when I got to work.
Maybe an hour later, I had a ham sandwich where I took the top of the bread off and just ate the bottom because I needed some substance to keep going throughout the day.
That night, we had a gala that Lorne invites us to at the museum every year, where they serve delicious food and even more delicious drinks. I don't like drinking on Thursdays. If I do, it's a cocktail to loosen me up for writing. I like to have cocktails on Saturdays because it's Saturday, but Thursday was the gala. When I got there, I had a Tito's-and-soda and then we migrated to the table and I had two more Tito's-and-sodas and a big ol' salad. I don't know what was in the salad. Some kind of pumpkin, squash, nut, seed, dressing — vinaigrette crap? It was delicious.
After that, they served us some type of broiled chicken with a mushy dressing underneath. I never know what I'm eating when I get to these elegant things, but this was so delicious I asked the people for seconds. Everybody at the table was like, "Oh my God, you're getting another piece?" I was like, Mind your business. That goddamned chicken was delicious.
Friday, December 2
I like to fast. For the most part, I try to eat at 2 p.m. and then I stop eating at 10 p.m. It all depends on what's happening with SNL, but I try very hard. Rolling into Friday, I had to film my video, and I had to be one of the first people there. If I'm waking up before 10 a.m., I have to eat — I can't go until two. I started the morning off with a breakfast burrito that included egg, cheese, pico, ham, grilled onions, and bell peppers.
For lunch, I got bougie — I never do this. I was sitting up there like a little diva, and I was like, I deserve a lobster. I got them to order me a lobster. It was the cheapest lobster, by the way. I wasn't too crazy. Had it with a side of shrimp. I was just dunking it in some butter, and I squeezed a little lemon on there and it was fantastic.
Of course, as we were recording, I needed snacks. I was eating nuts throughout the day, but then I couldn't resist. I saw a peanut-butter-and-jelly sandwich. I had one of those, too. There are days when SNL provides us with some, like, pizza or McDonald's. One day, I sat down and had six cheeseburgers in a row because I was starving. I felt awful the next day. Not physically but mentally. I was just so disappointed in myself, but I hadn't brought food and that's what there was!
Saturday, December 3
Saturdays and Sundays are my cheat days. I eat whatever I want, and I go for it. On my way into the office, I ordered while I was in the car so the food would be waiting for me. I ordered Chinese: shrimp fried rice, which I love, with extra green onions because I love onions. And I had green beans with chicken and a spring roll that was all veggie. It was fantastic.
Around 10:30 p.m., after the dress rehearsal was over, I got a little hungry. I always eat whatever is in catering. This Saturday, I had a ham sandwich and a bag of barbecue chips. I put the chips on the sandwich, and I smash it up.
I have to give props for the chips on the sandwich to my Uncle Gerald. He's dead and gone, God rest his soul. I love him so much, and every time I put chips on a sandwich, he's alive to me. Since I started eating solid food — so since I was 1 or 2, maybe? — I would watch him make sandwiches. He had this whole thing where he would slide the mayonnaise onto the bread. Slide the mustard onto the bread. He made it art. Then, after he finished this beautiful sandwich, he would mess it up with chips and squish it down. It's so gourmet until the chips, and I love it.
On Saturdays, of course, toward the end of the show when we're done, I get to sipping on that tequila. I had plenty of that after the show. Then you go to the party and have plenty of other things, all involving tequila. Then I'm always starving when I leave, so I stop at Taco Bell.
Taco Bell, for me, is an every-Saturday stop. I get the same thing: Mexican pizza with extra Mexican-pizza sauce, extra onions, and replace the beef with chicken. This is around 4:30 a.m. because they close at five, and I have to make sure I get there. I'll be at the after-party like, Yeah, we're having a good time, but I've got to go to Taco Bell now. I'll be running. I can't miss my Taco Bell.
Sunday, December 4
I feel like I work so hard during the week, whether my sketches get cut or not, that on Sunday I'm like, I'm eating whatever I want. I'm just going to order food. I'm going to sit inside all day, and I'm going to have a ball.
Apps always remind you of what you do; you don't know what you're doing until an app tells you. I ordered spaghetti and meatballs from this place and Uber Eats was like, Ding ding ding. This is your fifth time ordering!! Congratulations, you must LOOOVEE this place. I'm like, Oh, I'm on a pattern.
I got pasta and a chicken-Caesar wrap and garlic knots with extra marinara sauce. That was my Sunday meal, and it's such big portions that I had it for the entire day.
I have a girlfriend, and I hate to say this but you know girlfriends: "I haven't talked to you all week. When are we going to spend some time together??" It's long-distance, so that makes it harder to communicate. On Sundays, I make up for lost time. We're on the phone all night, watching movies, eating like pigs. And then we like to have these moments where we sit down together and have a snack, a healthy snack. We have some fruit and talk to each other with no distractions for an hour.
Monday, December 5
Mondays are when we pitch to the host. It's almost like a meet and greet. The host comes in, he sits in the middle of Lorne's office, and we all go in. Lorne's like, "All right, this is Steve Martin and Martin Short, everybody," and then Lorne gets right to it and we pitch. The ideas could be real or they could be fake, but the goal is to set the tone and have a little fun with each other in the moment. Then we either stay and outline something or we can leave and write the sketch on Tuesday.
Pitching has definitely helped me be more conscious of limiting my words. When you pitch, you have to get straight to the point, and I'm not a person who gets straight to the point. I'm the person that's like, "To make a long story short," but it's already a long story. In stand-up, I can tell more of a story, but with a pitch, it's like you've got to do it in 15 words or less. You have to get to the joke as fast as possible, and you can see it on people's faces when you're taking too long: You could have said the joke ten seconds earlier and it would've been a banger.
I got home about 8:30 p.m. and watched the trash-ass Saints lose in the last three seconds of the game. I was cooking. I love to cook. It's therapy for me. I can think about sketches or characters or just think about, What am I going to do this week?
To make up for the cheat days, I like to clean up on Mondays. I baked some chicken legs with onions and bell peppers, and I made two veggies I could eat through the next couple of days, a nice container of spinach with tomatoes and a nice container of green beans. I added some sautéed onions to that.
I try to eat healthy. My schedule is so inconsistent I never know what will happen. I try to put in the effort every week. It doesn't always go how I want, but it goes. Food can definitely affect the way I maneuver through the day. I try to pick and choose. Your body knows what it wants, and there are times when I'm looking at a pizza. I know I shouldn't eat it, but I say to myself, What if you mess around and die tomorrow? You'll be on your deathbed wishing you'd slammed down that pizza. What if that's the last thought? It's not, I love my family. It's, I should have had the goddamned pizza.