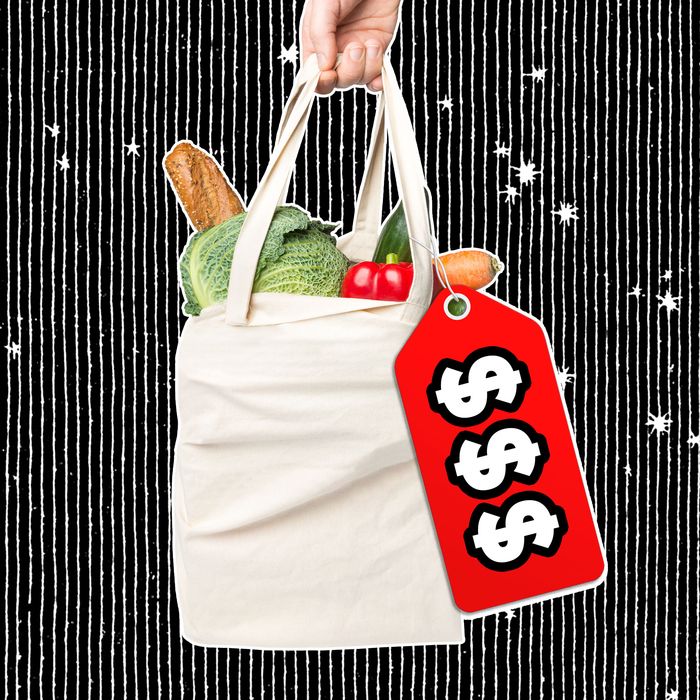 Photo-Illustration: Grub Street; Photos: Getty Images
With grocery prices soaring, we sent two reporters to wander the aisles of some local supermarkets to find out how inflation is changing the way New Yorkers shop.
Ash Ramirez, 28, diversity consultant and speaker
Royal Market, Crown Heights
The price for a week's worth of groceries for me and my fiancé is usually under a hundred dollars. Now it's $130 or $140. I don't go for name-brand apple juice anymore — I'll get something in the middle or lower end that still has "organic" on the label. And I'm not really consuming alcohol anymore. Marijuana's legal now, so I do more marijuana. I know some people who offer discounts, so whenever they have a sale, I'm like, Okay, I'll buy it. I'm not trying to spend money every week on weed — I'm buying bulk.
Ramir Gibson, 45, carpenter
Key Foods, Astoria
I used to eat great-quality steaks. Now I'm looking at chuck — you know what I mean? These days, I go to different supermarkets to see what the different prices are. Before, it didn't matter, I'd just go and buy things. Now I get the flyers so I can see what's on sale, and I might take a little walk because the difference can be a big difference — either a couple cents or a few dollars. I might get my cheese over here one week, milk over there the next week. Mostly I'm preparing for when it really hits home. I've been through a few recessions already, and I've been here before, cutting coupons as they used to do.
Louis Hunter-Lanza, 25, writer and student
Ideal Food Basket, Prospect Heights
I'm staring at the price tags a lot more than I was a few months ago. At the store, I'm buying larger amounts and going by the ounce price — I'm trying to get the most ounces or most grams for my dollar. Today I'm going to buy food for maybe two to three dinners, and I expect I'll spend upwards of $60, which is my entire budget for the week. And I'm buying a condiment to accentuate dishes, which is going to take up a tremendous amount of my expenses. So I have to validate that to myself, like, Oh, well, you know, this is something that's gonna last longer. 
That makes it very difficult to do things like date. I was just talking to two friends, both gals, and they want a guy to pay for their first date. So I'm here thinking, I can't afford to do that more than once every few weeks. I'm a lot more careful and selective, and I have to check prices before I go, which is a nuisance, frankly. And I have started going to coffee shops instead of bars — it's a cheaper date option.
Michelle K, 33, call-center representative
Ideal Food Basket, Prospect Heights
When I was buying ice cream, I was debating between getting 18 fudge pops for $5.99 or a 1.5 quart of ice cream for the same $5.99. I ended up going with the regular ice cream: Fudge pops don't have sugar in them, so when you eat one, you can eat another one and then go on and on. So I thought, let me get the regular ice cream because it has dairy in it: It'll close up the stomach faster and you only need one bowl, then you're good to go for the night. I've been looking at recipes from the Depression era, and I started using some of those ideas, learning how to spread stuff out. So, for example, with meatloaf, I can go down to the frozen section, buy a bunch of vegetables, and put it into the meatloaf so that one pound of meat can span out to two pounds.
The electric bill also went up. That started at the beginning of this summer; it went from 6 cents a kilo to 12 cents. So now, half of my apartment stays dark — the whole house can't be lit up for no reason. Still, I think I've always been poor; you figure out stuff real quick. I do have one nonnegotiable. I have a smoking habit, and I'll give up vegetables before I give that up. It's a break from everything, then I go right back to reality again.
Luke Barr, 53, writer
Lincoln Market, Crown Heights
We have four people in our family, so if we order takeout, it's crazy: It could easily be $120. So in that context, paying $20 for these chicken breasts — I never feel bad. We used to go out more to restaurants, and that hasn't really come back because of COVID. So that allows us to be like, Oh, hey, let's buy this burrata and whitefish salad.
Still, this store sells these candied walnuts that I would usually put on my salads. They used to be $5, and I grabbed some today as I was walking in. It was a little container and it was $10. And I was like, okay, I can make my own candy nuts.
Rosemary Lewis, 68, retired
Urban Market, Crown Heights
Before, my groceries would cost me roughly $25 to $30; now it costs $50 or $60. There are certain things that you have put back and say, Well, I'm not gonna buy this today. I'll wait for it to go on sale: Peaches in the can, bread, sugar, flour, things like that. I love chicken wings, but the price is so high now. I mean, a pack of wings is running $15 or $16.
I put my groceries on the credit card and I pay as I can. It's just pressure: You're not really paying it off because you're using the card every time you go to the store, and then the interest rate goes up. I'm trying not to stress.
Jamie, 38, and Tito, 40, project manager for a sustainability communications agency; vice-president at a luxury retailer
Gala Fresh, Crown Heights
Jamie: We used to eat a lot more fish. That's probably where it hit us hardest: Fish for dinner for two people is $60. We used to eat scallops maybe once a week, and we literally don't eat scallops anymore. Because we work from home, food is our biggest expense aside from rent, so it's kind of like, we eat well because we're home anyway, so we want to eat good steak, good fish. But it does hurt.
Tito: You work hard, you have a career, and if there's ever a thing you spend on, it's food and not having to make hard choices. You're not gonna go overboard and buy caviar every day, but if it's salmon and the difference is $10 or $15, you're just going to spend that money. It's different for the big-ticket stuff, though. We're living in a two-bedroom apartment, and we've been looking to buy a home since the beginning of the pandemic. But it's like, do you want to look at getting a home with high interest rates and super-high down payments and all the costs that go into renovation and everything like that? And then having a baby and high food prices — all of that comes together — and can you make the numbers work without making yourself miserable? It's like, okay, you're old enough to feel like you should be able to afford salmon. And maybe you can even afford a home. But then the city reminds you that maybe you can get the salmon, but the home might be a thing that needs to be negotiated.
Brett Carter Sr., 50, wireless technician
Urban Market, Crown Heights
I drink orange juice every morning with breakfast and sometimes at night too. I like Tropicana. The juice prices are higher, but you gotta close your eyes and put it in the cart. Today I bought some rib eye steaks, and those were a lot more expensive — meat is probably the worst. I just think it's worse to eat something that you don't want to eat. I don't fault anybody that says, well, we're gonna have franks and beans — if I had to do it, I would do it. You're going to tell yourself no for 50 cents or a dollar? If it's the difference between a Ford Focus and a Benz, that's going to affect your quality of life. But if it's a dollar, you can get that dollar back in some other area — I waste money on my phone playing games on Google Play.