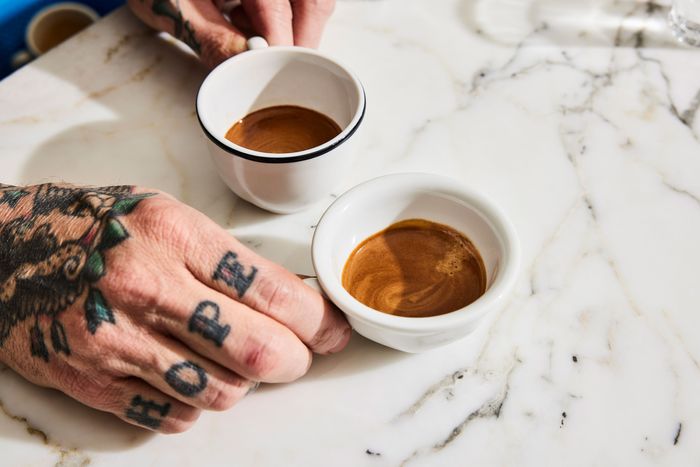 Anthony Mangieri will open Caffè Napoletana this weekend.
Photo: Mark Weinberg/Caffè Napoletana
For 20 years, Anthony Mangieri's name has been synonymous with a monastic devotion to dough. At Una Pizza Napoletana, he became famous for his hand-mixed, wild-fermented crusts and super-puffed corniciones, but he maintains other interests as well. For example, he enjoys coffee.
When Mangieri was younger, he'd meet his friends at Italian social clubs in northern New Jersey. "The espresso was great, but nothing else was," he says. "It was more of a hangout for guys to gamble in the back room, smoke cigarettes, and curse at each other." But somewhere between those smoke-filled social clubs and numerous trips to Italy, Mangieri built up his caffeine tolerance and became a coffee authority too. "I'm sometimes having eight shots a day," he says. "When you drink an espresso that's pulled correctly with coffee beans that are roasted in the Italian way" — dark, not burnt — "I think it's one of the most beautiful experiences you can have in your day."
There is arguably too much coffee in New York, but, as Mangieri sees it, it is still very difficult to find that particularly Italian experience here, so beginning this weekend, he's transforming Una Pizza Napoletana into a Saturday-only coffee counter called Caffè Napoletana. As with the pizzeria, the menu will be limited and attention will be paid to the smallest of details. Snack cakes come from Italy. Orange juice, or sometimes a mix of citrus like cara cara and Meyer lemon, will be made to order. ("Not 'fresh-squeezed' at 7 in the morning before we open," Mangieri clarifies.) And there will be espresso, or, if you'd like, cappuccino. Mangieri will also offer his espresso con panna, which is to say topped with a bit of whipped cream, but please go elsewhere for pour-over or cold brew.
The beans come from Kimbo, in Naples, a mix of Robusta and Arabica from Colombia, Brazil, and India. Mangieri opens the bags anew each morning — he says the humidity changes too much and the freshness is gone after 24 hours. (Keeping the beans in the restaurant's wine storage can help.) He carefully monitors the grind size, then the water pressure and temperature — "I would say I adjust three or four times a day on average" — on a gleaming Faema Thermosifonic President, an imposing machine that costs about as much as a used Fiat. He's particularly enthusiastic about his current tamper (the stamplike tool baristas use to push down the ground coffee). Mangieri's is "on the heavier side," and he likes the way it glides into the portafilter. It's the mundane things like this that start to feel very important when you're pulling shots all morning: "Like the movement when I'm making pizza," he says. "There's just a rhythm to it."
As always, Mangieri is chasing perfection, coffee in its purest form of excellence, what espresso zealots call the God shot. "It's thick, it's dense, it's very strong, and it could be very nutty and interesting if it's pulled properly on the right machine," he says. For the purposes of quality control, only four people are allowed to pull shots: The manager, two of the restaurant's trusted cooks, and, of course, Mangieri.