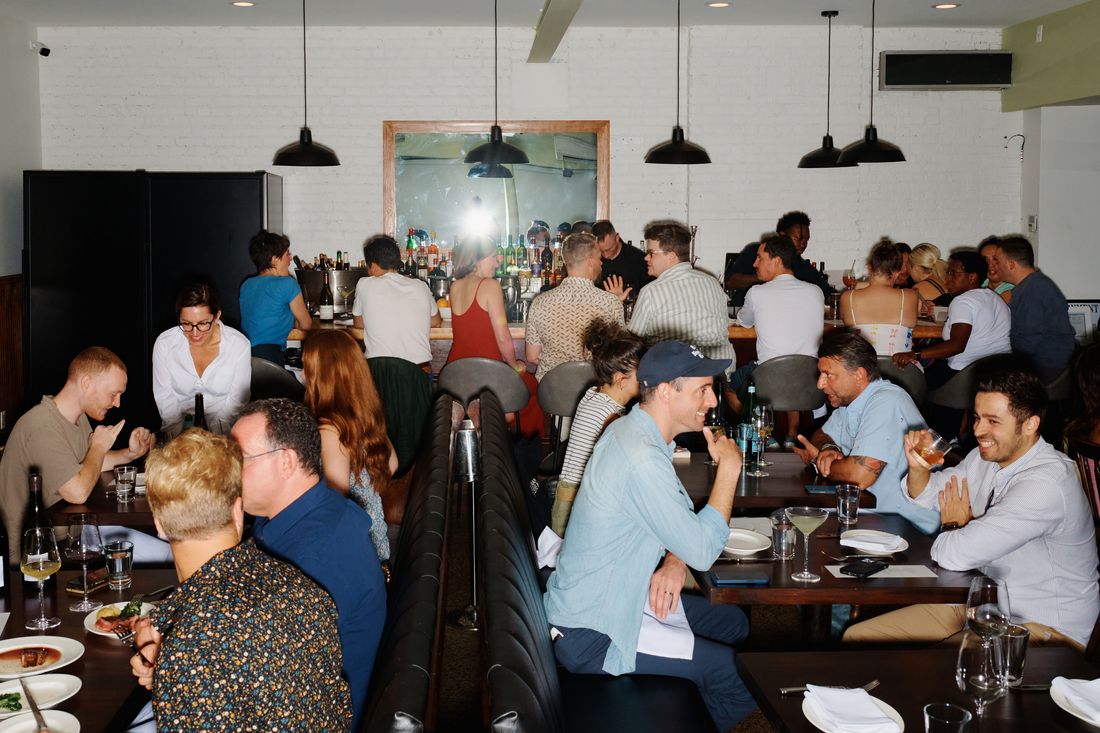 Gus's Chop House, which opened in early September in Cobble Hill.
Photo: Jonah Rosenberg
While the pandemic is hardly "over" — and may, in fact, never be gone in the traditional sense — the economic recovery is far enough along that some clear patterns and developments have started to emerge. While we're all familiar with the bigger developments (higher prices, fewer workers, no more late-night feasts), some more specific, surprising changes have taken hold in the restaurant world. Here are some of the pandemic pivots that look like they'll stick around as long as COVID itself, which is to say they're here for good.
Thursday is the new Friday.
Owners say that they've seen a noticeable uptick in activity on Thursday nights — a phenomenon they attribute to work-from-home policies. "I have a theory," says 21 Greenpoint owner Homer Murray, "that it's because most people in Greenpoint work remotely, so they can take Fridays off." André Hueston Mack has noticed the same thing at his Prospect Lefferts Garden restaurant, & Sons: "Everyone goes out Thursday night, and then they spend Friday recovering."
Paper checks are disappearing.
With costs soaring, restaurateurs need to find savings anywhere they can, including cutting down on paper products. Mack, for instance, has cut down on the use of paper at his restaurant & Sons, not just through QR menus but also in the kitchen, where they've stopped printing out physical order tickets in favor of a digital display. "We don't even like to present the check," he adds, pointing out that, increasingly, they just defer to a digital card reader — simple devices that are becoming more popular at restaurants around the city. In Paris, the card readers have long been common — it's just a matter of time before they become the default payment routine here, as well.
Recipes are designed to be more malleable.
At many restaurants, menus are getting simpler because of high labor turnover, fewer available cooks, and the rising costs of ingredients. Chefs are also designing their dishes to be less rigid, which is less about creative expression and more about necessity in the time of supply-chain disruptions. "Maybe you'll order something through the purveyors, they won't show up, and they'll tell you that it's just not there, which just didn't happen before," says Fabián von Hauske Valtierra, who runs Contra and Wildair with his co-chef and business partner Jeremiah Stone. Valtierra gives the example of a dessert that doesn't call for specific fruit, but instead offers a spot for whatever fruit is available. "It's less about being chef-y and just more about how to use those things to your advantage economically," he says. "You have to adapt, but that's not a bad thing."
There's an increased emphasis on sick days.
"Pre-pandemic, we were way more strict on our sick and call-up policy, but now our messaging to the staff is, 'If you're feeling sick, if you're feeling under weather, please stay home,'" says Kim Hoang, a co-owner of Di An Di in Greenpoint. "We have people call out every week."
In the kitchen, where there's less flexibility for employees to call out, chef Dennis Ngo has implemented a "quality of life schedule," where cooks work four days per week with a fifth day on-call. While the caution around employees being sick is a response to the threat of COVID specifically, Hoang thinks it will be permanent. "I don't know if it's the culture shift or the expectations have changed, but I don't think it will change back."
Casual restaurants want a commitment.
While cancellation fees were already common at fine-dining restaurants, reservation requirements and penalties for no-shows have become increasingly common at cocktail bars and more neighborhood-focused spots. Not only is it no longer strange for a Brooklyn wine bar to charge something like $25 for a reservation that isn't honored, it's quickly becoming the norm.
Restaurants have fewer workers and more seats.
Even with indoor dining more or less back, businesses continue to benefit from the Open Restaurants program. "The rules opening up dining on the sidewalk have made our place slightly bigger, and so now our wait staff is making more money," says Long Island Bar co-owner Toby Cecchini. It's weather-dependent, of course, but he says that on the whole, the restaurant's additional sidewalk seats "maybe increased the footprint by 25 to 30 percent, and that's kind of huge for two people on the floor — that equates to a lot more money through the week."