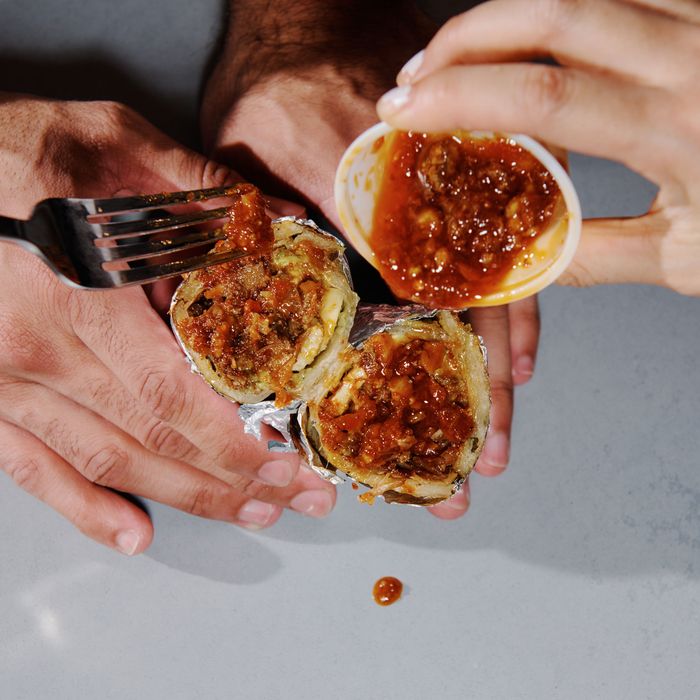 A pernil burrito wrapped in a scallion pancake and topped with lemongrass chile crisp oil.
Photo: Jonah Rosenberg
In December 2020, Isabel Lee started working on her burrito recipe. She and her partner, Luis Fernandez, had just moved to New York from Los Angeles. Lee was often cooking scallion pancakes to mitigate bouts of homesickness, while Fernandez was eating a lot of pernil, enjoying his fill of the Dominican meals L.A. lacked. For Lee, it only made sense to combine the two.
She began wrapping the crispy pancake shells around the slow-cooked pork, queso blanco, guacamole, and homemade lemongrass chile crisp oil. "I remember the first time I tried it," Fernandez says. "I told her it was going to be huge, it was going to be ginormous — I told her when people come to New York City, they would think of pizza, bagels, and this burrito."
The couple spread the word on Instagram and began selling their first burritos in June 2021. The pandemic being what it was, they lowered orders to customers in a metal bucket attached to a rope from the fire escape of their third-floor Chinatown apartment on Sunday afternoons. The name: Forsyth Fire Escape. Originally, Lee and Fernandez hoped it could serve to unite the community as a wave of anti-Asian sentiment swept through the city, but the project quickly took on a life of its own.
"I definitely think I was being inspired by the hustle and the grind of everyone here in New York," says Lee.
The couple's landlord felt differently, however, and soon threatened a lawsuit if they continued to vend from the fire escape. So Fernandez asked the owner of Don Juan Grocery & Deli — the Dominican bodega where Fernandez often bought his pernil — if they could use the its kitchen on the weekends to continue their project. He agreed. (They also moved out of the apartment.)
At first, the couple took orders via Instagram DMs, but over the months, they managed to streamline the process. This past April, Lee quit her corporate job to focus on ramping up Forsyth's business strategy, and a website for preorders launched in May. Preorders go live at the beginning of each month; they usually sell out within two minutes. Customers can pick up their orders at the bodega on Sunday afternoons.
The couple makes about 600 burritos per month; the preorders and Sunday-only drops are designed, in part, to reduce food waste, and the process takes Lee and Fernandez all week: Monday is inventory day. On Wednesday, they pick up 200 pounds of meat from a Chinatown butcher and begin the 48-hour marination. They prep the scallion pancakes on Tuesdays and Thursdays and slow-roast the pernil for 12 hours on Fridays. On Sunday, they take everything to the bodega, make the guacamole, and assemble the burritos.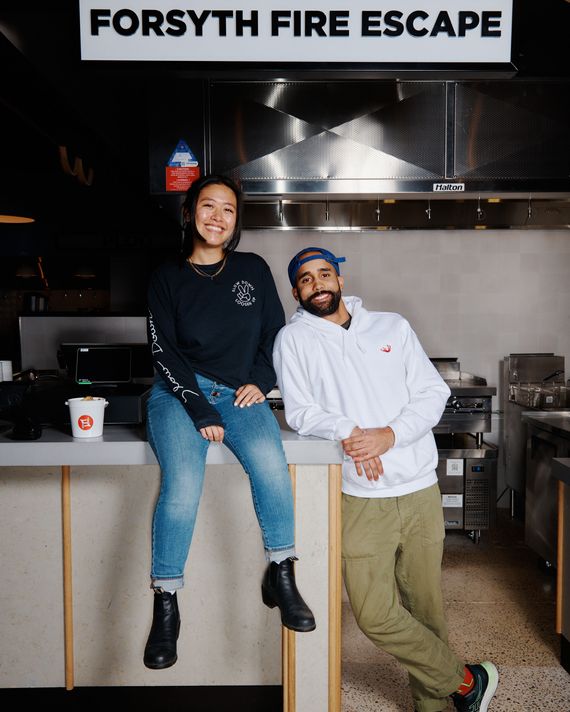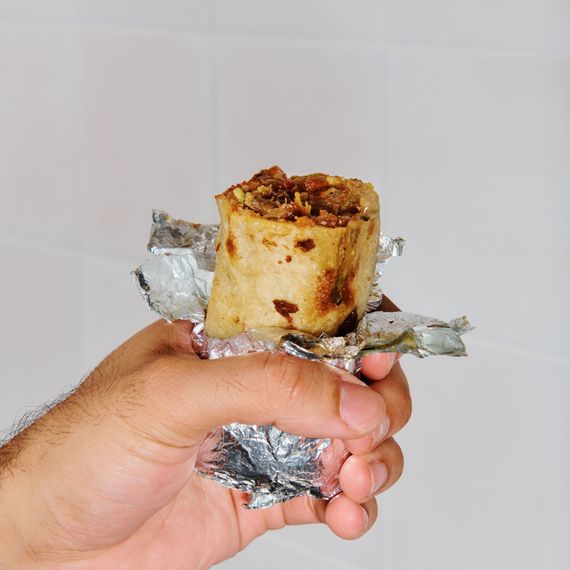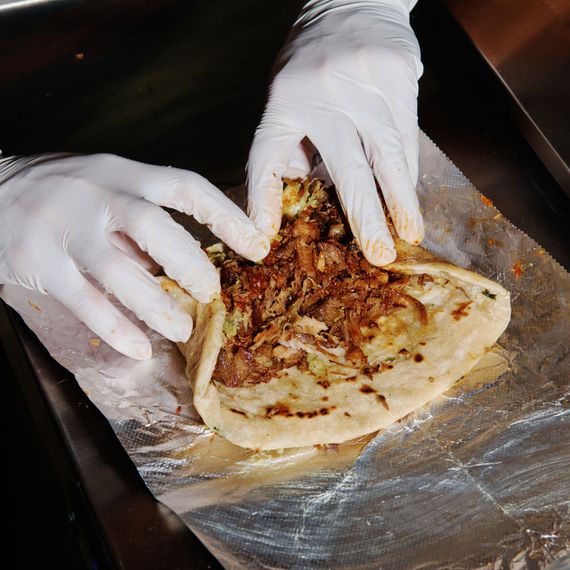 The limited runs meant many burrito lovers were left empty-handed. As of today, that might change. The couple is starting a six-month residency at Olly Olly, a new food hall located on West 26th Street in Chelsea. From noon until they're sold out, customers can order a $14 scallion-pancake burrito as well as homemade sauces and coconut ice tea, a new menu item. When they were first approached about the hall, the couple — who will still do their Sunday drops at the bodega, albeit at a staggered rate — was reluctant to leave Chinatown, but Lee realized it would be an opportunity to spread awareness. "There was this idea of bringing a Chinese-Thai-Dominican fusion to Chelsea, and we saw it as a good way to share these types of flavors with different neighborhoods."
There's another added benefit to the market setup: For now, anyone who wants to try this burrito can simply walk up and order one — no advance planning necessary.