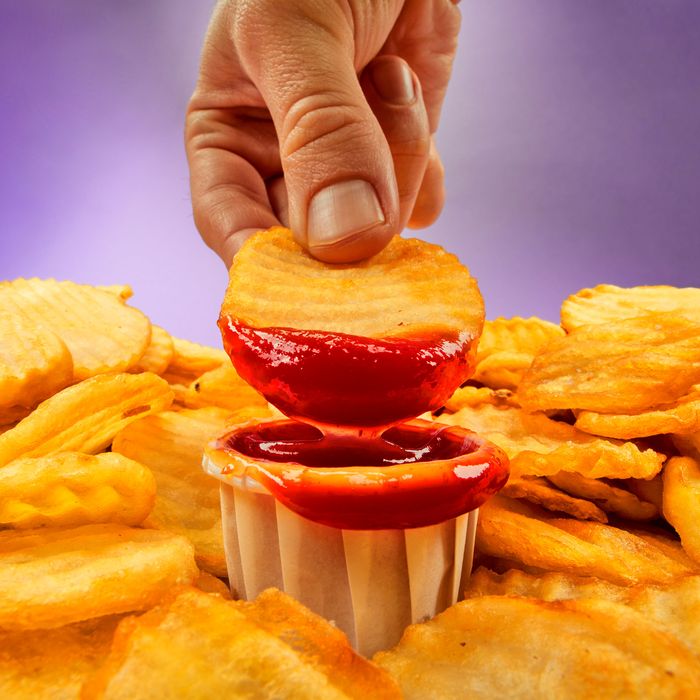 Cottage fries feature a unique shape that makes them surprisingly difficult to produce.
Photo: Marcus McDonald
Time was, New Yorkers knew where to find cottage fries, the little ridged discs of golden potato that their fans argue are superior vessels for ketchup-dipping. On the Upper East Side, J.G. Melon served them alongside its famous burgers. Down in Sheepshead Bay, Roll-N-Roaster went through piles of them every day.
That all changed last December when the official Instagram account for the UES Melon delivered some dire news: "The rumors are true," the message began, explaining that the "legendary" cottage fries were temporarily off the menu due to supply-chain issues. When the same fate befell Roll-N-Roaster, customers became so upset that they launched a petition demanding the restaurant restore order and bring back cottage fries.
"Cottage fries used to be part of what we are," says Eric Rodriguez, the general manager at the Brooklyn sandwich shop. The restaurant now serves a fry that Rodriguez describes as something between a wedge and a scoop. "A lot of people, including myself, think the new fries are much better," he says. "The thing is, a lot of people don't like change, even if it is for the better."
Jaine O'Neill, the owner of J.G. Melon, says she can sympathize with fans who were dismayed by the news: "We were in the middle of COVID, and people wanted something they could count on."
For nearly a year, it has looked as though that could be the end of the story. But hope can arrive in unexpected places, which in this case is Red Hook.
Since it opened in 2019, Red Hook Tavern's heavily Instagrammed cheeseburger has been accompanied by a somewhat controversial trio of thick potato wedges. But those were recently replaced by a pile of, yes, cottage fries, and this development, apparently, had been the intention of owner William Durney all along.
"Cottage fries were the original fries that were supposed to be on the menu at Tavern," says Durney, who grew up close to Roll-N-Roaster and had wanted Red Hook Tavern to be an homage to all the old-school New York places he admired, including J.G. Melon. "But the original chef had this dehydrated wedge, and I thought it was great." No more, however, with Durney also adding cottage fries to the menu at Hometown Bar-B-Que in Industry City (though they aren't served at the Red Hook location).
Cottage Fries have also reappeared in Manhattan, popping up on the menu at S&P, the Court Street Grocers team's revamp of the old Eisenberg's sandwich shop in the Flatiron District. While owners Matt Ross and Eric Finkelstein make their own fries at their restaurant HiHi Room in Cobble Hill, they knew they would need frozen fries to meet the demand at S&P. Too bad none of the standard frozen fries satisfied them. That's when their thoughts turned to cottage fries.
"We've had customers in here who have said, 'I don't want these. I want the steak fries you used to have,'" Finkelstein says. "Then we fry these up and they apologize." He explains at least part of the cottage fry's long-standing appeal: "It's a perfect vehicle for ketchup."
Durney and the S&P crew buy their cottage fries through the Chefs' Warehouse, as opposed to the supplier that provided them to J.G. Melon and Roll-N-Roaster, Lamb Weston — a giant food-processing company based in Eagle, Idaho, that produces untold amounts of frozen potato products. It was its decision to discontinue cottage fries that forced its longtime New York customers to find alternatives. (Lamb Weston, it's worth noting, is staying silent: The company did not respond to a request for comment.)
"When they told me they're going to be dropping a product that was so much of our identity, it was very concerning," says Rodriguez, who claims Roll-N-Roaster accounted for two-thirds of all cottage-fries sales at Lamb Weston and went through 150 cases of potatoes a week.
According to Rodriguez, some surprising factors led to the demise of Lamb Weston's cottage fries. Because of their unique shape, cottage fries require big potatoes. In 2020, the crop of that particular potato was small and misshapen. Moreover, making cottage fries is apparently quite difficult. Lamb Weston has 13 plants throughout the United States, and in order to produce cottage fries, it must shut one down and change the blades on the machines.
According to some sources, Lamb Weston has resumed production of cottage fries (again, the company didn't get back to us, so there's no official confirmation), but at this point, Roll-N-Roaster cannot risk switching back, says Rodriguez. "The problem is you're playing with fire," he points out. "I've got to be loyal to this company I'm with now to get the amount of potatoes I require."
J.G. Melon, too, is sticking with an alternative for the time being, a kind of scoop-shaped fry, though it never removed the phrase cottage fries from its menu. "We just didn't change the name because I think we'll be getting them back," says O'Neill. When she can find a reliable purveyor, the cottage fries will return, possibly as soon as this fall.
As for Roll-N-Roaster, despite its long association with cottage fries, the restaurant is sticking with its new fries. One reason is because the change hasn't actually hurt the restaurant's bottom line. "We're still selling the same amount of potatoes we did before," Rodriguez says.
That makes Durney sound almost forlorn. "I'm kind of bummed that they don't serve them anymore," he says. "When you grow up in a neighborhood, you come to expect what you expect."