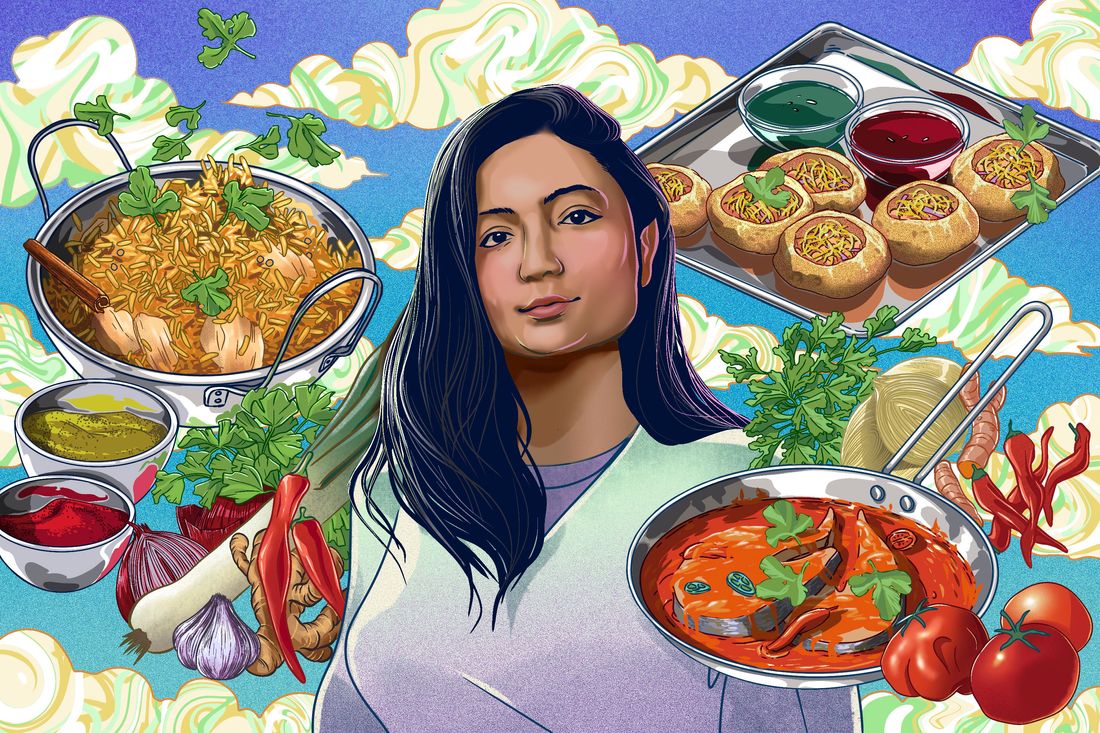 Writing for The Simpsons is not, Broti Gupta explains, like writing for other comedies. For starters, "We've already done every story," she points out. "I say 'we' — I've only been working here for about a year." Season-long arcs are nonexistent. "Every episode is starting over the same day," says Gupta, who also co-hosts the Lecture Hall podcast, "so we're not thinking about bigger changes a character might go through." There is no traditional hiatus, but there are surprisingly long lunch breaks. And, of course, there is the freedom that comes from working on an animated show: "You can truly come up with anything. They'll just draw it!"
Thursday, September 29
In the very early hours of the morning, my fiancé wakes me up to tell me he had a dream about a Zoom party. He clarifies further: "This doesn't mean the party was each person on their separate Zoom windows. It was a group of people in each Zoom window." I catapult myself out of bed, grab my lantern, and run to my diary to write it down — my "Grub Street Diet" will spare no details over the course of the next week.
I get up several hours after the Zoom dream, and my fiancé offers to make me a smoothie. In the interest of anonymity, I'll make up his name so you don't know it's really Greg. (Oops.) Let's just call him "Greg." (Fuck!)
I log into work, which we are still doing remotely, and watch the very funny table read of a new episode of The Simpsons. Sometimes when I tell people I write for The Simpsons, they say something like, "Is that show still on?" The short answer is yes. There is no long answer. If I am working at a place, it probably exists. I don't think that kind of condescension happens to other people. If someone says they're an architect, nobody asks, "Is shelter still a thing?"
Anyway, I drink my smoothie: mixed berries, almond milk, and protein powder.
Our lunch break is from 12:45 until 2:15, which is a generous amount of time to actually cook lunch and eat it while watching either What We Do in the Shadows or this survival show called Alone. Alone is awesome. It's like Survivor but, as a friend says, "without the artifice." Expert survivalists film themselves alone, foraging and hunting whatever wildlife they can find in their season's location, whether it's the Arctic or Mongolia. While these people are hunting things such as "wolverines" on my screen, I am eating leftover lamb chops. I also eat leftover saag that I made. I love cooking, and I love cooking Indian food or at least Indian-flavor-profiled food. Mostly, I love eating the leftovers. It makes it sting less when I finish my first portion the night of cooking.
My cousin is in town, and he wants to try some classic Los Angeles food, like street tacos, so we have tacos from a taco stand that's literally right outside my door. It's been absolute hell having it there. It's so good. I want Taco Truck all the time. There was a time during the pandemic when I was eating relatively healthy and my sodium wasn't "something to keep an eye on," and that's because Taco Truck wasn't outside my door. I love Taco Truck and wish it would drive away from me forever. They have the spiciest salsa I have ever tasted, and I want it to be on everything.
Friday, September 30
Another day, another smoothie. I like having a smoothie in the mornings because "Greg" (SSN: 400-27-8472) does a really good job making it. I like to sit in one place and be given pureed fruits, much like a baby. We sort of fell into this situation wherein Greg is generally in charge of breakfast, we both go back and forth with lunch, and I typically cook dinner. If you'd like to run the numbers, that's 1.5 meals we are each usually responsible for.
I would be lying if I didn't admit to having a handful of Cheez-Its even though it is morning. The less we dwell on this, the sooner we move on.
For lunch, I'm craving baked ziti, so I order it from a local place called Tomato Pie. I recognize what a winning combination pasta, six cheeses, and tomato sauce can be.
After work, I go down the street to meet up with Greg, my cousin, and a few of Greg's pals from his job for a glass of wine. (Greg is also a TV comedy writer, and an embarrassing secret about him is he knows how to add but not how to subtract.) I order a refreshing glass of orange wine. I don't think I get drunk off of the wine or even tipsy, but within ten minutes of my drinking it, I order my first pair of Crocs online. So I guess you tell me.
We then go to a cute little Mexican restaurant for dinner, where we order a bunch of different tacos and sample all of them. And surprise? They are all terrific. The place is called Nativo, and it's in Highland Park.
Saturday, October 1
There's a breakfast place down the street from my house where Greg (he lost his virginity at 32, somehow to the wind) picks up a few breakfast items, including my favorite: yogurt with granola and fruit. Remember when we all found out that granola isn't healthy? I don't! Fuck that! I love my edible potpourri.
The big meal of the day is Parks BBQ in Koreatown. I love Korean barbecue. Because I grew up in an aggressively suburban midwestern town, I will give the highest compliment I can think of to this restaurant and its KBBQ experience: "It's like Benihana, but you're the star." This is because I get to use tongs for the meat and watch it cook in front of me. We have short rib, brisket, bulgogi, you name it. And a kimchi pancake. Oh, the kimchi pancake. It's so good that I feel genuine melancholy while eating it because it's going away into my stomach. It is the best thing I've ever eaten, and I would eat it every day for the rest of my life, which would never get tiring.
Sunday, October 2
I have to drop my cousin off at the airport, so before that, we stop to get brunch along the way. It's a little place in Eagle Rock called Delia's. My cousin and I sit at a table outside in an area decorated with little antique knickknacks; there are tiny birds that feel very confident. It is — dare I say — darling. I eat an asada burrito and put extra spicy salsa on it, which I love. I have a high tolerance for spice, so until it burns a hole through my tongue or I am made to eat the final sauce on the show Hot Ones, I will always opt for something spicy.
I meet a friend for dinner at a restaurant in Los Feliz called Little Dom's. My friend and I order the same thing: rice balls and arugula salad. The arugula salad is huge and delicious and makes me feel like I'm a rabbit because, look, it's a lot of roughage. The rice balls are fried (good), filled with seasoned rice (good), and a ball of mozzarella (good). I think frying stuff is an amazing innovation from humans. Actually, and I'm pretty sure this is true, I think we are the only species that breads our food and deep-fries it.
Monday, October 3
Today is the day of The Simpsons 34th season-premiere party. It's at Universal Studios in Hollywood. I'm too excited for it to really eat through the day, so I just have a hard-boiled egg. I know I should eat more before I go to a party, but here's the thing: You can't tell me what to do.
My fiancé, Abel (that should help protect Greg's identi — shoot), and I get into the Universal Studios parking lot after first driving into several wrong parking lots. That's my fault. I'm really bad at directions. I get stage fright when it comes to telling someone where to go, which sucks if you're the driver.
Anyway, we walk around for a while and chat with pals before we hit up a line to get Krusty's Non-Kosher Hot Dogs. But when we get to the front of the line, one of the worst things that can possibly happen when you want a hot dog happens: They are out of hot dogs. So we shrug and walk ten feet over for pizza, which rocks. Big slice, super-greasy, you know — like how pizza is.
My boss gives me some intel: There is really good fried chicken at this party. And the move? Well, the move is to eat it. Greg and I share a plate of fried chicken, and my boss is proved correct. This fried chicken is crispy on the outside, juicy on the inside. I mean, what else do you want? We decide we don't feel like finding plasticware, so Greg and I instead do something depraved: We use French fries as a spoon for the mashed potatoes. Ultimately, I will answer for this act of potato cannibalism on Judgment Day.
My friends from the show and I run around, have some Simpsons-themed cocktails, play carnival games, and then call it a night. I go home satisfied with that really good chicken. I did not eat a single vegetable all day.
Tuesday, October 4
I wake up, and I am supposed to work out, but I have to move it to later this week because I am having some hip pain because of my arthritis. Is this the kind of sexy aspirational living we all love in a "Grub Street Diet"? I hope so! There's famously no way to delete something after you've typed it.
I start work, and Greg (he has IBS) makes me a sandwich. Specifically, a peanut-butter-and-jelly sandwich because I said something that made him think I might want one. The thing I said was "I want a peanut butter and jelly sandwich." Communication is the bedrock of any strong relationship.
In the evening, I attend an extremely lovely dinner of South Asian creatives in Hollywood. We have food from Badmaash, a great Indian restaurant, and spicy cocktails with really good spices on the rim. I don't know what they are.
The food is rice, naan, eggplant, chicken, and fish, among 1,000 other things. I eat it all quickly as if I'm worried someone will … take my food? Everyone is having the same thing, but I think "defensive" is a good way to feel when you're eating with extremely pleasant company.
The dessert is a gulab jamun–style bread pudding. It is delicious and cardamom-y. I love cardamom! It's always on The Great British Bake Off. Sometimes I put it in desserts I make and then I tell everyone who is within 50 feet of me that there's a hint of cardamom. They didn't even ask, but they still politely go, "Ah! Cool!"
Because this is my last "Grub Street Diet" meal, I vow to never eat again and go to sleep peacefully, content that all of you now know the most intimate details of my week. Greg's credit card is in the image below.