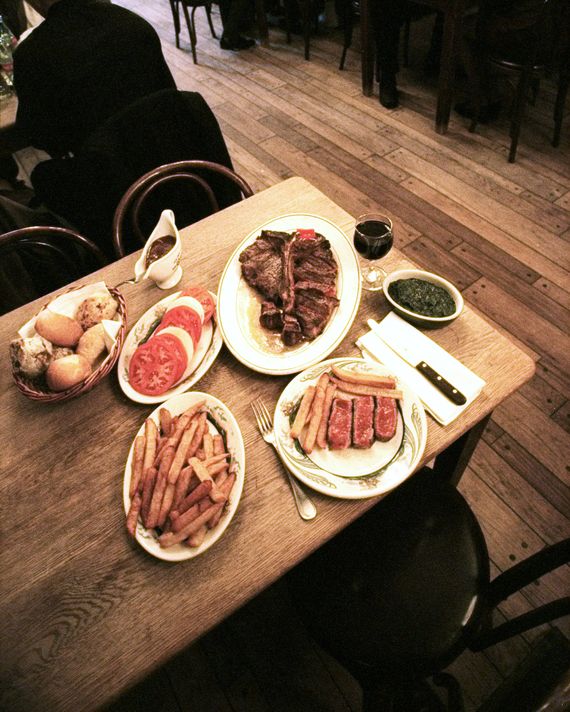 A typical spread from Brooklyn's most famous steakhouse.
Photo: Pat Carroll/NY Daily News Archive via Getty Images
Peter Luger, the iconic Brooklyn steakhouse, is famous for many reasons. It has been open for more than a century. It eschews any trappings that might be considered "fancy" in favor of a German beer-hall vibe. Its steaks arrive on tilted platters, soaking up sizzling suet. And it serves what many consider to be the worst dish at any Michelin-starred restaurant in the world: a tomato-and-onion salad that, for some reason, people continue to order.
While eating a plate of thickly sliced out-of-season tomatoes and white onion may transport diners to another time, it's not necessarily one anyone wants to go back to. Yet for years, the steakhouse has continued to boast a star in Michelin's New York guides — a badge of honor that the longtime restaurant-rating group says makes Peter Luger, and its mealy tomatoes, "worth a stop." (Other one-star spots on the list include Ignacio Mattos's forward-thinking Estela, the always-packed Williamsburg wine bar Four Horsemen, and Douglas Kim's acclaimed Jeju noodle bar — all places where diners would justifiably be horrified to eat something as objectively mediocre as the Luger tomatoes.)
Or at least, this was the case until last night, when Michelin unveiled its latest rankings and stripped Luger of its star. What has changed at the steakhouse since Michelin awarded it a star just last year? It's unclear, but the star removal is just the latest indignity to be suffered by the famous meat den. In a now-famous 2019 review, New York Times critic Pete Wells argued that the restaurant had declined since its heyday to the point that, after every meal, he's left with "the unshakable sense that I've been scammed." The review caused a minor dustup of drama, but it hasn't stopped people from patronizing and celebrating the place. (Just this weekend, a friend promised there would be Luger steaks at his bachelor party upstate.)
As our own former critic Adam Platt once argued, this change in rating won't matter: Peter Luger is part of the small collection of tenured New York restaurants that are more or less impervious to criticism. Some people will defend its steaks to the bitter end; others will argue that it lost its luster long before Michelin even thought to give it a star in the first place.
What else happened with the Michelin stars this year? See for yourself. Here is the full list, which includes 19 new restaurants such as Al Coro, 63 Clinton, and Semma:
Three Stars
Chef's Table at Brooklyn Fare
Eleven Madison Park
Le Bernardin
Masa
Per Se
Two Stars
Al Coro
Aquavit
Aska
Atera
Atomix
Blue Hill at Stone Barns
Daniel
Gabriel Kreuther
Jean-Georges
Jungsik
Momofuku Ko
The Modern
Saga
One Star
63 Clinton
Batard
Family Meal at Blue Hill
Casa Enrique
Casa Mono
Caviar Russe
Claro
Clover Hill
Contra
Cote
Crown Shy
Dirt Candy
Don Angie
Estela
Four Horsemen
Francie
Frevo
Gramercy Tavern
Hirohisa
Icca
Jeju Noodle Bar
Joomak Banjum
Jua
Kanoyama
Kochi
Kosaka
L'Abeille
Le Coucou
Le Jardinier
Le Pavillon
Mari
The Musket Room
Noda
Noz 17
Odo
Oiji Mi
One White Street
Oxalis
Oxomoco
Red Paper Clip
Rezdôra
The River Café
Semma
Shion 69 Leonard Street
Sushi Amane
Sushi Ginza Onodera
Sushi Nakazawa
Sushi Noz
Sushi Yasuda
Tempura Matsui
Torien
Tsukimi
Tuome
Vestry
Yoshino