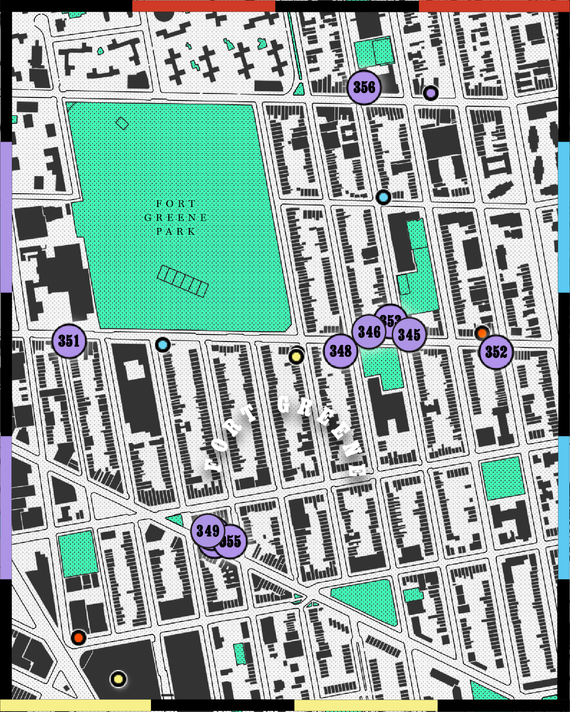 A running list of everywhere I've been, week 35: 344. 2nd Ave Deli 345. Evelina 346. Saraghina Caffè 347. Au Cheval 348. Miss Ada 349. Black Forest 350. Emack & Bolio's 351. Textbook 352. The Great Georgiana 353. Dick & Jane's 354. Lilly's Pizza Bar 355. Oma Grassa 356. Farmer in the Deli
For the past few months, the line to get into Saraghina Caffè — a Fort Greene aperitivi bar that took over the corner space once belonging to Madiba — has been a source of consternation for me. Every time I walk by, there's a queue that has always seemed disproportionate to the premises, considering that almost every neighborhood has an Italian-themed bar where you can order a negroni (or two or three). What could possibly make this one special enough to warrant such a wait?
After finally visiting Saraghina Caffè twice, I can say that it was a portal to Venice … in that it made me feel like a tourist. My conclusion is that the fuss comes down to the location, a gorgeous corner spot on a gorgeous stretch of DeKalb Avenue.
Fort Greene is a prime peacocking neighborhood. With its abundance of small restaurants scattered between walkable residential streets, it's kind of like the West Village of the south with its own supply of Uppababy strollers and shelter dogs to match. The thing that seems to set Fort Greene apart from other Brooklyn neighborhoods taken over by affluent families is its rampant dating culture, which provides a steady stream of customers to hot spots such as Evelina (a sexy Italian restaurant) and Miss Ada (a sexy Middle Eastern restaurant), which were both noisy and packed with young couples when I dropped by for dinner.
"People are really overstaying right now," I heard a server say on a busy Thursday night at Evelina, where I snagged the only single bar seat, conveniently located next to the host's stand. That's how I heard the "VIP coming at 9:45" announcement, but I didn't see anyone famous that night, so it was probably a regular (the real VIPs).
At Miss Ada, I overheard one guy pretending to know more about wine than he really did, trying to impress his friends, and I was worried I'd wandered into yet another date-night dip restaurant — where everything is meant to be scooped or spread. But I was won over by a serving of hummus with sweet balsamic, onions, and chicken livers cooked so that the inside remained just a bit pink.
For a drink on DeKalb, I'd still suggest Roman's — an old standby at this point — which is conveniently open on Mondays, when you might need one of its "house bitter" drinks the most. Unlike Saraghina, there probably won't be a line, either, and the negronis are just as good (even better if you get it on the side of some fava bean puree). If you are going to wait in any line in Fort Greene, I'd suggest you head a couple blocks north to Myrtle Ave — to Farmer in the Deli. There, of course, you can try the bodega's (infamous) chopped sandwich, which is more like a chopped salad than a chopped cheese, with all of the elements of, say, a deli turkey sandwich coarsely hacked on a sheet of wax paper before it's loaded into your choice of roll or hero. I'm pretty sure nobody goes to Farmer in the Deli to be seen, which is probably why I liked it so much.