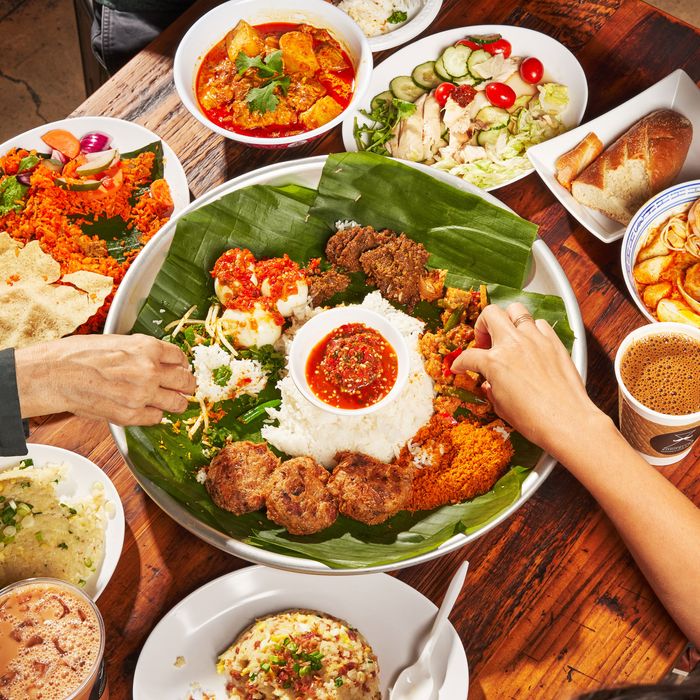 A collection of dishes, including nasi ambeng, from Urban Hawker's varied array of vendors.
Photo: Adam Friedlander
Until this month, New Yorkers looking to experience the many pleasures of Singapore's hawker centers — the high-energy, open-air bazaars that are packed with tiny storefronts selling globally renowned street food and often perfected over generations — had to first spend about 19 hours on a plane. Now, they need only walk half a block west of Radio City Music Hall. Eleven of Singapore's vendors have set up stalls at the new Urban Hawker, a food hall of sorts and a collaboration between New York's Urbanspace and Singapore's Makansutra, a restaurant and media company founded by K. F. Seetoh, the island country's foremost street-food evangelist. Inside the 11,000-square-foot space, which soft-opens on Wednesday, local favorites such as Lady Wong and Tradisyon will set up beside some of Singapore's most celebrated hawkers, many running businesses that have been in the family for multiple generations.
Hainan Jones
In the 1970s, a chef named Joon Toh Kiang helped put traditional chicken rice on the menu inside Singapore's posh Mandarin Hotel, catapulting the humble poached-poultry preparation to international fame. Now it is Sergeant's son Raymond who will run this U.S. stall, which is — for the time being — the only place to find the legendary Kiang-family recipe.
Daisy's Dream
Peranakan cuisine, also referred to as Nyonya, is a fusion of Chinese and Malay communities with some influence from the Indian subcontinent. It's probably best known in New York thanks to longtime downtown restaurants like Nyonya and West New Malaysia and, more recently, Kopitiam in Chinatown. Inside Urban Hawker, Roy Tan — whose mother, Daisy, opened her first stall in Singapore at the age of 60 — will share the family's Nyonya recipes with a menu that centers on famed Peranakan dishes like chicken curry, Nyonya laksa (curried noodles), and nasi lemak (rice cooked with coconut milk served with myriad side dishes).
Mamak's Corner
This Indian Singaporean stall — run by Shukor Tahir and his business partner Rajan Belani — was conceived for New York. The duo will cook up classic flaky roti prata (a late-night favorite) and richly spiced nasi biryani with lamb or chicken.
Wok & Staple by Dragon Phoenix
Chef Kok Wai Hooi opened Dragon Phoenix in Singapore in 1963, and he is widely considered to be a founding chef of Chinese Singaporean cuisine. He is also credited with creating the modern version of chile crab, adding sambal and tomato paste, among other things, to the original recipe. His son, Chris, is bringing Dragon Phoenix here with an array of classic stir-fries and chili crab.
Padi
Back home, this restaurant's most popular item is nasi ambeng, a communal platter of rice surrounded by a variety of spicy, saucy accompaniments like beef rendang and sambal squid — all of which will be available at Urban Hawker as well.
White Restaurant
The wok-fried noodle dish known as white bee hoon is a Singapore invention created by King Huak Tay in 1999. At Urban Hawker, the Tay family's stall will serve its original recipe of wok-fried rice noodles, simmered with an eight-hour chicken stock and topped with shrimp and squid, if you'd like.
Smokin' Joe
This is one of the so-called western hawker stalls, a unique hybrid of East-meets-West cuisine born from British clubs and Hainanese Chinese chefs during Singapore's colonial era. Chef Joseph Yeo offers a menu of grilled meat — colloquially referred to as "chops" — with mashed potatoes or fries on the side.
Kopifellas
The Nanyang coffee here is made from freshly ground Robusta beans before it's blended with condensed and evaporated milks for a smooth but strong finish, just as it's done at Kopifellas's six locations in Singapore. Owner Terry Neo will also offer toasts slathered with butter and kaya — the coconut and pandan jam — for the morning crush.
Prawnaholic
The signature dish at this stall is prawn noodles served like Japanese-style ramen with sweet and savory glazed pork belly and an onsen egg. "It's not traditional, but you don't lose the essence," says founder Alan Choong, who will also offer classic versions of Hokkien mee and an oyster omelette. "I wanted people to experience a Singaporean fusion dish and a traditional dish."
Ashes Burnnit
Lee Syafiq, who owns this halal-burger stall with four locations in Singapore, received one of the first-ever Outstanding Hawker Awards at the 2022 World Gourmet Awards in May. In addition to the smashed burgers, Syafiq is planning an otak-inspired spicy fish-cake sandwich for Urban Hawker.
Mr. Fried Rice
Chong You Chan runs more than a dozen food businesses and counting. His first outside Singapore is this stall, which takes its cues from the fried-rice trend that's hitting hawker centers now, here mixed with ingredients such as tom yum seasonings and XO sauce.
Urban Hawker is located at 135 W. 50th St., nr. Seventh Ave.