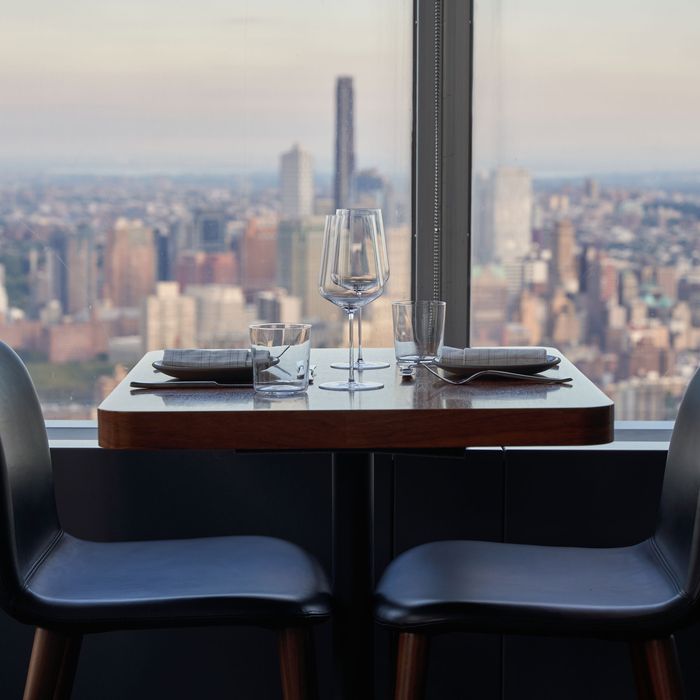 The restaurant's soaring dining room is set to reopen September 16.
Photo: Adam Friedlander
On Friday, chef Justin Bogle will unveil a new menu at Union Square Hospitality Group's relaunched Manhatta, the 60th-floor dining room in the Financial District. Bogle's wide-ranging experience includes time at the modernist Gilt as well as a run as chef de cuisine at Le Coucou, where the menu paid tribute to classic French cuisine. At Manhatta, he's aiming to find a middle ground between those two approaches for an American menu that feels both recognizable and new. "We want the techniques to give us a better result — otherwise we won't use them," Bogle explains. "We're not doing something for the sake of doing it." We asked Bogle to explain the thinking and technique behind the 12 primary dishes he'll serve in the dining room (along with a cote de boeuf for two, a bar-only burger, and desserts from executive pastry chef UV Feldman).
Squid-and-daikon salad with cucumber and seaweed vinaigrette.
"This is a cucumber salad that went sideways. Now all that's left of the cucumber element is the juice that gets seasoned with yuzu vinegar and koji water for the vinaigrette. Koji water is the secret ingredient for a lot of what we do. For the salad, we basically make a squid lasagna by stacking the bodies, then slicing them thinly. It's a mix between a ceviche and a cold noodle salad."
Sungold tomatoes with chilled tomato dashi and sesame tofu.
"This is a seasonal dish that will run through the middle of October. We wanted this to be clean and pristine, so the tomatoes are simply blanched and peeled. They're finished with chilled tomato dashi, which we also turn into a few cubes of tomato gelée scattered throughout for a kick in the ass. The final element is whipped tofu with sesame seeds, which adds a mouth-coating texture even though it is not necessarily fat."
Scallops, red pepper, black olive, and lime.
"This one was more fucked up than the cucumber dish. It started as a tuna dish, then a crab dish, and then, finally, at 2 a.m. on the Sunday before my first tasting with Danny Meyer, a scallop dish. I basically took the blue-crab dish from later in the menu and this one and swapped the proteins — suddenly both worked. Here, the scallops are quickly cured in salt and sugar, then submerged in Chardonnay vinegar. They're cut in half then slit, and each slit gets a little roasted red pepper, basil, finger-lime cells, olive oil, lime, and fleur de sel. The scallops are served over a red-pepper juice that's been reduced from 12 quarts down to one black olives that are dehydrated, pureed, and strained."
Blue crab, green tomato, horseradish, and caviar.
"One one hand, this is a simple chilled crab salad, lightly dressed with freshly grated horseradish, lemon zest, a little cracked black pepper, and then crème fraîche. But the green tomato comes in two ways, as does the horseradish. The tomatoes are both pickled and turned into a clear tomato juice. The tomato pickling liquid then becomes the horseradish base along with a cassava vinegar from SOS Chefs. The juice, which we simmer and separate until it is a clear liquid, is also mixed with the pickling liquid. On service, this liquid is poured table side, so you get the textural green tomato and the same taste profile in liquid form."
Grilled lobster, black garlic, Tokyo turnips, and Carolina Gold rice.
"The black garlic takes the form of a sauce choron, a classic French recipe made of béarnaise with tomato added. We finish that with black garlic and a touch of squid ink to give it its color. Instead of using a double boiler to make the sauce, we're doing it on a Thermomix, which offers increased precision, then the sauce goes into an Isi canister and is held at temperature until service. But no captain is going to say at the table, "Chef is holding the sauce in an Isi at whatever degree." The modern technique is in service of the flavor. The lobster, simply grilled over charcoal, is going to be a two part presentation: tail, sauce choron and Tokyo turnips one the plate, with a sidecar of knuckles and claws in a bowl of Carolina Gold rice, with some warm black-garlic butter finished with a sauce Américaine."
Beef tartare with hazelnut miso and crispy sweet potato.
"I started messing around with miso and vinegars back at Gilt in 2011. This is a nine-day hazelnut miso, which we use as the base dressing for the tartare. The tartare is pretty classic — chive shallots, egg yolk — but the plating is free form and organic. We're trying to avoid ring molds and tight shapes. A couple of slaps on the wrist from Daniel Rose cured me of that. Then we take crispy sweet potatoes, slowly fried to keep the color, and turn them into what I'd call purple Panko bread crumbs, but with intense sweet potato flavor."
"Oysters Manhatta" with uni and Champagne sabayon.
"This is our version of 'oysters whatever you want to call them.'" The oyster will change with availability. They're pre-shucked ahead of service and the shells are cleaned. We cook down a mixture of leeks and onions in butter that gets put back in the shell. On pick-up, the oyster gets a splash of fresh Champagne, then goes into the broiler. It comes back out and it's topped with Champagne sabayon, made with uni cream — we use the broken trim from unusable uni — and finished with fresh uni, espelette and chives."
Barbequed freshwater eel with bone marrow.
"At the end of the day, though there may be some modern nuances, the core of my cooking is traditional. Red wine and eel is a French thing. We had eel on the menu several times at Coucou. This preparation is French meets Japanese. We take freshwater eel, which we get in live from Montauk, make a glaze from its charred bones, and grill the eel skewered over Sumi charcoal. It's finished with a quarter inch disk of poached bone marrow, pickled chives, red onion, pommes puree and a sauce meurette, an extremely reduced, time-intensive red wine sauce."
Foie gras and duck pie with chanterelles and vin jaune.
"This is a humble meat pie, a pithivier, if you will. I used to make one real quick for VIPs at Coucou out of squab and foie or chicken and foie. Here we use Rohan ducks from D'Artagnan. We get the ducks in whole. We separate the legs, the wings, back and neck for sauce. We leave the breast on the crown for a dry-aged duck main course. The legs get boned out. The foie gras is portioned. The trim of the foie goes with the duck and gets ground together with cognac into a forcemeat, wrapped around 25g of foie made into a puck, wrapped in puff pastry, egg washed and baked. The chanterelles, which we got from Saskatchewan when they were in season, are pickled. They're part of building us a deep pantry of preserved and fermented items to carry us through the winter."
Monkfish, Mangalica ham, Manila clams, and Sorana beans.
"I feel like monkfish is underutilized. It holds up to the brothy quality of this dish, and it's a familiar combination with ham and clams. We slice the ham on a meat slicer, then use a larding needle to pull it through the fish. The cooking has to be exact because if the ham is cooked in the middle of the monkfish, it can get gross. The broth is a traditional fumé and the cooking liquid of the clams, which we marry with a version of yuzu kosho that we make in house with Meyer lemon. For the beans, we soak them overnight, bring them up to a boil, and cook them with mirepoix in the oven. Then we purée 25 percent of the beans. On the pick-up, we have the sauce, a healthy dollop of bean purée, the clean clams, some lemon segments, some mint, and some parsley. The monkfish gets cut in half, then two leaves of bitter dandelion greens spritzed with Chardonnay vinegar."
Dry aged duck with preserved cherries and radicchio.
"Dry-aged duck is everywhere at this point, but I had it on the menu back at Gilt. At Le Coucou, we always had a duck dish on the menu, but it was always for two. I wanted to do something different. The aging is a minimum of seven days but 12 or 14 is ideal. On the pick-up, we render the breast skin-side down and, at the very end, kiss it with heat on the flesh side. For the cherries, they're de-stemmed, pitted, split like an avocado, and sealed in a Cryovac bag with 2 percent salt by weight. At room temperature, the gas builds up and we have to burp the bag. Then we have a pile of lacto-fermented cherries. Sweet, salty, and savory. This is not us being pioneers of fermenting things, but it's a way to take the seasons and help us prolong them. On the dish, we have a quenelle of celery-root puree and the duck breast. The duck jus is fortified with sour cherries, and the radicchio is quickly sautéed with the residual juice left from the fermentation."
Jimmy Nardellos, fairy-tale eggplant, farro, and sunflower romesco.
"A vegetarian dish that isn't an afterthought, or we can make it vegan as well. I love good vegetables, so what's the point of not having a dish that's focused on them? This is trying to capture the tail end of summer — it's one that we'll change along with the sungold tomatoes. We quickly roast the peppers on two sides, but we don't peel them. They're hollowed out and stuffed with a mixture of mushrooms, spinach, and golden raisins, served over some farro verde from Anson Mills. The fairy-tale eggplant is also roasted and marinated in sherry vinegar and orange juice. That breaks it down and gives it flavor, and sunflower-seed romesco to steer clear of nut allergies."