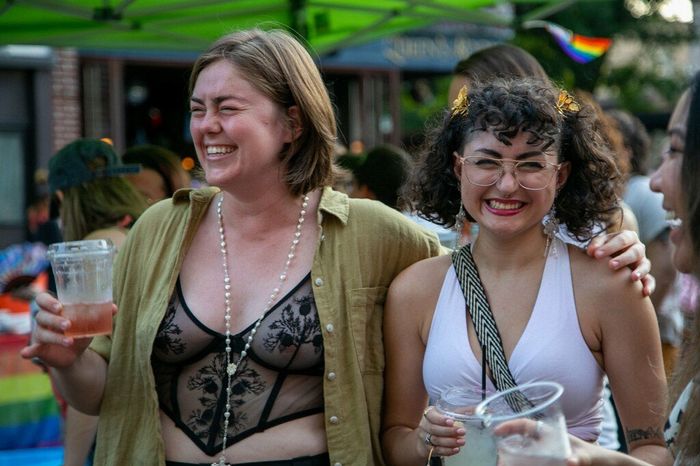 Enjoying a July pop-up from Dave's Lesbian Bar, which will run the Queer Cafeteria tomorrow.
Photo: Amanda DiMartino
For the past year, Kristin "Dave" Dausch has been hosting the Dave's Lesbian Bar pop-up in Astoria, their home for more than a decade. In that time, they've also hosted more volunteer-run street festivals, a queer Valentine's Day prom-style dance, bar takeovers, a Zoom party, and more monthly events in Queens. And tomorrow, August 13, Dausch is helping put on what's being dubbed New York's first-ever queer food festival, Queer Cafeteria, which will land in Socrates Sculpture Park.
Ahead of the event, we spoke with Dausch about the inspiration behind a food-centric daytime event and why this festival is so important to the queer community. 
Where did you get the idea for a queer food festival?
I have always loved Smorgasburg and all those festivals on the water. Nothing brings people together like a meal — how lovely when we get to get together and talk about our lives and our problems and our happiness. So why not highlight queer chefs and food education?
Who's going to be there?
Yeah Dawg vegan is coming through with hand-rolled plant-based hot dogs and beer cheese made with Dyke Beer. There'll be sliding-scale sandwiches from Slutty Sammys, Fresco's Cantina, a queer-owned Astoria spot, and Kinky Taco Truck. Puttana is run by local Astoria lesbians who make their own pasta; they'll be serving fresh tonnarelli with pistachio pesto and cherry tomatoes, plus cannoli. There will be some shifting around throughout the day. Alex Koones of Babetown will be grilling three types of burgers, such as chicken with baba ghanoush and caramelized onions, on Paul Ramírez Jonas's Eternal Flame sculpture.
It's crazy to put a call out to queers and say, Oh, you have a budding small business, and everything's gone in the first half hour. This is our first time doing this, so we hope everyone makes money and everyone leaves full.
How did you find everyone?
We're doing this in partnership with Queer Food Foundation, which had some vendors already. BIPOC vendors were prioritized, but we didn't have to turn anyone away. That was the goal. On the application, we noted that this is for queer vendors. We weren't like, Go away if you're not queer, but we're trying to prioritize Black and brown queer people and trans people in this. It's very important because America doesn't really give opportunities to queers, let alone Black and brown queers. We feel very lucky to have a platform that we can share with all queers regardless of color and prioritize giving money to Black and brown people. Queers gotta stick together.
Vending at a food festival can get expensive. Is cost a concern?
We let all vendors keep 100 percent of what they earn. There is no tabling fee, ever — we want all of the queers making and feeding us to not have to worry about paying a tabling fee. That's so dumb. It's free. We have assisted some people, getting things they needed if they asked for help. Some vendors are also doing a pay-what-you-can model. We also reached out to about 50 restaurants in Astoria to see if they will donate meals to people who can't afford to eat. We don't want money to be a barrier here. If someone comes and they're hungry, we want to have meals for them.
So is this an anti-capitalist food festival?
Obviously we want queers making and selling food to make money to keep in queer circulation, but if you don't have any money, we still want you to eat. We're hoping more people hop on the bandwagon, but so far, we have Bareburger, Sugar Freak, Comfortland, Compton's, and Between the Bagel all confirmed to donate 10 to 20 prepackaged meals. Our goal is to get 100 to 150 meals to hand out.
Donations raised from ticket sales will go to the People's Bodega, which provides PPE, snacks, and fuel to protestors. Some funds will go to QFF. We'll also have mutual aid plus a free store to drop and take donations, a food pantry for folks to donate nonperishables, and the Rolling Library with free food-themed queer romance books.
What types of less traditional vendors will be at Queer Cafeteria?
Big Reuse coming to do compositing demos. Hellgate Farms will have a farmstand. Practice Eros Nutrition, a queer and queer-friendly dietician will come and give nutrition education. Veggie Mijas, a BIPOC environmental group, will be there. Jeanette Pineda will teach plant healing, and Blissville will be sharing shame-free sexuality education. Chateau Le Woof, a dog café, will be in the market with Dyke Beer, Nueva Yolk, Treats by Trent. It's so much stuff!
We also have six bands, House of Babylon, and a new interpretive movement piece by Micca that will explore humans and their experiences with periods using citrus. It's a real celebration. I'm pumped. It feels like a summer blowout.
Tickets to Queer Cafeteria are availble on Eventbrite for a $10 suggested donation. The event will run from 11 a.m. to 8 p.m., with vendors opening at noon.