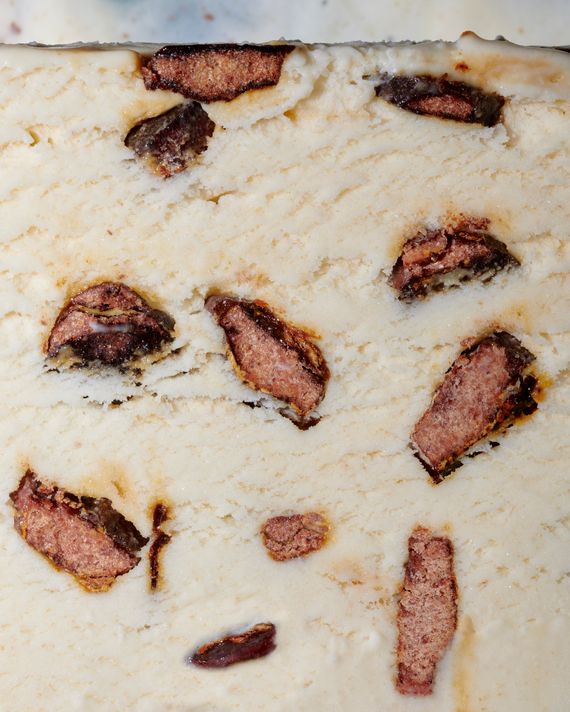 A cross-section of the Social's newest flavor.
Photo: Marcus McDonald; Food stylist: Michelle Gatton
With my apologies to saltwater taffy, there are no two foods that scream "boardwalk" quite like hot dogs and ice cream. And with my apologies to rainbow bagels, there is no culinary innovation that screams "nouveau Brooklyn" quite like putting hot dogs into ice cream. It was only a matter of time before it happened, in other words, and now, hot-dog ice cream will in fact debut at the Social, the Prospect Heights scoop shop opened last year by Brian Smith and Jackie Cuscuna, two experts at creating unusual flavors with names that read like Maison Margiela candles: "Morning in Paris," "A Cool Breeze," and "Breakfast with Nonna D & Poppy" are but three examples.
This latest concoction is called "Let the Dogs Out!", a name that evokes both the Baha Men and the act of wearing open-toed sandals. In this case, however, the name refers specifically to Nathan's Famous hot dogs, the Fourth of July staple and year-round street meat that is synonymous with summers in the city. I should add that my colleagues at New York Magazine are not completely innocent of this flavor's genesis. They reached out to the Social with a rough idea ("hot-dog ice cream?"), and before any kind of "official" collaboration could come together, Smith and Cuscuna had gone off and created it.
I was not on that Zoom call, but I was asked to be the official taster, a task I agreed to take on … let's call it "not unreluctantly." I have been burned by savory, adventurous ice creams before. One sample spoon of Black Olive Brittle with Goat Cheese from Salt & Straw was more than enough. A French-fry flavor at Morgenstern's fell into the trap of tasting exactly like cold fast food. I refused to go near the Van Leeuwen Kraft Mac 'n' Cheese varietal when that was around because I didn't want to risk ruining Kraft mac for myself forever. But I have yet to try something made by Smith and Cuscuna that I did not like. Any flavor, no matter how unexpected, is only as strong as the ice cream itself, and the Social's ice-cream game is strong.
But let us make no mistake. "Let the Dogs Out!" is not an ice cream that shies away from itself. It is instead a "toasted buttered bun ice cream with medallions of caramelized Nathan's all beef hot dogs." It is a surprisingly straightforward interpretation of the assignment: There are no sweet-flavored ripples. No maple to temper the salt, as is so often the case with candied bacon-based desserts; no cherry "relish" to approximate the brightness of ketchup. It is bun and it is dog.
Smith tells me they make the ice cream by buttering and toasting Arnold potato hot-dog buns — which eased my anti-Martin's conscience — and then blending them into a sweet-cream base until the flavor gets incorporated throughout. Meanwhile, the hot dogs are sliced into rounds and caramelized down until they become the size of chunky pennies.
At a distance, a scoop of this looks like it could plausibly be some sort of Rolo or peanut-butter-cup situation; the hot-dog medallions have been browned to a shade of dark chocolate and the threads of emulsified yellow bun take on a butterscotch-y quality that extends beyond appearance. Yet the subtlety of the toasted-butter base allows a taster to give most of your attention to the bits of meat, which are unmistakably hot dog, but like no hot dog you've previously eaten. They possess a candied, shell-like exterior; you can hold one between your teeth as if it were an M&M. Bite in and you don't experience the give of squishy meat. Instead, you get a satisfying crumble of umami, not unlike crispy bacon.
But while the texture doesn't resemble traditional frankfurters, the flavor is pure Nathan's, right down to the subtle garlic note. If anything, the dehydrated pieces offer a purer and even more concentrated hit of savory sausage.
And it works! A self-selecting audience will appreciate this flavor. If you're someone who likes to pick at the crisped, burnt bits of whatever's been cooking on a sheet pan or the grill, "Let the Dogs Out!" will be extremely your jam.
After finishing my scoop, carefully using my spoon to find hot-dog bits for every bite, I asked Cuscuna if the flavor would be available all summer. She told me that, for now, it's a limited edition out of necessity; it turns out it is not easy or efficient to turn actual hot dogs into ice cream that tastes good. Instead, "Let the Dogs Out!" will be an event. This Sunday, July 3 — the day before thousands gather to watch the Coney Island hot-dog-eating contest — the Social will host an ice-cream eating contest of its own at the Prospect Heights shop and will roll out the new flavor for the public to try. You can get it in a cup or a cone, but if you really want to experience the full majesty of this flavor, I recommend you arrive with your own package of buns.