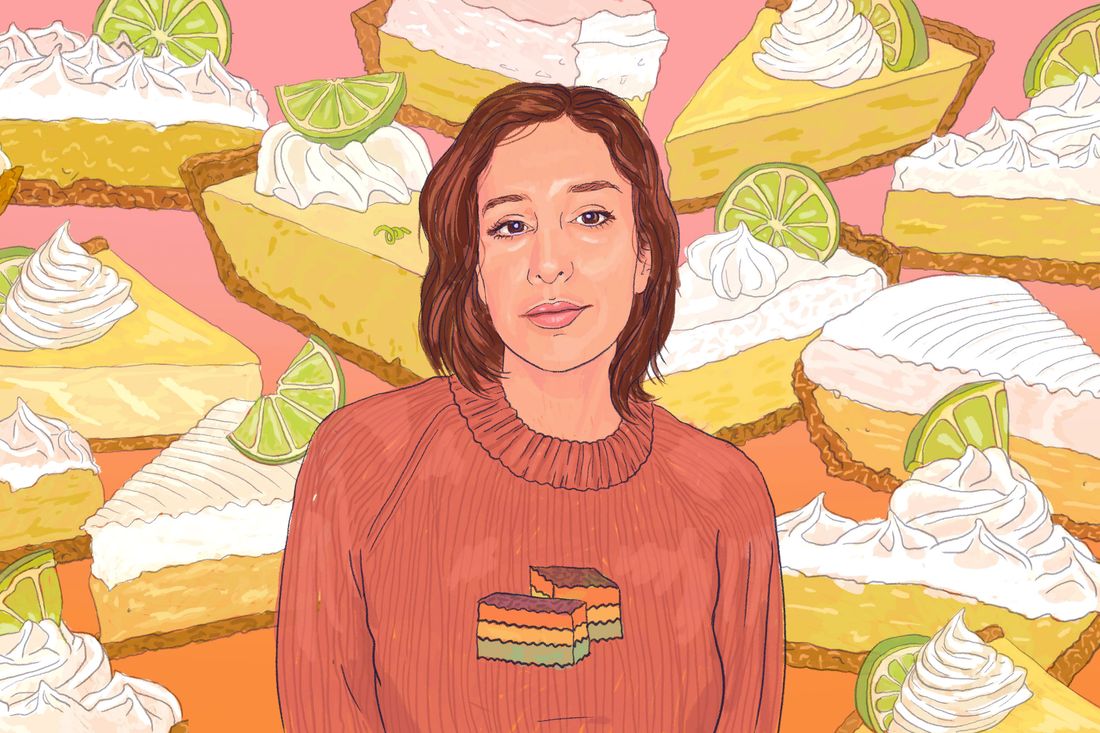 Rachel Antonoff and her new obsession, Key-lime pie.
Illustration: Margalit Cutler
"In a way, food is my entire life," says the designer Rachel Antonoff, whose collections are known for their bold, food-focused graphic prints: fruits, prawns, olives, Jell-O molds, seafood towers. "It's the thing that I look forward to throughout the day, all day," Antonoff continues. "At night, I fall asleep really excited for coffee in the morning. When I travel, it's about food." And so of course her work would reflect that unbridled food enthusiasm: "I think it's so nice when your clothes can be like a little bit of a bumper sticker and just give a nod: 'This is something I'm into.'"
Thursday, June 23
Waking up, for some reason, is a torture every single day and always has been for me. I compare my waking-up process to being on a really large ship and it's too large to come into the dock, so you have to board a smaller ship to get to the dock. It's a whole process, many alarms. I dragged myself out of bed around ten, which feels early for me, I'm embarrassed to say.
I started the day, as I do most days, with a walk to Joe Coffee with my dog, Lafitte. We — Lafitte and I — live in Brooklyn Heights, and the neighborhood lost its mind with excitement when we got a Joe. It's the Studio 54 of the neighborhood or whatever club reference is less dusty.
Lafitte and I are uniquely suited in our interests and hobbies in that we both enjoy eating, sitting, and minimal physical activity, so a walk to Joe and back is really all we both need. He loves to watch TV. It's hard to tell if he has preferences — I'm the one with the opposable thumbs in the relationship, and I know I'm projecting — but I have started to leave Sex and the City on for him when I leave the house, and he perks up when he hears the theme song and runs to the couch. If I go out at night for a few hours, I'll leave him on season one, and I'll come back and he's on season three. He's really been plowing through.
He is also an incredibly slow walker these days, so the four-block journey to and from Joe takes us around 30 minutes, give or take the number of his friends we encounter on the way. My Joe order was an iced cortado with an extra shot and slightly less milk than usual.
I am a pretty consistent and boring breakfast person; it's almost always shredded wheat with blueberries and whole milk. Between the coffee and cereal, the amount of whole milk I'm pounding is really gross.
I'm still mostly working from home. That was a really pleasant discovery for me over the pandemic: I work better at home. We had our unfortunately named "BM," which is our "Week Behind Meeting." (On Mondays, we have "WAM" — "Week Ahead Meeting.") I don't know, we used to call these "WBM," but now it's just BM, which are usually on Fridays, but this week, it was on Thursday. We're working on spring '23 designs right now, which is really fun. We reviewed prints and discussed silhouettes, which print should go into which skirt, sort of a paper dolls kind of thing.
Lunch did not happen, but I bake constantly, so there's often some sort of baked treat around. Today, it was blueberry scones. My mom sent me the recipe, which I think was in a synagogue cookbook from the '70s from Burlington, Vermont, where she grew up — like, "Elma Bloomberg's Blueberry Scones." I had some leftover whipped cream from a Key-lime pie I made the night before, so I tossed that on and added some blueberries, and it felt like a decadent afternoon snack.
Dinner was exciting: I went to Razza in Jersey City with my friends Matt and Frank. It felt like an exciting thing to do, to go to Jersey City in search of this pizza. And oh my God, it's unreal. The owner and chef, Dan, is really an artist. It's just wild. And he is also so into the science of it, so he's telling you about these butters they make — I can't even parrot what he said because that's how little I understand it, but it's like, "This one we injected with this enzyme, and that one we reduced with this, and this one the cows only ate grass." Another thing about Dan: He will taste test my baking, which I deeply appreciate because he's a professional, and I feel as though that's like asking a screenwriter to read your script — it's annoying. So anytime I go there, I bring him whatever is currently on the menu, which means this time, I brought him a Key-lime pie.
We had strawberry salad, bread with butter (six kinds, all made at Razza), and three pizzas. Our favorite was the Di Natale, with raisins and pine nuts, which Dan described as trail-mix pizza. We also had a ton of orange wine and left stuffed and happy.
Friday, June 24
Lafitte and I did our morning Joe Coffee routine followed by the shredded-wheat-with-blueberries routine. I've been on a shredded-wheat kick for maybe six months. Before that, it was Cheerios. Before that, it was cream of wheat. I really go through phases.
We'd done the meetings we'd usually do on Fridays the day before, so it was almost a day off. I had an interview that went long, and then I had my first haircut in two years. I'd been cutting it myself the whole pandemic, and it was going well until it wasn't. I've gotten worse at it. I started off strong, and then suddenly a week ago I was like, I don't think I have a single strand of hair that is the same length as another. I decided it was time.
During the haircut, I ordered the salmon miso bowl from Warude with rice and avocado and this kale–Brussels sprout combination. I discovered this recently and have been going pretty hard on it. For lunch, I'm either going in the direction of Court Street Grocers or Shake Shack or something I can just get out of the way quick. But this thing is great: Someone else has thought it out fully for you, and then you can just shove it in your mouth and be done. I love Court Street Grocers so much — I get the Turkish Delight there — but it really does kind of bring the day to a halt.
I was preoccupied all day because I was doing a Q&A with Jenny Slate for her movie Marcel the Shell With Shoes On that night, and public speaking makes me incredibly nervous.
There were actually two of Q&As. There was one at Lincoln Square AMC, and then there was another one at the Angelika. It was fun because we hadn't seen each other in a while — I wrote a million questions and then didn't use any of them, and we ended up just having a nice conversation, and it was easy and lovely.
Afterward, we met up with our friend Mae and ate at the Crosby Hotel. We shared artichokes, popcorn shrimp, salmon — it was a big salmon day for me — chicken, ice cream, and wine. I really love a cold wine at the end of the day. You know when you're at a restaurant and the glass is almost frosty? That's what I want.
I keep meaning to get knowledgeable about wine because it's so odd to know so little about something I really love and seem to have specific opinions about. From what I gather, I like cold, crisp, and "mineral" white. And I know everyone's been into orange wine forever now, but I'm just not over it. If I pour myself a glass of orange wine at night, I'll say to the dog, "Bring in the skin contact, bring in the funk." Then I laugh and he does nothing, obviously. He goes back to Sex and the City.
When I got home, I did some tipsy baking, or rather, I made double-chocolate-chip peanut-butter cookie dough and separated it into balls and put them in the freezer before bed.
Saturday, June 25
I got up around 10:30, and then I did the thing you're not supposed to do: scrolled my phone until 11. I'll spare you the Joe-then-shredded-wheat bit.
I knew I was having a Saturday night out, so I just kind of hung around the neighborhood after that. Lunch was some carrot sticks and some Grape Nuts, which are an afternoon cereal to me. And I made repeated returns to the fridge for "a bite" of my most recent Key-lime pie.
I've always been a baker, but about a year before the pandemic, I definitely kicked it up a notch. I was going through a breakup, and it was the first Christmas-Hanukkah period in which I'd been single in maybe a decade, so I decided to lean into it — stay home, watch movies, and bake. Then the pandemic happened, and I really went all in.
For me, baking is like being in a lab. I'll hone in on one recipe for a month, and I'll try 50 different versions that are slightly altered. And then I do taste tests with my once-willing, now-less-willing friends and family. They're all so annoyed. Right now, I'm on Key-lime pie. I'm very self-critical in general, and this is the first thing I've made where I feel like, Okay, I could maybe sell these. I don't know why that's my go-to standard — it's nice for once in my life to just have a hobby. It's become sort of like a social thing for me. I really enjoy a side-by-side taste test, and I think other people do too. When people come over, I give the pies names, and I'm like, 'Do you prefer Bob or Judy?' And then we have a lengthy discussion about Bob and Judy's merits.
In between bites, I did some work. I really like working on weekends because I know no one might be trying to reach me. I'm not going to be on the hook for something.
My friends from Razza and I were going to see John Mulaney at Madison Square Garden, so we met up at the Knickerbocker before and had martinis and Cosmopolitans and snacks. There might have been olives; I know I had fries dipped in mustard. I love the Knickerbocker. It's very old-school cozy.
I'm not a show person, really. For anything that's standing, I'm five-foot-one, so I can't see anything. This was seated, which was great, but Madison Square Garden to me, just in general, is like, Oh, God. It's very intense. I've had COVID twice now, the second time a month ago, and I'm not one of those people who are like, I just had it — I definitely can't get it again. I don't think we know shit about this! But I am at the point where I'm kind of reintegrating myself. Pretty much everything I've done in the past month has been like, This feels like a super-spreader event. But I guess that's just what we're doing now? I don't know. I'm going with it. The show was great.
We were supposed to go to Don Angie after, but it was too late. We had to have pizza. We went to NY Pizza Suprema, and Fred ordered a sampling of things, which was fun because I really love hors d'oeuvres as a meal. He got a mushroom slice and a grandma slice, and then we all got plain slices, and I had a Diet Coke.
Sunday, June 26
I did the Joe routine, but I ditched the shredded wheat for a sesame bagel with cream cheese from Black Seed. I know they're supposed to be Montreal style, but that doesn't mean very much to me. I just love them. I think they're perfect — a perfect bagel.
I had my dear friend Paul's birthday party that night, and I was really excited about doing a cozy game night. And also there was going to be Little Cupcake Bakeshop cake there — we'd recently had it together and loved it — and any event I'm going to where I know there's going to be cake is exciting.
Until then, I slept. I worked. For lunch, I threw together a haphazard kitchen-sink salad. I'm a terrible cook. I know salad isn't cooking but still. Cooking is not for me. I really appreciate the scientific nature of baking. The freedom that comes with cooking I imagine would be fun if what you made tasted good, but that just does not happen to me. Ever. My brother says with love that the best thing I make you would still at least consider sending it back in a restaurant, and that's absolutely accurate.
I headed over to Paul's house early to help set up a little. They had me organize a crudités platter, so I snacked while I worked. It's been so long since I've been to a game night that I forgot how much I like it. Apparently I'm very competitive. We played Celebrity. We played Mafia. We played Pictionary, which I thought was the most fun. We were all amazed by how good we were, and then we saw later that we had been playing Child Pictionary. It was "Scissor!" It was amazing. Once we realized, we did a few rounds of the adult version, and it was much harder.
There was Table 87 pizza for dinner. I need you to know I don't usually have this much pizza in the span of four days. There were also salads, which almost no one touched, and there was rum-and-pineapple punch — I definitely had a decent amount of that.
We also had two cakes. One was yellow cake with chocolate icing, and the other was yellow cake with vanilla icing. He really had wanted a chocolate cake with vanilla icing, but for some reason they just wouldn't make it. For me, the yellow cake with chocolate frosting was the standout.
Monday, June 27
We were back on our shredded-wheat bullshit.
Get ready for something really fucked up: Lunch was bites of Key-lime pie and more shredded-wheat pie. It was the same bowl — just a refill that was delayed. It was a busy work day, and that's just what was happening!
For dinner, I met my friends Logan and Ana at Roman's, which is one of my favorite restaurants in the city. We sat outside and had the fava-bean dip — which if you haven't had it, let me just say, "Run, don't walk" — as well as an exceptionally great salad, a ricotta squash toast, spaghetti with breadcrumbs and anchovies, and English pea ravioli. It was all heaven. I feel as though there are places where you can have a great meal but you won't think about the meal later. And Roman's is the kind of food that I will think about. Like that fava-bean dip — I crave it.
I also brought them some of the cookies I'd started earlier in the week. This recipe is really good like three hours after baking. The cookies are still hot on the inside, but they're crispy on the outside. I try to keep them frozen until I know I want one. It's so nice to just pop a cookie in the oven whenever you want it.