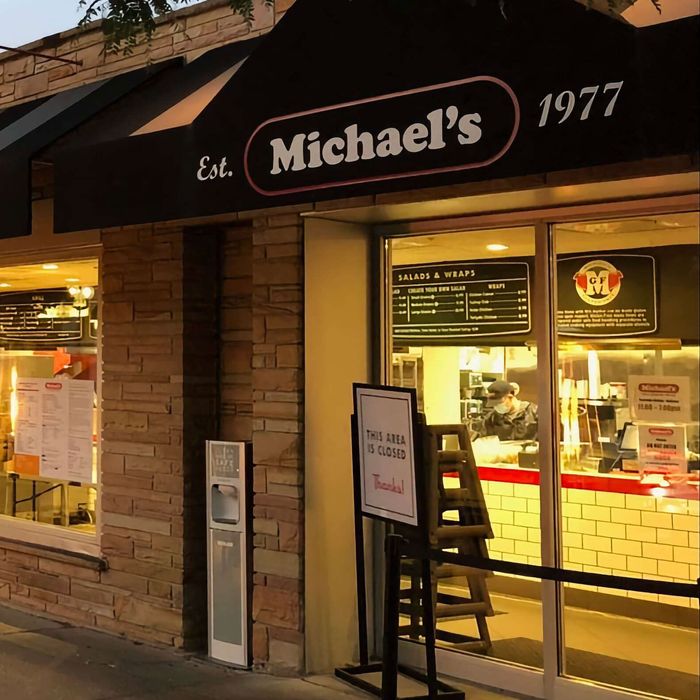 Michael's Grill and Salad Bar has been a mainstay since 1977.
Photo: Courtesy of Michael's Grill & Salad Bar
Since 1977, Michael's has been a fixture of Highland Park, Illinois, the town just north of Chicago where seven people were killed and 30 were injured in a Fourth of July mass shooting. The restaurant — known for its char dogs, cheese fries, and endless salad bar — is a monument to Highland Park itself, plastered with photographs of residents and a mural of the suburban city's historic sites. Having grown up in Highland Park, I've been going my entire life, and never miss a chance to visit when I'm back in town. After the shooting, the restaurant was forced to close until it was finally able to reopen this week. I spoke with Ryan Gamperl, who has been a co-owner of the restaurant since 2016, about grappling with tragedy and the difficulty of reopening.
I'm from Highland Park. I'm sure this has been a very difficult time for everyone.
It's been unlike anything I've ever experienced, that's for sure.
Can you describe what the Fourth was like at Michael's?
We were gearing up for our busiest day of the year, preparing for catering orders, preparing for offsite grilling that we do. And preparing the restaurant to just open up. We normally open at 11 a.m., but we were preparing to open at 10:30 because the parade had a 9:30 start time and an 11:00 finish. And we just wanted to, you know, be ready because everybody comes here afterwards, you know? The parade hasn't happened for the last two years, so this was the first one back post-pandemic. Everybody was preparing for a high-energy day.
After everything happened, were you all sheltering in place at Michael's? What was it like as the day went on?
It was a pretty chaotic scene because we were only about 250 feet away from the actual location, off the path of the parade route. I was walking towards it when everything happened, and I was out looking for any staff that hadn't arrived yet, that were maybe trying to catch a glimpse of the parade. In that situation, there was a whole lot of panic, people running everywhere, trying to take shelter, not knowing what to be looking for, and all of that. We were trying to gather our people and get them into a safe place. We locked down the restaurant right away. When there was a moment that we thought was an opportune time to get people out — so we wouldn't be stuck here for hours — we got people out. Everyone pretty much left, turned everything off, and ran out, not knowing what would happen next. By 11:20, we had the building empty.
The city shut down uptown Highland Park and there was a shelter-in-place order all day. So no one was able to return all day?
The FBI shut it down. They set up a perimeter that no one would be allowed in, which turned out to last like five days. The Fourth was Monday, and it was Saturday afternoon before the owners of the buildings were allowed back inside. Sunday morning was when we were really able to open up again. But everybody had just kind of dropped what they were doing and turned off the gas, so we had a lot of clean-up to do. And no food because everything that was being prepared for Monday had spoiled. We had to inventory and throw away all of our waste. We had to prep and could finally open back up Tuesday. So we were down a full eight days.
What were you doing in the meantime?
It was just a whole lot of not knowing and planning and communicating. Our biggest concern was to find out about the resources that were being put together — whether it be counseling or vigils — and to get that information out to our staff. We elected in the very beginning to say that we were paying staff for not working. It turned out to be eight days. The managers were in meetings every day to try and navigate the best next steps. I was just digging and digging constantly, trying to get ahold of anybody that could help us figure out what would happen.
The state of Illinois declared a state of emergency. Were any resources allocated to you and businesses in the area from the state, or is the cost of being closed all on the restaurant?
It's a big sunken cost. As of right now, there are no funds or disaster relief. It's something I've been pushing for, to get in a room with the right people to say that if the governor declared it a disaster, then why isn't the governor allocating funds for the affected businesses? At the end of the day, it's not just your sales revenue that you lost. We also have a staff of 52 people, so it's a huge payroll to cover on a daily basis. And then we took a loss on the food. When you start adding those numbers up, it changes the trajectory of everything for us. Thank God we were well supported before the incident, and we're being well supported right now.
How busy was your first day back? Was the community rushing back?
We are in the busiest time of year for us to begin with. Every day is a weekend day for us right now. That's what happened yesterday. It's been busy.
What is the mood within the restaurant?
At first, I don't want to say it was clunky, but a lot of the day was about getting things going again. Now, we have a nice atmosphere, and that's continued to grow as the week's gone on.
Michael's is such a fixture of Highland Park. Do you all feel a responsibility to honor the city in some way?
I think the easiest answer to that is yes. One of the weird things about owning Michael's is you can say you own it, but you don't. The people of Highland Park own Michael's. They tell you what to do. Everybody's been here, everybody grew up going here. Multiple generations know how they like it. I think being open offers a sense of normalcy for people. So that was where I felt the most pressure, being unable to be open at a time when people would have really leaned on us. We're comfort food. Because of the pandemic, it's been a couple of years since we've gotten to see the community out and about together, talking, hugging, smiling, you know, doing all that. That's another detail that's so heartbreaking about the Fourth of July. To me, we've gotta get that vibe back, before this summer is over.