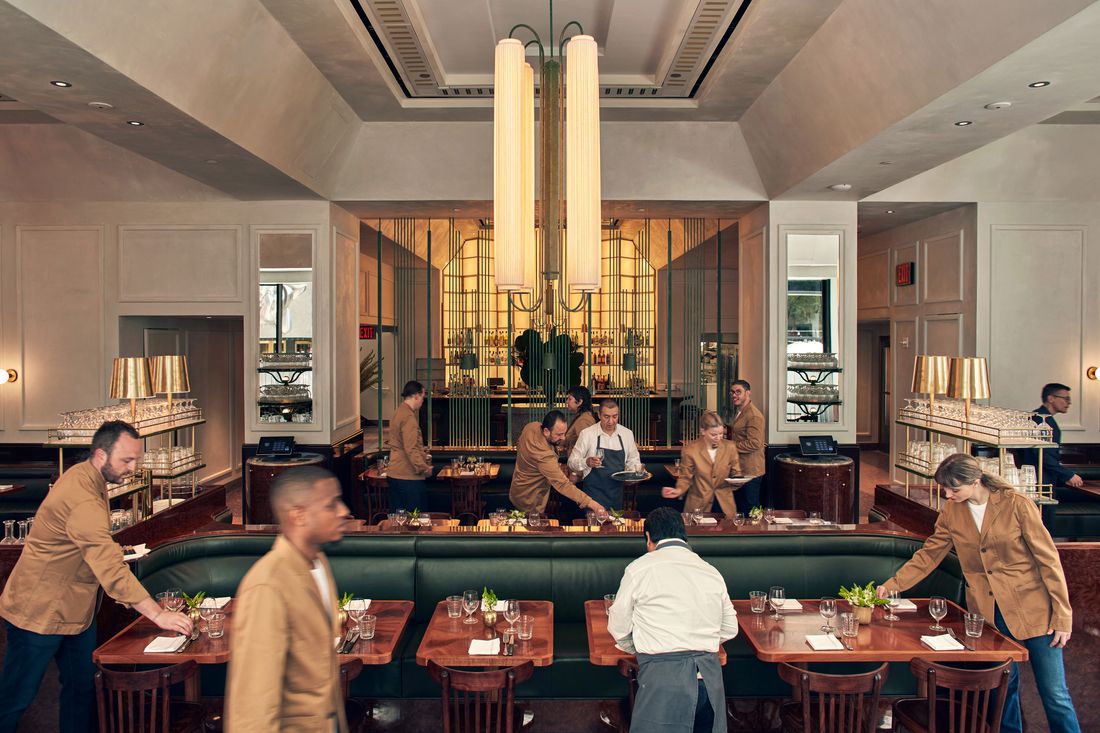 Inside Le Rock, the new restaurant from Lee Hanson and Riad Nasr that is set to open later this month.
Photo: Frankie Alduino
Since Tishman Speyer first embarked on its audacious plan to overhaul the restaurants within Rockefeller Center, hoping to turn the complex into a dining hub, one question has hung over the project: Will New Yorkers ever actually want to go there for dinner?
Estela chef Ignacio Mattos arrived first, transforming the former Bouchon Bakery into the Italian café, bakery, and aperitivo bar Lodi. Also in the works are Five Acres, an all-day restaurant from Olmsted chef Greg Baxtrom that will have a farm-to-table slant; Naro, a modern Korean restaurant from Junghyun and Ellia Park of Atomix and Atoboy; and Jupiter, a pasta restaurant from Annie Shi, Jess Shadbolt, and Clare de Boer, the trio who run the trattoria King on the edge of Soho. Viewed as a whole, the Tishman Speyer plan seems to go something like this: Take restaurants from some of the city's cooler corners — and supersize them.
When it opens later this month, Le Rock may end up being the biggest of them all, a 4,000-square-foot brasserie from the chefs Lee Hanson and Riad Nasr located inside the International Building on 50th Street, along the northern border of the plaza. "It's been a long-ass road," says Hanson. They've been working on Le Rock since before COVID, back when the space was known as Brasserie Ruhlmann, a crowd-pleasing contribution to the Rockefeller Center ecosystem that catered to C-suiters and business lunchers. Inside Le Rock, Brasserie Ruhlmann's mahogany-and-crimson tones have been replaced by brighter plaster walls and terrazzo floors. There's a banquette but no booths, and the indoor seat count hovers around 130 with room for another 60 diners on the sidewalk. "We want this to be elbow to elbow," Nasr says. "Democratic, with a very small d." (By way of comparison, their popular Tribeca restaurant, Frenchette, seats 100.)
Walking through the space on a recent weekday, the pair — who for years worked alongside Keith McNally before parting ways in 2013 — projected a sense of calm, but as Hanson admits, "We're absolutely terrified." Staffing these days, as any restaurateur will tell you, is a challenge, and the problem is only compounded by Le Rock's size. "We're at about 70 people," Hanson explains, "and we need 150."
Le Rock will be by far the biggest project they've run since they opened Balthazar, the McNally Soho mainstay where the prep area alone stretches the length of a city block. Here, the kitchen encompasses three islands, a vast pass, and a subterranean warren of walk-ins, pastry, porters, and prep. The chef in charge of the day-to-day will be Walker Stern, who first gained national acclaim at the beloved and bygone Carroll Gardens restaurant Battersby. Although that entire establishment was the approximate size of a studio apartment, Hanson and Nasr nevertheless tapped Stern for Le Rock because the three go way back. "We have a common culinary history and vocabulary," Nasr says. "We're well traveled. We're leathered." They also have a shared appreciation for the grand cafés of Paris as well as the dishes they'll reference at Le Rock. "We're trying to approach it with a little bit of a fresher take," Nasr adds, before stopping to correct himself. "Not 'take.' Attitude. We still draw from the classics but not at the expense of the experience of the dish."
The menu will be split evenly between dishes that change seasonally and brasserie classics. As it stands now, there is a version of leeks vinaigrette wherein servers spoon aromatic green dressing over the roasted inner layers, which are carefully dissected tableside. There will be escargots, here presented in individual, egg-shaped serving vessels that Nasr found in a Parisian flea market. There are moules en brochette, steak haché made of dry-aged beef and offal, a Pithiviers of vegetables, baguettes with cervelle de canut, and a spin on salade niçoise. The menu is also littered with unapologetically terse French terms and phrases — gigot froid basiliques, gratin de blettes à la moelle, omelette à l'oseille — because, Nasr reasons, "it's a French restaurant. There should be some French on it."