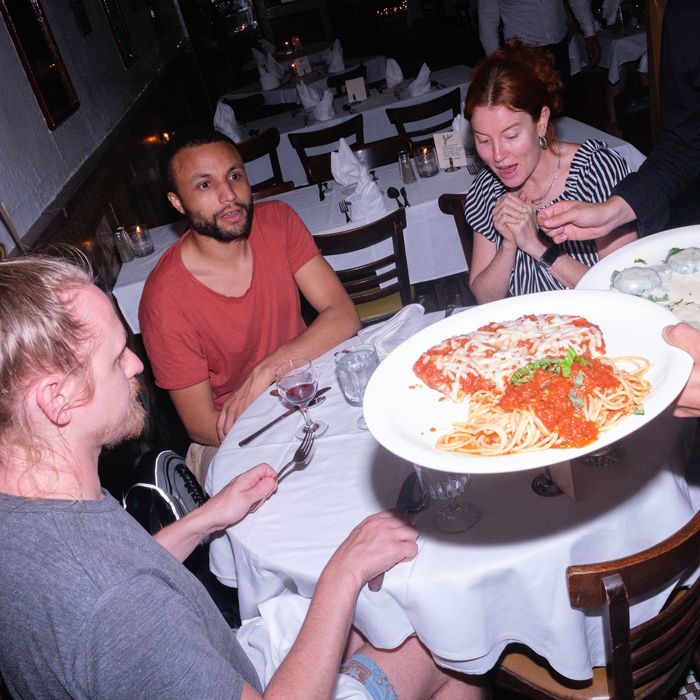 Diners at John's of 12th Street, which has served vegan versions of Italian-American classics for more than a decade.
Photo: Adam Powell
Whatever you think an Italian red-sauce joint should be, John's of 12th Street is that. The lighting is dim. The garlic has been pungent since 1908. The waiters wear pressed white shirts and bowties and seem, regardless of their chronological ages, to have been airlifted in from another time. John's has never identified a "trend," and John's does not "do lunch," instead opening every day at exactly 4:00 p.m.; it is perpetually busy but proudly never rushed. "You want to sit here? You can sit here as long as you want," co-owner Robert Rundbaken told me on a recent Friday afternoon. There were regulars, and tourists, and birthday parties; next to me, either a father and daughter or a May-December romance split a bottle of white wine. "At 5:30, we're going to have a big tour come in," Rundbaken warned me. "It's a mafia tour."
John's used to be a real mob hangout, and now it plays one on TV, having appeared as a version of itself on The Sopranos and Boardwalk Empire. The story goes that Lucky Luciano, Vito Genovese, and Bugsy Siegel met here to divvy up the city. The Italian anarchist Carlo Tresca spent the last hours of his life at John's before he was assassinated. The fact that all of this is hazy and mostly unverifiable only adds to the mystique, but there is one surprising detail that might get lost amid the lore: John's of 12th is the only East Village mafioso hangout where you can get an order of seitan scallopini.
Since 2011 — years before New York City went "plant-based," before the onslaught of high-science meatless burgers, back when "vegan" still raised eyebrows — John's of 12th Street has offered a separate vegan menu. Please keep in mind that this is a restaurant where nothing ever changes, where Rundbaken has been trying, and failing, to convince his colleagues that maybe it would be okay to experiment with burgundy tablecloths, just for the holidays, to give the room a little warmth. ("So far, not yet," he reports, undaunted.) And yet there it is, a menu devoted to the classic Italian-American canon, minus any and all animal products.
The vegan menu at John's is startling, mostly in quantity. It is not quite as long as the traditional version, but it is impressive, both in heft and in ambition. The eggplant Parmigiana, made with vegan cheese, is surprisingly light and remarkably saucy. There is, as there must be, a portobello-mushroom cap. But there is also the tender seitan scallopini with marsala-mushroom sauce, served with a heap of homemade spaghetti. There are hearty no-meat "meatballs" drowning in a sea of thick red sauce. There is ravioli stuffed with spinach, tofu, and tomatoes that comes bathed in a cauliflower-coconut "Alfredo" sauce, and vegetable ragu ladled over eggless pappardelle. There is vegan cannoli, and homemade ice cream, and a mess of tiramisu served in a sundae glass, not too sweet and just the right amount of boozy. In a city now crawling with all kinds of vegan options, it remains singular, the only fully vegan red-sauce experience in town, where a bow-tied waiter will deliver, with your spaghetti, a canister of aggressively unhip Follow Your Heart–brand grated parm.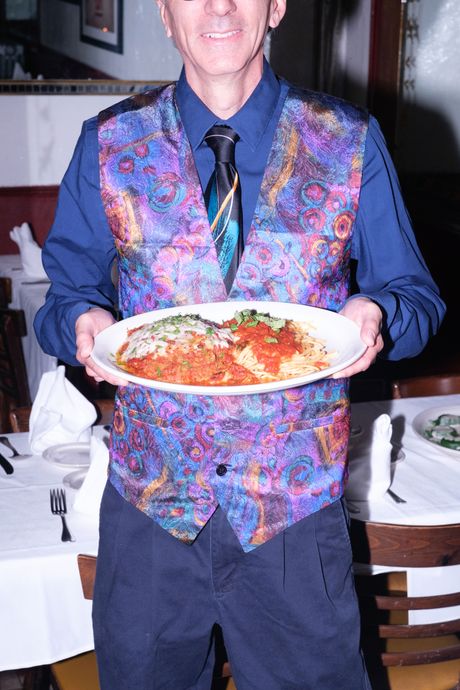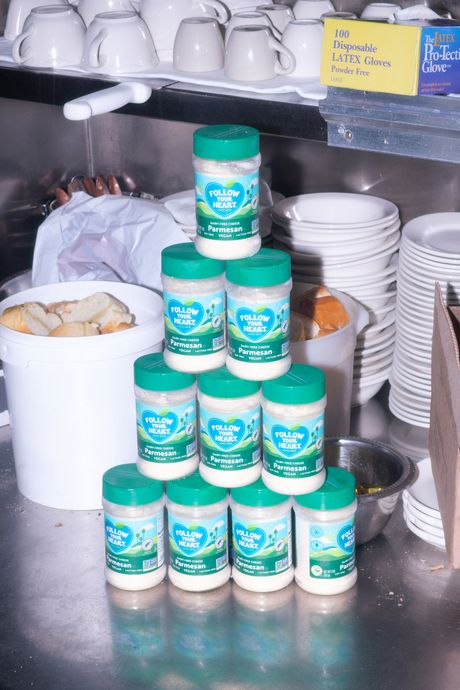 It is worth celebrating precisely because it feels so profoundly normal. Rundbaken — who, when he is not working as the restaurant's chief public evangelist, is a middle-school science teacher in the Bronx — is not chasing virality or TikTok features, though he reports with some pride that he does run the restaurant's account. ("It kind of satisfies my creative needs.") The menu has existed, and will continue to exist, because there is a spirit of generosity at John's. And it's just good business.
Like so much else in New York City, the menu is a fluke of real estate: For 30 years, it just so happened that there was a vegan place next door. Angelica's Kitchen was among the city's original vegan restaurants. It, too, was an institution, opening on St. Mark's in 1976 and moving to 12th Street in the late '80s. Angelica served hippie food: earthy, pickled, dense. It used sugar "in moderation," offered shakers of ground sesame seeds instead of table salt, and was famous for its People's Polenta and its macrobiotic Dragon Bowl. Over the years, it went increasingly upscale, but only at the very end did it acquiesce to credit cards. In all the times I went there, there was never not a line.
One of John's owners at the time, Judy Anderson, took notice. She wasn't an Angelica's fan personally, but she saw the crowds outside. "She said, 'We can do better,'" recalls Rundbaken, who is part of the group that bought the restaurant from Anderson and her co-owners in 2016. "Judy's goal was, You're not eating 'vegan Italian.' You're eating Italian food. That's it." He shrugs, affably, to demonstrate this philosophy. "It's vegan."
For Williams Heras, John's longtime chef, the vegan menu was an opportunity. "I've been to school; I can make anything," he remembers thinking. So he was in — with one caveat: He wanted a vegan chef to come in for a single day and show him some techniques first. He spent a year working on the menu before it made its grand debut. Angelica's closed in 2017, but its memory lives on through the vegan menu at John's of 12th. The story is a triumph of pragmatism. The famously vegan place next door had overflow, which meant that there were all these hungry vegans standing right there. Why not offer to feed them?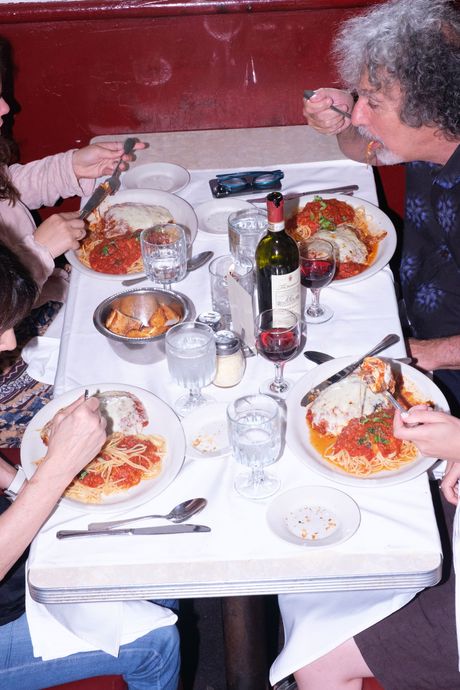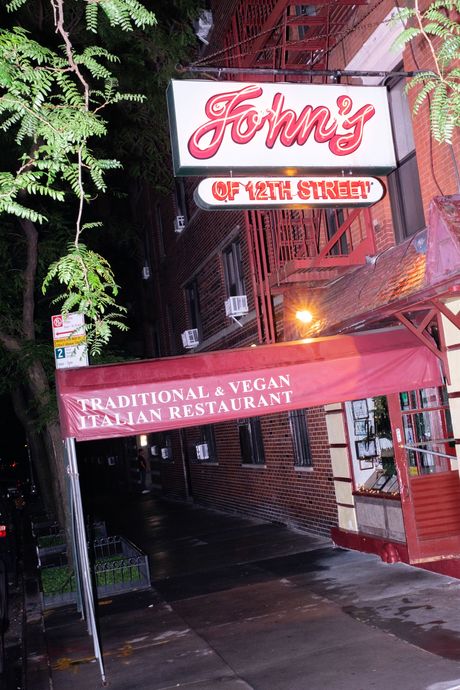 These days, somewhere between a third and half of the orders coming in are vegan, depending on whom you ask. Vegans pass through, as do plenty of mixed parties, and on a recent visit, I could not help but notice what seemed to be an awful lot of vegan offspring dining with people who appeared to be their parents. (I also noticed former mayoral candidate Curtis Sliwa in his red beret.)
In general, John's does not make any best-of lists of vegan restaurants. For one thing, it isn't one. The traditional menu, with its saltimbocca and its shrimp scampi, is as robust as ever. But its vegan menu ensures that John's of 12th can do something many other red-sauce joints — many other restaurants— cannot: Ensure that everyone feels welcome, no matter how they eat. "My mother-in-law is vegetarian," Rundbaken points out. "She's 88 years old, she's in poor health, and she inhales the seitan marsala."
At a restaurant where even the bathrooms are original, where a massive dripping candle in the back room represents a century of wax, the vegan menu has become entrenched. The commitment is reflected on the awning: "Traditional & Vegan Italian Restaurant." Red-sauce dining is not especially vegan friendly. At John's, it is a feast.