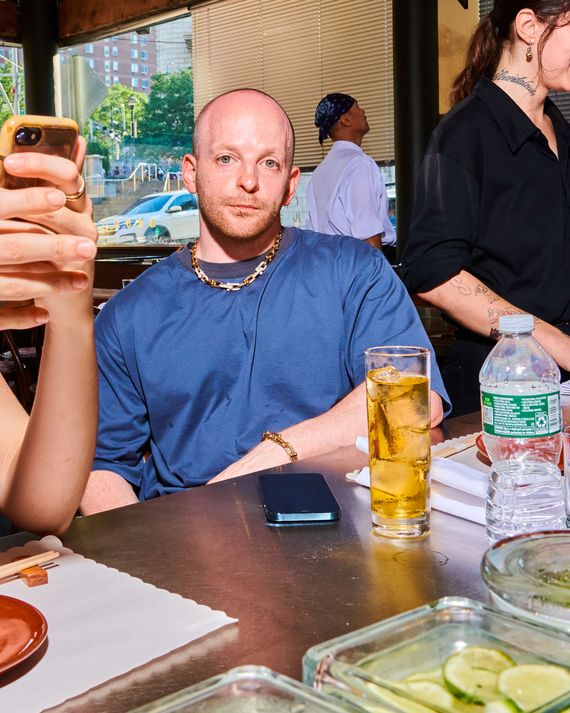 Despot at his restaurant.
Photo: Evan Angelastro
The first time I saw Alec "Despot" Reinstein driving a car, he was flipping a dune buggy on Chillin Island, the HBO show he co-hosts with Ashok "Dap" Kondabolu and Aleksey "Lakutis" Weintraub. So it's a relief when Despot picks me up in his actual car, a black Porsche 911, and something of a shock when he finds a parking spot right outside the deli where we had agreed to meet, as if it were reserved for him all along. The plan is to pick up sandwiches at Mama's — the Italian deli in Corona also known as Leo's Latticini — hang around Spaghetti Park, the tiny microneighborhood where Despot grew up, then drive to Untermyer Park and Gardens in Yonkers, where, according to Despot, "Son of Sam used to kill animals and my dad did acid."
Mama's, he tells me, is his second-favorite place to eat in New York. His first, for 20 years running, has been Taiwan Pork Chop House in Chinatown, which isn't too far away from Santos Party House, the club Despot was a co-owner of until it closed in 2016. (It is now, Despot notes with some amusement, an axe-throwing bar.) He started booking shows in college, discovering a knack for finding promising talent, and did so at Santos — A$AP Rocky played his first show there. Despot also remembers a Lil Uzi Vert and Post Malone double bill that didn't even sell out: "Post Malone just did 'White Iverson' four times and then a couple of other songs."
After Santos shut down, Despot moved on to become a restaurateur, first investing in Frankel's, the Greenpoint delicatessen, and then becoming a silent partner in its sister restaurant, Bernie's (before being bought out by Zach Frankel and his girlfriend, Taylor McEwan). He has been involved with multiple restaurants in L.A. (as well as a weed brand), though he says he's reluctant to open anything else in California. Instead, lately he has been focused on Time, the sushi restaurant he opened earlier this summer with the architectural designer and artist Nick Poe, where beanie-wearing diners can sip matcha martinis and enjoy $150 omakase menus from Yukio Fukaya, a chef whom Despot and Poe hired after posting a Craigslist ad.
A friend calls Despot "the secret guy behind all the downtown shit," but before he was running things downtown, he was running wild on the border of Forest Hills and Corona, which is where we're starting our trip today. We grab our sandwiches at Mama's — Despot always orders whatever the special is, plus mushrooms and peppers — and walk over to the tiny park itself. We sit down at a chess table and talk about the local celebrity Obama — the neighborhood bocce player who looks like the former president, not the former president himself — and the red-sauce joint across the street, Park Side.
There are all kinds of stories about Park Side and its owner, Tony Federici, which Despot points out may be true, may be exaggerated, or may be used as marketing. "I have one story from Park Side that's true, I guess," Despot tells me. "There's this guy, Alfredo, who's been the maître d' there forever. I know him, kind of." Once, Despot was looking at the photos up front, featuring the usual mix of celebrities such as Ray Romano, when he realized many of the faces looked random; he didn't recognize them at all. So he asked Alfredo who they were, and he replied that they were all lottery winners. "I'm like, 'How did all these guys win the lottery?' He's like, 'I don't know — lucky guys.'" It wasn't until later that someone else told Despot that the mob would track down lottery winners and agree to buy the winning tickets in cash so that they could pay taxes to give the appearance of being a legitimate business.
"I think about these restaurants and their weird mythologies that are half made up and half real and that grow over time," Despot says. "I'm like, How much of that is happening to me now?" People asked about the nightclub he opened, they saw the car, and they started to draw certain conclusions. "Then the restaurants started happening," Despot says. "It kind of feels the same, and now I'm Tough Tony."
After an hour hanging out at Spaghetti Park, we jump back into the Porsche and head to Untermyer. As we drive toward the highway, Despot talks about growing up. He ran with various graffiti crews in multiple boroughs, like KRT and Smart Crew, and had connections to the guys from TCK and IRAK (downtown's "most legendary graffiti crew," according to GQ). Despot, though, wasn't tagging anything; he was mostly looking, he admits, for fights.
When he got older, he started trekking to the city to go to places like the Nuyorican Poets Cafe, and in high school he started rapping. After releasing his first song in 2001, he was signed by the rapper and producer EL-P and worked on music with Evan Mast of Ratatat. His releases were rare, which Stereogum noted in 2015, when he put out "House of Bricks," calling him a "great New York underground rapper" who has "barely released anything under his own name."
On the way up to Yonkers, Despot plays a mix of songs: "Hellscat," by HVN; "All the Smoke," by DiamondsOnMyDick; "High af," by Slimeefiend; and "Hood Olympics!," by Slime Dollaz. With traffic, the drive takes about an hour, with Despot taking a few phone calls to talk about the restaurants.
Going to Untermyer Park sounded like a good time because his father has connections with the place, and who doesn't like a weird acid story? As it turns out, Despot had never been. His dad, Jerry Reinstein, passed away about a year ago, after beating cancer 20 years back, and visiting Untermyer was a chance to see somewhere that meant something to his father, even if it didn't mean anything else to Despot. I ask about the acid stories — anything memorable that his dad said? "I can't say I'm sure about a particular story. It's always just like, 'We did acid and went there and stayed there for a really long time.'"
Walking around the amphitheater, Despot mentions the extended family that helped raise him. "We had relatives like Uncle Phil and Uncle Jeff — Uncle Phil's the only one who's my real uncle," he says. There was also the bodybuilding uncle, Richie, who had a house in Katonah and ran a store on Queens Boulevard called Instant Pants. "We had our mysteriously rich relatives," Despot remembers. "That's stuff I didn't know about until people started going to jail. It's like, Oh, this is why they have money."
There were other friends, not all of them mysteriously rich, including the artist Dave King (he designed the iconic logo used by the English punk band Crass), who would join Despot's dad at Untermyer sometimes: "He did a film program with Terry Gilliam, and they made little movies together. I guess this is one of the places where they did that." He takes out his phone and shows me an Instagram post of a fumetto, an Italian comic, his dad and Gilliam made for Help!, the magazine that Harvey Kurtzman started after he left Mad.
It's getting hot, so as we head back to the car, Despot tells me about learning to drive and the Catskills house his dad owned. "It was his favorite place — he was always there," Despot says. "Then, right after he died, the pipes exploded and the whole house flooded." It was, he adds, "very weird timing."