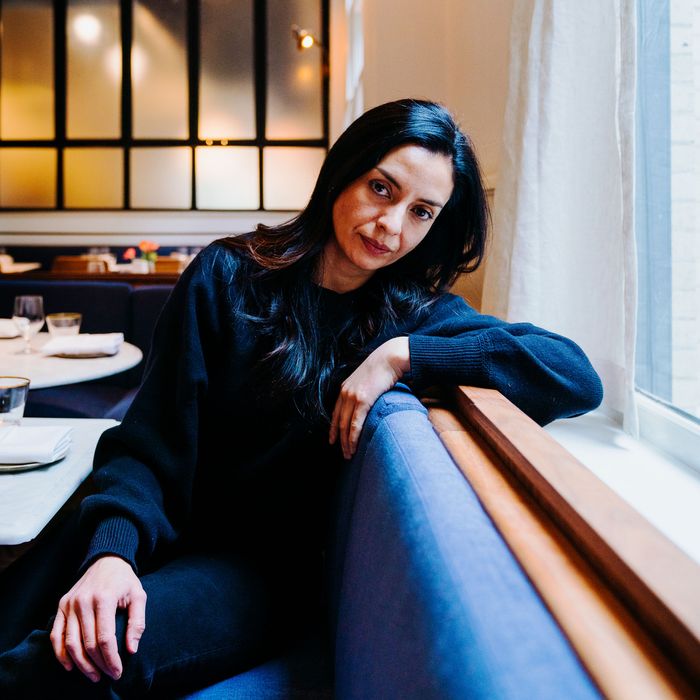 Blamey, inside her restaurant, which opened in January.
Photo: Janice Chung
The life cycle of a restaurant in New York City is hardly predictable, but Mena, chef Victoria Blamey's project at the Walker Hotel in Tribeca, certainly looked poised to last. Instead, shockingly, the restaurant — which only opened at the end of January — is now set to close.
Mena was one of the most ambitious and original dining rooms to open in New York since the start of the pandemic. Blamey's experience working in fine-dining kitchens combined with her distinctive culinary style — a delicate blend of New Age French and coastal Chilean — was unprecedented and thus, in this jaded food town, hotly anticipated. The city's critics rushed to weigh in on her food and their reviews were universally glowing.
The decision to close, Blamey says, was not hers to make. The chef and a rep for the restaurant state that the choice lies with ownership, a group that did not involve Blamey. (Peter Yeung, the managing director for the Walker Hotel, attributes the closing to "financial reasons.") While Blamey won't discuss the specific circumstances surrounding the closing, she notes that she is hardly finished with cooking. As she explains here, her new imperative is for the essence of Mena — the team, the menu, the spirit of hospitality — to live on.
When I heard the news, I was quite surprised. It really seemed like everything was going very well at the restaurant. What happened?
It's been on a good track. We had plans for expansion and growth, but this is a decision made by ownership, and that's as much as I can say.
There's an agreement that prevents you from saying more?
I can't talk about that.
Do you know when the last day of service will be?
Yes. We told our staff on Tuesday. The last day is this Saturday, July 9.
Wow. How did it feel to tell the staff?
I mean, it's difficult. I've been in this city for almost 14 years. I have been in closings before with other people's restaurants, but I have never been in the position of having to be management. I would say that the staff is hurt, obviously. We were getting a good footing. It's been difficult with staffing — both back and front of the house — but things were taking the right shape.
Mena is me, but it was a collaborative effort with people that have followed me for years. Everyone came here 100 percent committed to working in an environment and an industry that is just so hard these days. And I think right now, to be honest with you, the conversation is just to look forward.
The restaurant, as you say, is a very personal project. How does it feel to have it cut short prematurely?
It's devastating. Mena is a family name, it's my family history, my South American DNA. I've been through so much here, through very, very difficult moments. This is just the saddest and most disappointing thing to go through. Right now, my heart and my strength are focused on reopening Mena because it's mine. I'm focused on how I take my name somewhere that it can have longevity, somewhere it can flourish, somewhere it can grow.
You don't start a project thinking this way, but what's important is how you pick yourself up. This opportunity gave me a really great sense of identity. It gave me courage and a sense of self, as a Latina in New York, to say that I am here and to make this my home.
Do you feel like there was some reward in taking a risk on a project that was so personal?
This is a learning experience. Yes, it has been cut short, but it's going to continue. Every single ounce of energy, everything that I'm going to fight for, is that — to continue to do what I love.
What happens with Mena now? How does it go on?
The overall concept, apart from being beautiful, it works. The opportunity that I had to open, it's given me the reassurance that there's so much more to do and so much room to grow. So to me, it's about finding a space now — the right place. Then, reopening Mena as soon as I can with the team that we had. This is the beginning of something that can be so much more.
Practically speaking, how do you move on after Saturday?
To be honest, a lot of this is one day at a time. I don't have a script for how these things are supposed to go. I definitely hope it will be the last time I do this. I hope this is the first and only restaurant I have to close. My mom is coming to see me, so I'll spend time with her, now that I can. I'll take a tiny break to rest and basically gather all my strength to go at it again. I'm not quitting the industry, and I'm not going home. I'm not burnt out. I'm not tired, and I'm not giving up. This is what I love to do, so that's it.
This post has been updated to include a comment from the Walker Hotel.