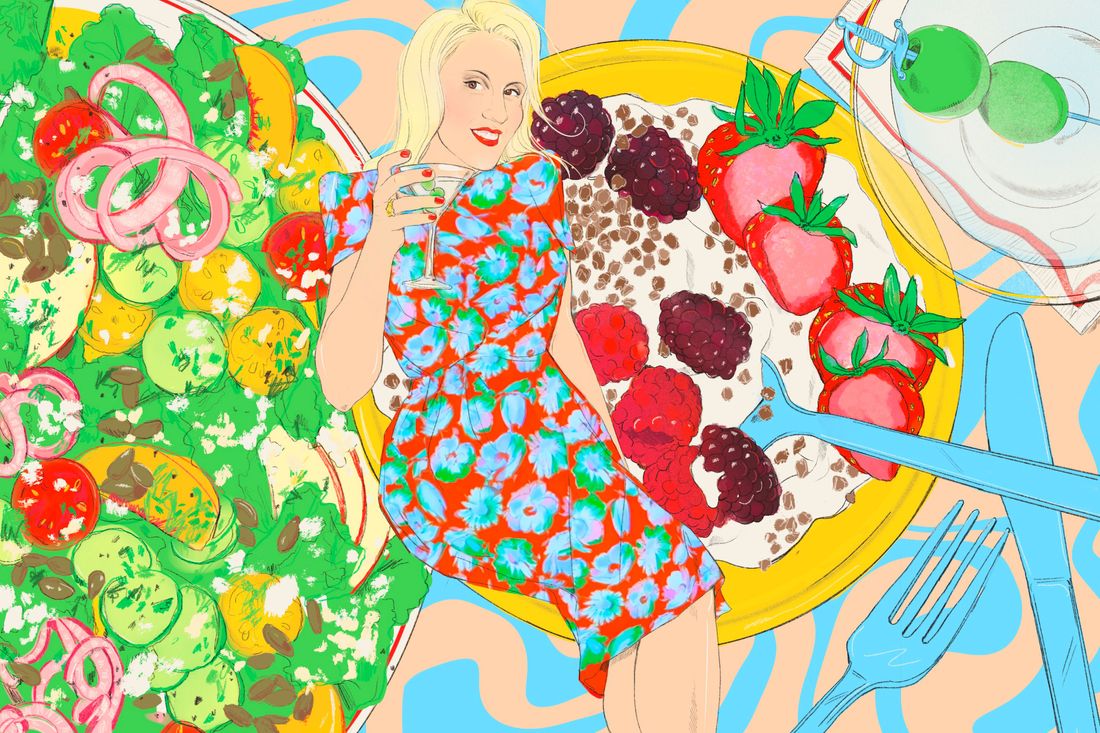 Ada Calhoun, taking breakfast seriously.
Illustration: Lindsay Mound
When she was growing up in the East Village, Ada Calhoun wanted to be a farmer because it was the most exotic profession she could think of. Instead, she became a writer. It is the family business: Her father, the art critic Peter Schjeldahl, had once started and abandoned a biography of the poet Frank O'Hara; in her latest memoir, Also a Poet, Calhoun picks up the project. The result, as she'd be the first to tell you, is more complicated than you'd expect. "It's about my relationship with my father, and about the New York School of poetry," she says, "but it's also just about the ultimate unknowability of people." 
Thursday, June 30
Woke up at 7 a.m. in a hotel in San Diego after doing my last book event on the first leg of my tour. I made myself a cup of hotel coffee and then another one, and I drank a few cups of water out of a little plastic cup and then I searched "breakfast" on Google Maps.
I like going out to eat, but it doesn't really matter where. Especially when I'm on tour and groggy, I search by distance, not rating. A half a block away was a place called Parakeet Café, so I sat outside and got yogurt and granola, which came with lots of fruit — they were very generous with the fruit — a green juice, and lots more coffee.
I love touring. I think part of the point of writing books is going and talking to people about the books and hearing what they say. You just write things, and you don't know what people are going to take away from it, and it seems like this book is bringing up a lot for people about mortality and disappointment and what you do with the people that you love but have trouble with. And there are always people who are eager to share stories about their own lives. I'm very much here for that.
At the airport, I had half a grim Southwest Chicken Wrap from a Hudson News equivalent — we're talking about a cooler case, that's how dark it was — some popcorn, and water. I stopped drinking soda all the time when I was pregnant sixteen years ago and never got back in the habit, though when I'm visiting family in Texas, I do still exclusively drink Dr. Pepper. It tastes better in Texas. I'm not sure why. Maybe because when you go to Sonic, it's served with all the ice in the world.
When I finally got home after ten days on tour, I grabbed a bowl of cherries out of the fridge and ate that while Neal, my husband, who appears in pretty much everything I write, and our 15 year-old son, Oliver, made me toast and a fried egg. Well, he just made the toast, and my husband made the egg, in this particular case, but he's actually a really good cook. He's started making Gabrielle Hamilton's white-borscht recipe from the New York Times every couple of months and then we eat it for days because it lasts a really long time and it just gets better. We caught up while I ate and I gave them presents from the tour, mostly bookstore T-shirts.
Friday, July 1
Slept in. Jet lag. Woke up around ten for yogurt, granola, and an apple cut up into it. Water, coffee. More coffee.
Growing up, my parents always had Entenmann's on the counter — it was all chocolate doughnuts all the time for breakfast. I can taste them in my mouth right now just thinking about them, I ate so many of them as a kid. But now I've moved onto yogurt, which is a dubious achievement. Not that I'm saying anything against Entenmann's because God knows, those are really, remarkably good.
While at the computer, I drank a Trilogy kombucha and ate a banana. I almost cut that line out because I'm still not comfortable thinking of myself as the kind of person who drinks kombucha, but here we are.
Around three, Oliver and his friends put on fancy clothes to go see the Minions movie, and I hung out with Neal. We walked around and shared an iced coffee from Oslo, then wound up at Caracas Arepa Bar, where I had a rice bowl with chicken, beans, vegetables, and guasacaca and drank a hibiscus Arnold Palmer.
I used to come to Williamsburg in the early '90s to house-sit for my Aunt Mary. You'd walk down Bedford, and there was nowhere to get coffee. I'd be walking around thinking, Oh, if only there were a place to get some decent coffee! And now I live here, 30 years later, and there are 50 coffee places between here and the subway.
Back home, I sat at the computer for a couple of hours, until it was time to drive upstate for the holiday weekend. Our older kid, Blake, who's 28, and his girlfriend, Izi, came over at about seven, and before we all got in the car, we ordered burritos from Border Burrito on Bedford Avenue. Arizona shrimp for me, which is "Arizona" because it's spicy and has smoked pepper. Oliver went and picked them up, and we ate them in the living room. For the car, we packed Trader Joe's granola bars and waters. The five of us plus our magical cat, Claude (he does tricks!), crammed into the Subaru. Claude likes to rear up like a bear — that's his main trick. It's pretty good. I mean, as far as cats go.
It was ten by the time we got to our house in Andes and got the beds all made up and everyone settled, and I sat in the living room and had a snack of Grape-Nuts and blueberries — supermarket blueberries, not local blueberries — and a seltzer.
Saturday, July 2
Coffee and water. Yogurt with walnuts and the rest of the blueberries. I am becoming aware I drink a lot of coffee. I'm not particular about it. We used to just do a coffee pot with random Starbucks coffee in it, but we just got a Keurig and now we have random pods instead.
Midmorning, we stopped by to visit my parents about 15 minutes away for some coffee and to admire my mother's ever-expanding miniature-golf course. My parents used to do these huge Fourth of July parties at their house in Bovina. The idea was people would bring a dish to pass, and there was this really bonkers fireworks display that my father did where he and his friends would wire the fields up the stream and wire the trees, and it was really very DIY and felt dangerous. Actually, it was dangerous. It just got bigger and bigger every year. People started thinking of it as the town fireworks. People would talk about the party and not know whose house it was and then it wound up on some websites about "fun things to do in the Catskills!" I think that was the year it was 2,000 people. That was the last one. It was sad. My parents loved that party, but they knew it had just become a victim of its own success.
So when the party stopped, my mother and her friend Scott Hill built a miniature-golf course, which has also just gotten bigger and bigger. Now there's a pirate ship and a windmill, and there's a little tiki-bar-looking place where they serve sandwiches and ice cream and stuff like that. I think she liked the idea of doing something for the community in the same way that she felt like the party was for the community. It's called Putt Putt Van Winkle, because it's Rip Van Winkle–themed.
Oliver was volunteering at the local historical society that day, so after we visited him and got a Hunting Tavern tour, Blake, Izi, Neal, and I went to the local diner, Rosalino's, which we still call Woody's, even though it hasn't been called that in many years. I had an egg-salad sandwich, fries, and an iced tea. Then I brought Oliver a sandwich and fries for when he took his break.
After that, I did a bunch of yard work and read a bit of two fantastic books I'm trying to draw out as long as possible: Yoga by Emmanuel Carrère and bell hooks's All About Love.
At seven, a bunch of people, including my parents, came over for backyard drinks, and the weather was really nice so we wound up having a cookout. Neal got great at grilling during lockdown. I would say his primary grilling achievement is corn on the cob, where he takes the silk out and grills it in the husk. It winds up very tender that way — highly recommended. Blake made jalapeño margaritas, which were delicious. I had some cheese and crackers and chips and guacamole. Then a burger, salad, grilled corn on the cob, and grilled vegetables. This was eaten while talking to friends and dodging Nerf bullets and badminton shuttlecocks. Oliver inherited a huge arsenal of Nerf guns from a couple of older kids who had outgrown them.
Sunday, July 3
6 a.m.: Coffee, water, yogurt, Grape-Nuts, strawberries, walnuts. At 10:30, I made the family pancakes (using the Pancakes for Breakfast recipe) with berries and syrup from the farm stand.
Around noon, I went to the Price Chopper where I ended my midlife-crisis book. I'd had this moment of joy in the parking lot where I felt the clouds part a little bit. That's what we get: These glimpses of what it will be like when things are okay. Anyway, I got a ton of groceries, plus more fireworks — they were just in among the ketchup — and then grass seed and birdseed and some nails from the hardware store. On the way back, I ate half a bag of baby carrots and drank a Trilogy kombucha.
Soon after I got home, our friend Gillian Walsh arrived from the city and Blake made us all his signature chicken tacos. Then while everyone else went out to play badminton, I made a bunch of food to bring to our friend's Fourth of July party.
I made two big trays of creamy macaroni and cheese; rigatoni with garlic, olives, and tomatoes from some cookbook that's fallen apart, so I can't tell you what it is; and a buttermilk berry cake that gave me pandemic flashbacks because Neal, Oliver, and I made it so often during lockdown. Also during lockdown: We watched 17 James Bond movies and rated them. Why? Because we had the time.
We arrived on the early side to my friend's annual Fourth of July party. I had a plastic cup of rosé. Within an hour, the field was full of blankets and the tables under the tent were full of food. We got in line and made our plates. I had a ridiculously good al pastor taco (made on site in a clay oven) and Spam musubi, then a watermelon-feta-mint salad, a romaine-dill salad with edible flowers, quinoa salad, and soba noodles. When I told someone how much I liked something she'd made, she apologized that it wasn't better. I remembered that Julia Child said cooks should never apologize, no matter what.
The rest of the night was a blur of apple pie and beer. When we left, we found that a dozen cars were stuck behind one car that had parked in the only driveway. I then saw something I'd never seen before: About 20 men encircled the car, lifted it up, and moved it to an appropriate parking spot. I think the Spam gave them the strength to do that.