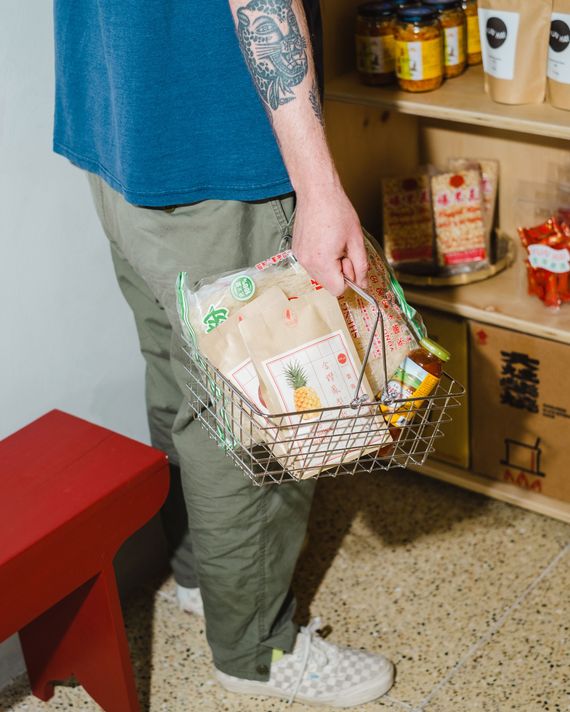 You definitely want the dried pineapple.
Photo: Lanna Apisukh
Early last year, when China banned the importation of pineapple from Taiwan, Lisa Cheng Smith saw an opportunity to help. She'd been looking for a chance to work with Lillian Lin, an acquaintance with experience in the restaurant industry. The idea, Smith says, was to create a new channel of business for Taiwanese farmers who would now be left with unsold crops — and to introduce American audiences to a world of dried-fruit snacks beyond Trader Joe's apricots. And so Lin, who was living in Taiwan at the time, agreed to take on the project, sampling nearly 30 sources of dehydrated pineapple at the time. Once they had landed on a few finalists, Lin contacted one farmer who answered the phone call by saying his product wouldn't work because it didn't have any additives. "That's when I knew he was the one," Lin says.
Now, that dried pineapple is the marquee product at Yun Hai, a new Taiwanese general store in Williamsburg. Smith points to some text on the pineapple's packaging that explains how the idea came about as a response to rising cross-strait tensions. "People are so familiar with Japan or Singapore, but I feel like even people I'm close to aren't fully aware of Taiwan's self-sovereignty," Smith says. She hopes her store will change that. "If people can become familiar with the products and culture of a place, they're more likely to identify it when the time is needed."
To acquaint more Americans with the island's culture and food, Yun Hai's brick-and-mortar location — which opens on Saturday at 170 Montrose Avenue — will function as an experimental lab where shoppers can interact with pantry goods and housewares, many made by young Taiwanese people taking over generations-old family businesses. It's also, of course, meant to be a place where someone can get the ingredients necessary to reverse-engineer their mom's zhajiangmian or the lu rou fan from Main Street Imperial Taiwanese Gourmet. The store is evolving, Lin and Smith say, but the main goal is to get immediate feedback on limited drops of items before adding them to Yun Hai's online inventory.
Smith (who has worked in product design at Herman Miller and Hay) started Yun Hai in 2018, mostly as a hobby when she would bring jars of Su Chili Crisp back to the States for her friends and family. As demand rose, she began importing the condiment and set up a website. Now she is the CEO and Lin has become COO, and Yun Hai's inventory has grown to include other makers, like Mama Nnonya's garlic vinegar chili sauce and Maestro Wu's cooking knives forged from salvaged artillery shells collected on Kinmen. Meanwhile, designers like Hyphen Works have been brought on to create Yun Hai's distinctive packaging.
To make their move into physical retail, the duo took over an unused storefront from Win Son owners Josh Ku and Trigg Brown, who'd signed the lease during the pandemic. The duo started work on the space in February, and thanks to contributions from friends — as we're speaking, artist Bryan Metzdorf applies carmine paint to a scaled-down replica of a wooden bench that Smith sourced upstate — the "scrappy" 300-square-foot shop on the "Taiwanese American corner" of Montrose Avenue came together in a matter of months, Lin says.
Yun Hai will mostly act as a distributor of Taiwanese products in a city where it's still much easier to find authentic balsamic vinegar than top-shelf, naturally fermented soy sauce, but it will also help — Smith and Lin hope — educate New Yorkers about Taiwan and its history. "As a first-gen, American-born Taiwanese, there's this impulse to shout out about Taiwan all the time," Smith says. "This is my way of shouting out about Taiwan all the time but in a way that makes me feel productive, where I can contribute in a very tangible way." (Further down the line, the duo has loose plans to grow Taiwanese vegetables, offer prepared foods, and host pop-up events by visiting chefs.)
Both Smith and Lin say the larger community has been supportive as well — including other small businesses who are also trying to serve the Taiwanese diaspora. "We're all building the category together," Lin says. "If you only have one ramen shop in New York, you don't really notice it, but if you have ten ramen chains, ramen becomes a thing — we're riding that wave all together."