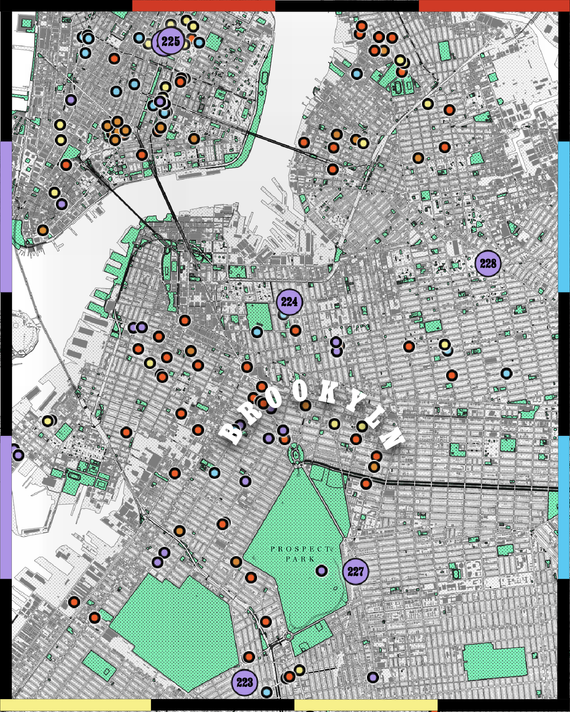 Photo-Illustration: Grub Street
A running list of everwhere I've been, week 23: 223. Sawasde 224. LaRina Pastificio e Vino 225. Frank 226. KGB Bar 227. King of Tandoor 228. Ostudio
These days, everyone's got pasta on the menu. I understand: It's cheap to make, and it's easy for a restaurant staff to move some noodles. But it's also easy to roll your eyes when you see cacio e pepe yet again on a menu where it simply does not fit. New York's surplus of spaghetti also makes it difficult for real Italian restaurants to stand out, which is why I was so charmed by LaRina, a neighborhood restaurant on Myrtle Avenue in Clinton Hill.
Inside, the lights are dim and the setting is romantic — without laying it on too thick — while the staff has an easy rapport with the regulars who have clearly been coming here for years. The first night I dropped in, a very hot waiter was speaking Italian with a guy at the bar as well as two other fellows who were sitting by the window, sharing a bottle of wine and eating ham. That duo went back to speaking Spanish after the waiter left their table, as did the bartender. When the chef, Silvia Barban (I recognized her from Top Chef), popped out to share a glass of wine with customers, she too slipped into a Romance language. At some point, I realized I might have been the only person in the dining room who defaulted to English.
On the surface, it seemed like a charming spot, and a place I'd keep in mind if I were nearby and in need of a glass of wine, but there were little tells that indicated something more interesting was going on, especially when it came to the food. Cheese-stuffed squash blossoms were a seasonal special, and I am happy to report that the potato croquettes were sufficiently crusty, with a molten center, and excellent when chased with a sip of prosecco.
When I ordered the tuna tartare, I wasn't expecting much. Instead, I haven't stopped thinking about the tiny sprigs of fresh caper leaves that were crested on top of the seafood and lent a not-unwelcome air of Mediterranean sophistication.
Sitting there, I was reminded of another spot, Terre, a similarly unassuming pasta restaurant and wine bar in Park Slope that goes so far as to post illustrated portraits of its staff on its website. (Hi, Daniele!) Both restaurants exude kindness, and I was beginning to think there may be something to this whole idea of Italian restaurants that are run by people from Italy that has been lost in the current red-sauce craze. I'd happily never eat another chicken parm in my life if the alternative is a server who will answer all of my questions about the wine list and then offer me an amaro at the end of my meal.
LaRina feels authentic but not dogmatic. The menu doesn't reflect a specific geographical style, but the pastas — all made in-house — do demonstrate an appreciation for details. The reginette (also known as mafaldine) is a long, thick strand of rippled dough that resembles the look of curly kale leaves, which happen to be used in the sauce for these particular noodles and amplify the pasta's meaty texture.
I went back to LaRina a couple days after my first visit, this time with a friend (and a reservation) on a Friday night. Our table was in the covered garden, which I'd missed on my first visit, even though it probably seats as many people as the indoor dining room. It's like a little paradise, landscaped and gently illuminated with string lights. There is no doubt that these are the conditions for a consummate date spot, but the majority of the tables I saw in the garden were groups of friends and even a very big party chatting the night away at the long table in the back.
We ordered a dish of smoked spaghetti, Calabrian chile, and hazelnuts, which our server explained is something of a house special. If you have never eaten smoked spaghetti — where have you been? — know that the hickory replicates the effects of adding bacon to the dish, even though this pasta was fully vegetarian friendly.
On the way out, I got a pound of the house spinach-ricotta ravioli and a jar of sauce for lunch at home the next day. As I ate it — wonderful, by the way — I wished I had such a perfect spot in my own neighborhood. I don't, but I'll be happy to make the trip up to Myrtle for smoked spaghetti again soon.