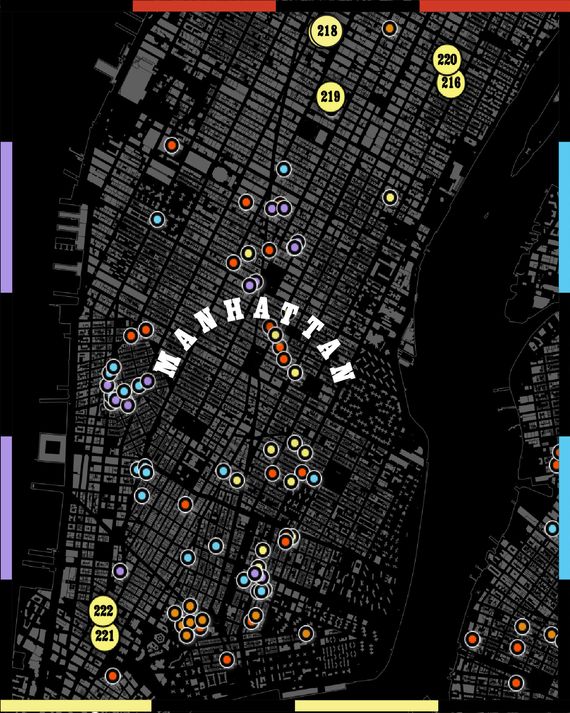 A running list of everwhere I've been, week 22: 215. Little Georgia 216. Tomi Jazz 217. Le Bernardin 218. Aldo Sohm Wine Bar 219. Valerie 220. PJ Clarke's 221. Chambers 222. Fonda
Midtown is back, or so people keep telling me. I'm not convinced, mostly because it sounds like propaganda from companies that desperately want you to return to the office. But I've become curious enough to see for myself, although I was less interested in the tourist restaurants and after-work happy-hour hangouts that have, so far, been the main focus of this conversation. What I wanted to know was whether any actual New Yorkers were going out in midtown at night.
Like many people who once worked as interns, the majority of my meals in midtown have been lunch specials from one of three Szechuan places, or salads from Chop't. Whenever anyone asks me about a restaurant in Times Square, I still think of Olive Garden first.
I figured if any restaurant could change my long-held belief that midtown is just New York's most expensive culinary wasteland, it would be Le Bernardin. Why not, right? I sat down in the chilly barroom (fancy restaurants are always too cold), forgoing the full menu in favor of a glass of rosé Champagne, oysters, and salmon rillettes to keep things light because the bar was pretty empty compared to the main dining room, especially for a Friday, and I didn't feel like sticking around for more than appetizers. On my way out I stopped by Aldo Sohm Wine Bar, something of a sister restaurant to Le Bern, but it was already in closing mode and sparsely populated, a full hour before its posted closing time.
In contrast, it is still very difficult to get a seat at the Polo Bar unless you know a guy (I know a guy), but I do think I spied someone talking their way into a walk-in seat at the ground-floor barroom, which everyone has told me would have been impossible during its earlier days, even if you meticulously adhered to the high-glam WASP dress code. I swear I even saw someone in jeans the night I went.
I was there on Memorial Day weekend, which I thought might be slow with people leaving town, but every seat was filled, and conversation at the downstairs clubhouse dining room was flowing at the volume of a high-school cafeteria. At the table next to me, one guy was speaking French to a guy who responded in Dutch. I asked where they were from and they said they had decamped to New York from Monaco in order to avoid the Formula 1 Grand Prix that weekend. (They were also planning to drop into Saga and Per Se while they were in town.)
Even with the city's return-to-office push progressing at a somewhat relaxed pace, I still figured I'd have better luck finding actual New Yorkers on a weeknight, which is what brought me to Tomi Jazz on a Thursday night when I had left Brooklyn a little too late to do anything else.
It feels like it's supposed to be a secret, but the line that stretched out the front door is proof that the word is out. According to a server, the wait to get in can be up to two hours on the weekend, and you actually have to stand there; there are no reservations taken and you can't just put your phone number on a list to be texted later. At least it's democratic.
All of the people waiting ahead of me were in their early 20s. There was a group of four sharing a box of Insomnia Cookies and watching TikToks; a self-identified finance guy who tossed an empty, bag-covered tall boy of something on the pile of trash bags on the sidewalk; and a girl in front of them who was having a very public FaceTime call.
It was sometime around my 20th minute of waiting when a couple emerged from the club and remarked that the line seemed so short. In the end, it took me about 45 minutes to get in and grab a seat at the bar.
Tomi Jazz is one of the coolest places I've been to this year. The food is textbook Japanese comfort stuff, like mentaiko pasta, fried oysters, and mapo tofu, and thoughtfully prepared for what it is. Plus, it's all pretty fairly priced, which probably also contributes to a packed crowd that might include Castilian-accented tourists, an older guy reading a book alone, and people drinking beer and speaking Japanese at the far end of the bar. In such a cozy space, I was able to make friends with the two 25-year-olds who were behind me in line, who said they live in the neighborhood and were subsequently seated at a table next to my bar seat. I ordered a bottle of sake for us to share and now we're basically besties.
From my place at the short end of the bar, away from the stage, the live music felt secondary, but if I went back, I'd still want to remember to bring some cash to tip the band at the end of the night. (I might also try to get a closer table.)
Japanese businesses have of course been a part of the midtown economy for decades, originally catering to expats in New York, and not just in the form of sushi bars and vibey jazz clubs. Inspired by Tomi, I found myself back in midtown during the day, looking for some traditional Shiatsu at Salon de Tokyo, which has been open since 1971 and at least at one point was known to be a celebrity relaxation spot, where perpendicular metal bars are affixed to the ceiling and walls above the massage table for the masseuse to hold on to while they step on your back. I highly recommend their services, and when you're done you will be perfectly situated to walk a couple blocks to the original PJ Clarke's for a post-spa meal, which is exactly what I did. I had one of the best Bloody Marys of my life and some fish and chips while sitting at a table near the entrance on a breezy summer afternoon. There were plenty of people at the bar, and the back room, which has held on to that old-school public house feel, looked to be at about half-capacity. Not too bad for midtown, all things considered.