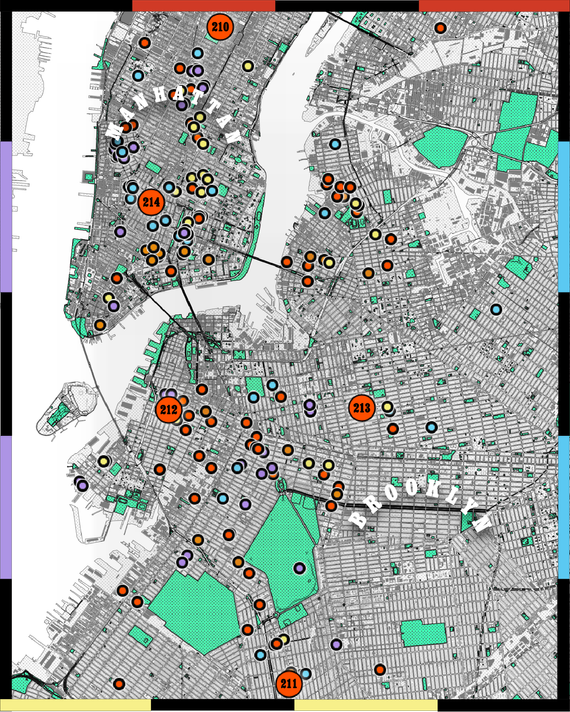 A running list of everwhere I've been, week 21: 210. Kellari Taverna 211. Mexico Diner 212. Saint Julivert 213. Department of Culture 214. Lure
I was in Chicago over the weekend attending the James Beard Awards and wondering why no one thought to call them "Da Beards." A few changes occurred while I was there: Your humble diner-at-large is now a James Beard Award–winning diner-at-large, I met Padma Lakshmi, and I can finally say I've been to Chicago.
I got to eat a spectacular bouquet of two-foot-long hot cheetos made by the kitchen staff at Esmé — a very fancy restaurant with a rotating art collection that you can shop should you so desire. The adjacent bar, where I sat, has much lower stakes, though the food is still served on the restaurant's bespoke pottery. My server told me that, often, the plates are conceptualized in tandem with the food, and I will say that I briefly understood the chefs who say Chicago is overlooked as a national restaurant destination, because if a restaurant in New York was extruding XL cheese puffs and placing them into locally made sky-blue vases, everyone in the country would know about it.
Since the faux-Cheeto is coated in an aggressive amount of orange flavor dust, the bartender warned me not to inhale while taking a bite or things could go all Annie Hall. I would warn you to employ two napkins, one on the shirt and one on your lap, because this stuff gets everywhere.
The weekend was a blast, but I was happy to head back to New York on Sunday — even if flying is still a nightmare and I had to catch a connecting flight in Columbus, Ohio. By the time I landed at La Guardia, the sun had set and I was hungry, which brings me to the real subject of this week's newsletter: the joy of turning to a familiar restaurant at a time when it is needed most.
I'm pretty sure Mexico Diner has some of the best Mexican food in the general vicinity of Prospect Park South, and I would feel that way even if it weren't within walking distance of my house. I go there a lot — it was the last place I ate before I left for Chicago — and that's mostly because, unlike at most of the other decent Mexican spots around me, which are based out of corner stores and bakeries, the staff at Mexico Diner will feed you and seat you. In fact, the diner recently expanded into an adjoining space, which helps with the crowds on Sundays, when the nearby churches empty out, or anytime there's a good soccer match on. I prefer to sit in the smaller, original part of the restaurant that is connected to the kitchen, where you can look out the neon-lined windows. My favorite time to go is at lunch, especially during the week, and order the taco salad served inside a fried-flour-tortilla bowl like nature intended.
The food at Mexico Diner is not the stewed guisados of Taqueria Ramírez, the kitchen does not obsess over heirloom corn varietals like at For All Things Good, and it doesn't seem like the diner makes the tortillas fresh in the style of Fonda Garibaldi, where the chips are light as air.
But you know what? At Mexico Diner, I got to hop out of a taxi with my luggage and order three tacos copiously filled with partially gelatinous carnitas seared on the flat top, finely shredded lettuce, crema, and a bit of queso fresco. I got tacos, because I arrived at an empty dining room at 10 p.m., when the staff was simultaneously trying to close down and finish up the last hour of delivery orders. This is not the time to order a chile relleno.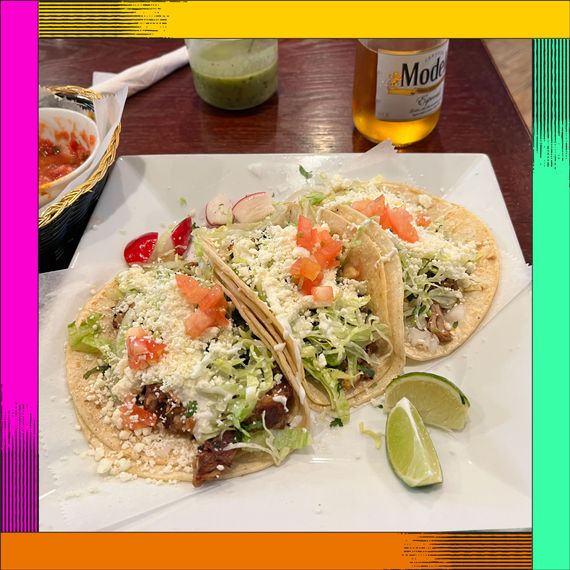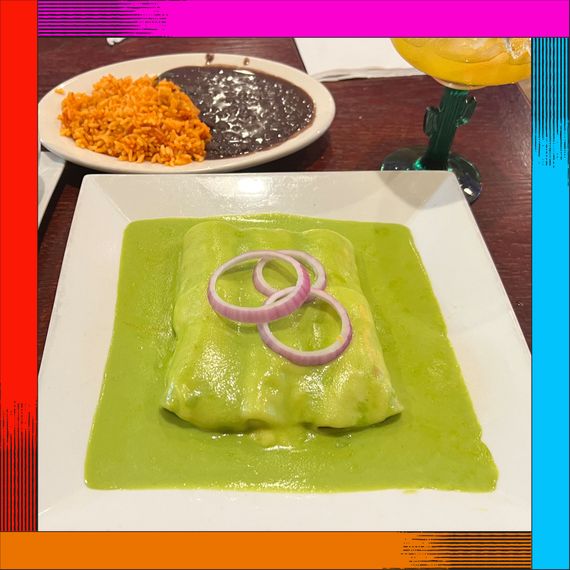 On a regular day, my dinner order is usually the enchiladas suizas — which are surprisingly hard to spot on NYC menus — because it is one of my favorite dishes and perhaps the most delicious example of Swiss-Mexican fusion in the entire world. The tamales are another standard for me. I love that Mexico Diner serves them all the time — not just on weekend mornings, which would require one to choose between sleeping in or waking up before they sell out for the day. The tamales are always steamy and soft and come wrapped in a banana leaf, which adds deep flavor to the masa dough.
Mexico Diner excels at two salsas in particular: one a shade of burnt orange and flaming hot and a verde version offering a more rounded profile with plenty of bite. The diner serves it generously in jars and with a spoon so that salsa freaks like myself can douse anything to our heart's desire, though I order extra to go, because it's better than anything I could make myself.
I'm sure the steady number of delivery orders that came through while I ate in the empty restaurant had something to do with why it's open so late on a Sunday night, but I wasn't complaining. With a cold Modelo, some awesome tacos, and unlimited salsa, I knew I was back home.