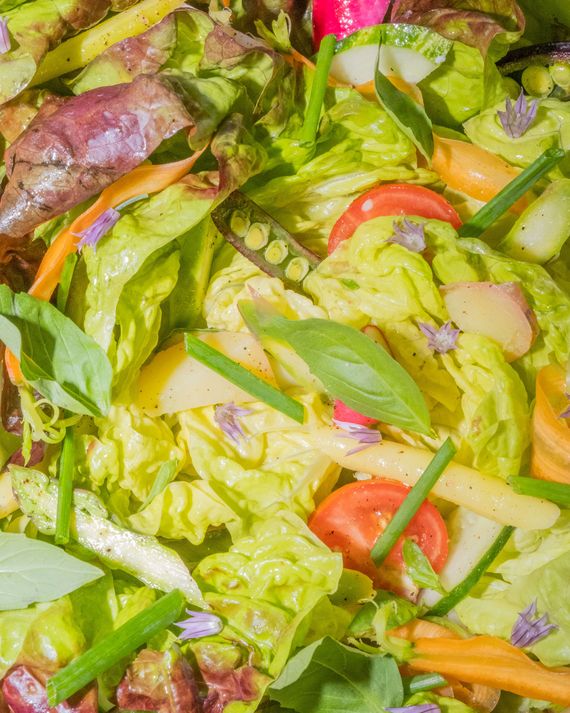 The Garbage Salad, now served at Patti Ann's in Brooklyn.
Photo: Lucia Buricelli
Given the state of the country right now, it is probably not surprising that "haute dumpster" has become a prevailing culinary theme at our restaurants. There is of course the fabled Garbage Plate, which turned Brooklyn Hots into a destination for anyone with fond memories of drunken nights in Rochester. There is the Trash Pie, from the San Francisco pizzeria Shuggie's, that repurposes food waste. And now there is the arrival of a grand garbage salad that is, in spite of its name, probably the most enjoyable salad I've eaten this year.
The garbage salad in question comes from Patti Ann's, chef Greg Baxtrom's nostalgia-minded "family restaurant" in Prospect Heights, where the décor includes a schoolhouse map of America and a special edition of Where the Sidewalk Ends, and the comfort-food cooking takes its cues from the Friendly's-style taverns that line this country's highways. "This restaurant as a whole," Baxtrom says, left him wondering, "How do I inject seasonality into something that's based on staples?" He wanted the menu to include a proper salad section, and he saw the utility of a place where he could use up ingredients that caught his eye at the farmers' market but might not have a home on the permanent menu. Thus was born the Patti Ann's Garbage Salad.
Many named salads are defined by their rigidity: A Cobb's mix of chicken, bacon, avocado, blue cheese, and egg is unchanging — to remove anything would be to undo the salad's very Cobb-ness. But the garbage salad is, by its nature, quite flexible. At Gene & Georgetti, a Chicago steakhouse with a menu that claims to offer "the original garbage salad," it's served with "salami, jumbo shrimp, provolone, the works!" At Gibsons, another Chicago steakhouse, it's like a giant chopped salad with chicken, artichokes, and hearts of palm. And Baxtrom says the garbage salads of his youth were something else entirely. "Our family gatherings, they would be cheaply catered, and a garbage salad was one of the platters we always had," he recalls. "Where I'm from, there were fewer proteins — it was more pickles and tomatoes."
When it came time for Baxtrom to make his own garbage salad, the chef took inspiration from another unlikely mix of vegetables and perhaps the high-end-food world's most famous composed salad: chef Michel Bras's "Gargouillou de jeunes légumes," an ever changing luxury assemblage of seasonal produce in which each of dozens of different items gets prepped separately before being plated like an abstract painting.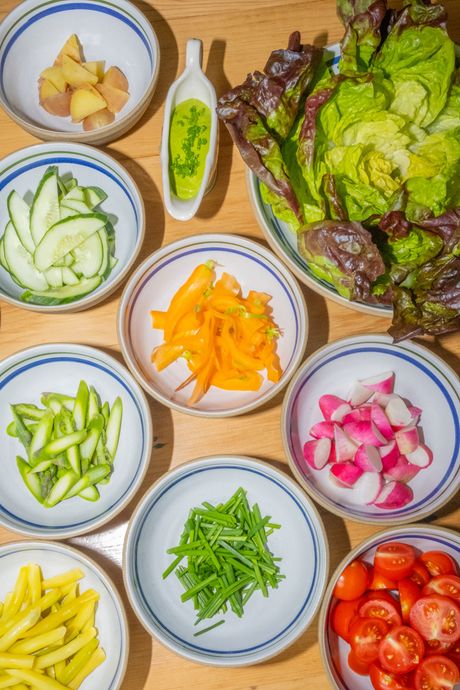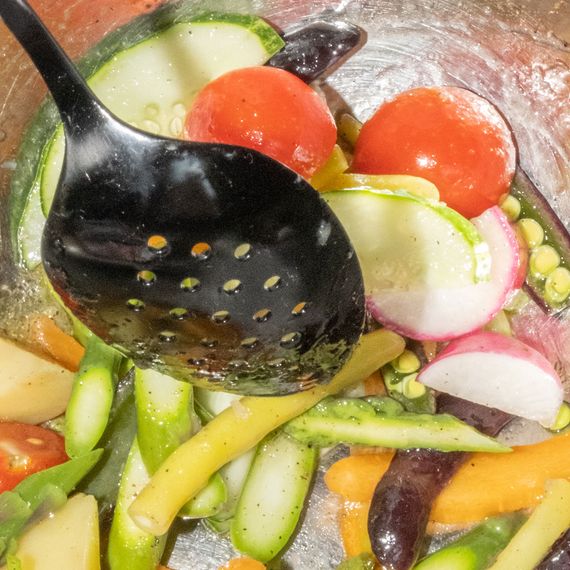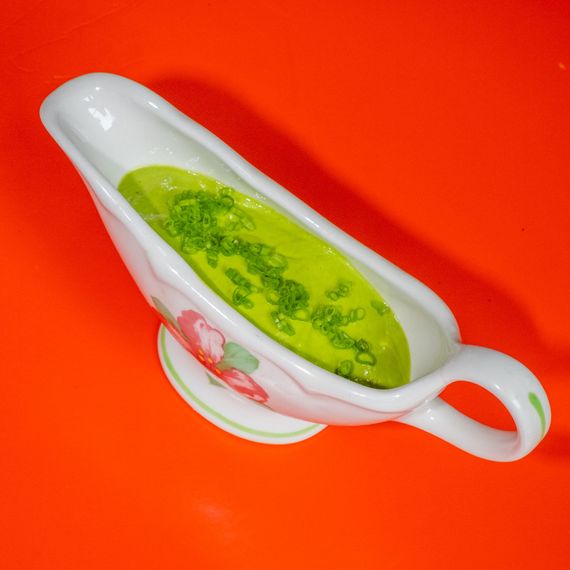 Because Patti Ann's is a restaurant with meat loaf on its menu, it is no place for overly tweezered food. Instead, Baxtrom's version is a full head of lettuce from Willow Wisp farm, a bowl of chive-heavy green-goddess dressing, and a weekly changing collection of prepped Greenmarket produce that usually involves ten or so items — maybe more, maybe fewer, depending on the day — some cooked, some raw, whatever feels right. One recent mix contained fresh sugar snaps, carefully shaved baby carrots, blanched asparagus tips, and even a few local strawberries. When corn and peppers arrive at the market, they'll go in, too. Some of the ingredients are bought specifically for the salad but not all. "When I'm putting one together," Baxtrom says, "I might go around the kitchen and pick stuff out."
At the table, the mandate for diners is simple: Mix it all together and enjoy. Or maybe turn it into little wraps. There are no rules, but the $18 dish is a welcome dose of greenery among the restaurant's fried pork chops, aforementioned meat loaf, and a bloomin' onion that is large enough to feed an entire kindergarten class. That's not to say any of the salads on the menu — including a frankly delicious kale Caesar studded with boquerones — tastes "healthy," because they don't. "I don't believe in underdressing my salads," Baxtrom confirms. "Everyone likes sauce."