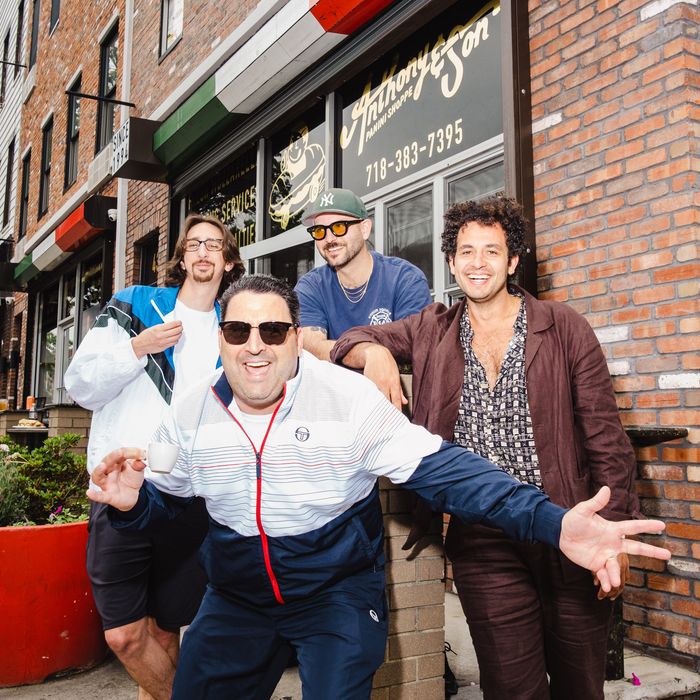 From left: Cugine, Lil Mo Mozzarella, Nicolas Heller, and Kareem Rahma.
Photo: Lanna Apisukh
It's lunchtime on Graham Avenue just under the BQE at the edge of Williamsburg. This is the section of the neighborhood that's still truly a neighborhood, where the vintage-T-shirt crowd lines up with the hard-hat crews and firefighters at Anthony & Son Panini Shoppe. It's the kind of store a friend takes you to when they "know a place," and then you have a Whyoumad (chicken cutlet, fried avocado, pepperjack) or a Stat Diddy (steak, cheese, mushrooms, Peter Luger steak sauce on a garlic hero) and other sandwiches can hardly measure up after that. It is also the unofficial headquarters of a group you might call the New York Nicoverse, a cluster of improbable influencers who have gained millions of fans by showering New York, its locals, and its businesses with the love they have always deserved.
New York Nico, as many city residents can tell you, is Nicolas Heller, the filmmaker behind the popular Instagram account and, as he calls himself, "the unofficial talent scout of New York City." During COVID, he used his reach to highlight struggling small businesses, such as the Astor Place Barber Shop, or food spots like the Bronx institution 188 Cuchifritos or Economy Candy on the Lower East Side. "People use the phrase 'free publicity,' but this is a type of publicity that can't be bought," says Willie Zabar, the social-media coordinator at Zabar's. "Getting featured on his account is like getting a seal of approval; it says that you're a real New York business where real New Yorkers go. If you're really lucky, you might get folded into this fascinating little universe of wacky NYC personalities."
Heller has parlayed that success into a film, Out of Order, which recently debuted at the Tribeca Film Festival and chronicles the city that Heller's social-media accounts celebrates: a New York filled with characters like the "street golfer" Tiger Hood and the rapper Gorilla Nems, where the action unfolds in bodegas and dollar stores. Nicoverse personalities have names like the Green Lady of Brooklyn or Charlie Da Wolf. There's Jewish rapper Kosha Dillz freestyling outside of a Knicks game, or Big Time Tommie wearing gold-rimmed sunglasses and dishing out positive affirmations ("whoever's trying to drag you down is already below you") between puffs off a massive cigar. Heller possesses an innate understanding that if you want to tell New York stories, you need to find New York characters.
I'd arrived at Anthony & Son to meet up with Heller and some of those characters: Lil Mo Mozzarella; Cugine, who runs the account @Meals_by_Cug; and Kareem Rahma, who wrote, produced and starred in Out of Order. "I just started hanging out here and meeting these amazing characters," Heller explains. "Every time I come, I'll see the regulars and meet new people."
There is no grand media-takeover plan, they say, and entrance into the club happens organically. "Build your own shit, and if it's meant to be, then it will happen," says Sabino, another member of the extended Nicoverse, who as the owner of Anthony & Son acts as sort of a conduit between Heller and some of the local talent. "The No. 1 thing is not to ask."
Take the Lil Mo Mozzarella Instagram account, which had a moderate following in 2020. Mo — real name Mark Brucato — was playing around, documenting his daily life during the early days of COVID. He watched Barstool Sports founder Dave Portnoy review pizza and had an epiphany. "I was like, Oh, fuck this guy. You know what I mean? He's from Boston. He don't know about pizza." Lil Mo started doing some restaurant-review videos of his own. Eventually, it was Sabino who told Lil Mo about Heller's contest to find the best New York accent. He submitted a video — "We do this all day long, New York, you bunch of fuckin' neckbones" — to Heller, who featured it on the New York Nico account. Mo's fandom snowballed from there.
Combined, Heller, Mo, Cugine, and Rahma currently have 1,687,200 followers on Instagram. Sabino's personal account adds another 18.5K. Cugine (real name: Danny Mondello) is even more popular on TikTok, where he's got 1.9 million followers who watch him try sandwiches and extol the virtues of "DC" (Diet Coke). Sabino shrugs when asked about the success — "people love New York" — but the thing I find interesting is how they've avoided the various stereotypes that come with the "influencer" label to become something more eccentric. There is no polish here; you watch because they exude a genuine love for the city. They hustle, they're happy to tell you, and they stress about how much they have to post. "You gotta just stay ready," says Cugine, who has spent time working various food-service jobs, when I ask how he churns out new stories. "It's the hardest job I've had."
Rahma, who was born in Egypt and raised in Minneapolis, never really intended it to be a job at all, or to stay in New York. "I moved here, thought I'd come here for a year and check it out, then I never left," he says. He and Heller met in 2016 after Rahma reached out about posting some videos on a platform he co-founded, NYC.TV. "It failed," Rahma says in a nonchalant tone that suggests it was simply one of a dozen projects he has in the works at any given moment. But the meeting blossomed into a creative partnership, and Rahma is now a vital part of the Nicoverse. "The city inspires me to literally do whatever I want — It's like I pull on a thread and a bunch of ideas and perspectives come out," he says. "There's no holding back here, and I can be whoever I want to be." Later that week, he and Heller are going to meet up with the guys behind another popular account, Old Jewish Men — OJM for short — to shoot a video that extends an ongoing beef between the two social-media factions. Like pro wrestling, the feud isn't real, but it also sort of is.
And like pro wrestling, it's entertainment where the line between a real person and their on-camera persona is kept intentionally fuzzy, presented in a medium that doesn't have much need to differentiate between the two. They all want to grow these ideas into something more permanent (and profitable), but members of the Nicoverse also understand the power they have right now. As they stand outside the sandwich shop on Graham, fans walking past are starstruck to see the crew hanging out. They try to grab selfies or shout catchphrases as they ride by on Citi Bikes. A group of firefighters ask to pose for a photo with everyone. "Netflix, Hulu, you can say what you want," Cugine muses, "but there are shows you see going on ten years and you don't even know who the fucking actors are." By comparison, followers might see Cugine three or four times a week in their timelines. "Who's getting noticed on the street?" he asks. "Me."