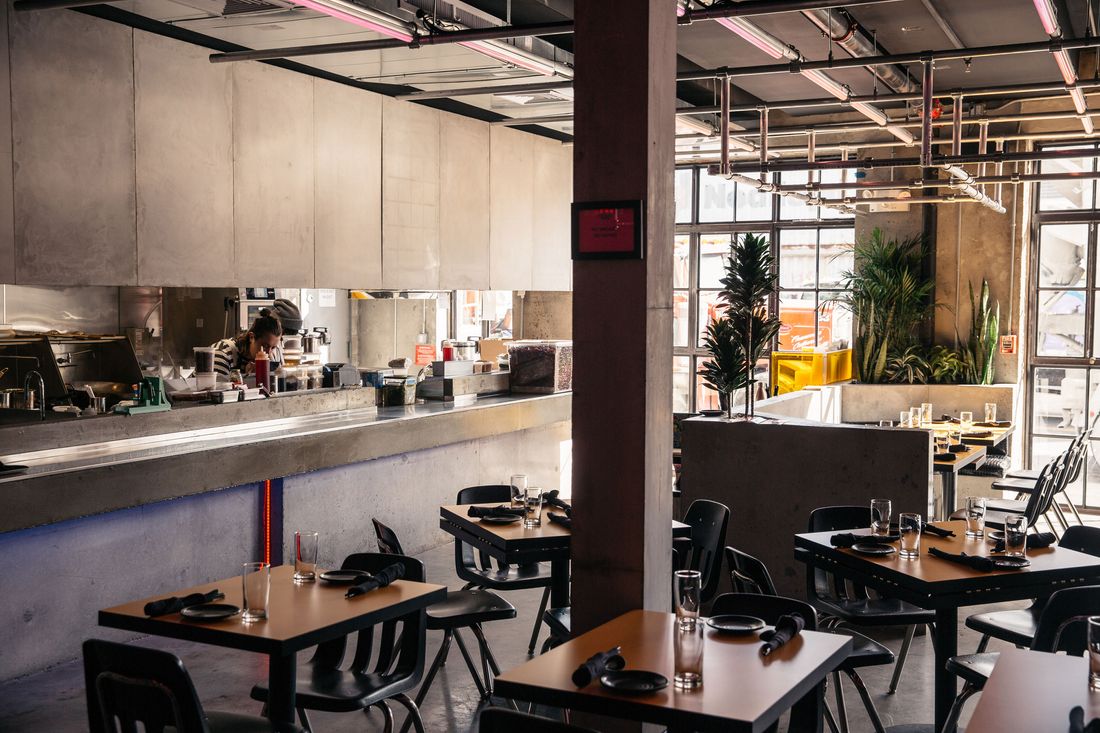 Mission Chinese Bushwick opened in 2018.
Photo: Scott Heins
While restaurants have returned — at least on the outside — to something reminiscent of normal, the closures keep coming. This time, it's Mission Chinese in Bushwick, which is planning its final service for the end of July, per an announcement posted today.
"After rebuilding our foundations and trying our best to not just survive but thrive, we are faced with the difficult decision to close our beloved Bushwick location at the end of July," the post reads. "These past two years have been astoundingly challenging, but also feel like a gift because they prompted so much positive growth and gave us a new outlook on what the future of Mission Chinese can be."
The Bushwick restaurant opened in 2018 inside the 24,000-square-foot former warehouse it shared with the sprawling (and still open) music venue Elsewhere. If the Manhattan location looked "like a trippy banquet hall," Grub observed at the time, then the Brooklyn iteration was "a spacy canteen."
That troubled Manhattan location closed in September of 2020; pandemic-era operations no longer made sense, Bowein wrote at the time, and the restaurant would forge "a new path for survival."
Two years later, the Brooklyn outpost will follow suit. "None of this could have been possible without the strength and resilience of our Mission Chinese Bushwick team," the announcement continues. "We could not be more proud and in awe of their commitment to making Mission Chinese Bushwick a fun and hospitable place to work and dine." And with that, Mission, with its kung pao pastrami and its Pop Rock–topped panna cotta, exits New York. (The original San Francisco location — the last Mission standing — remains open.)
For its last week in business, July 19 through July 23, the restaurant will be making one final change: ditching its current dishes in favor of an all-vegan set menu inspired by Bowien's forthcoming Mission Vegan cookbook.