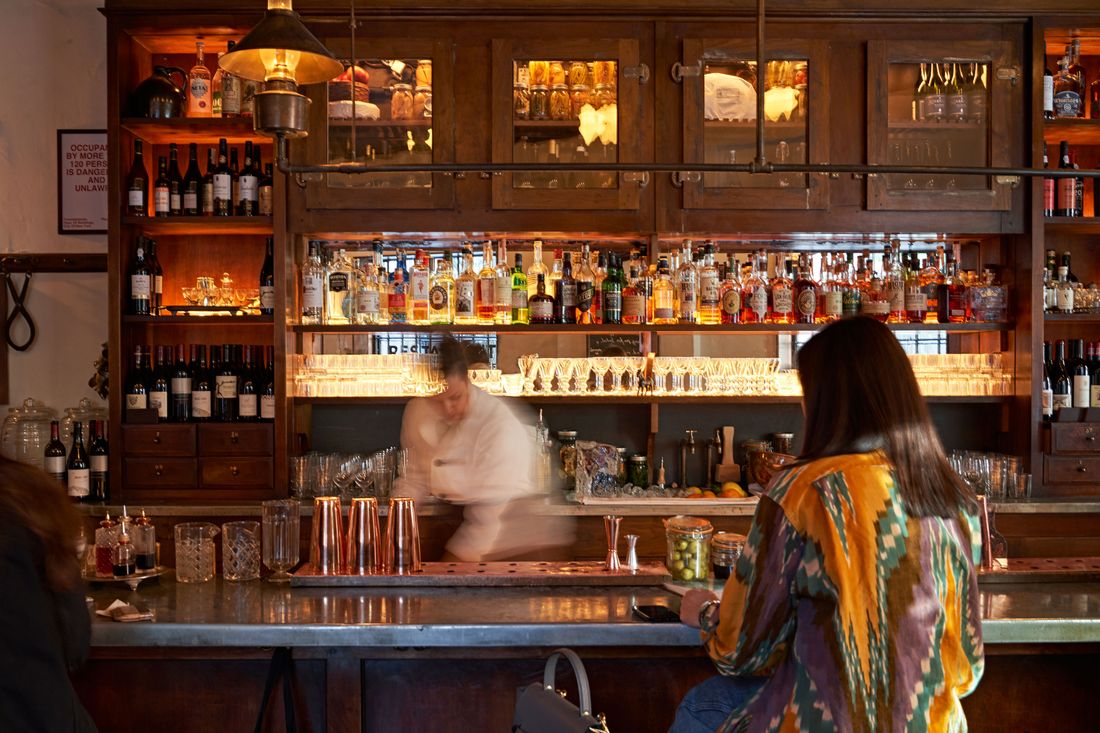 The West Village's Commerce Inn.
Photo: Andrew Bui
Last Wednesday, as the sky broke open outside, the dining room inside Place des Fêtes was humming. Since opening earlier this year — a few weeks after Mayor Eric Adams ended vaccine mandates at restaurants — the Clinton Hill wine bar has been more or less full, and on this night, customers freely chatted over glasses of Grenache and plates of mussels drowned in squid ink, just as they might have in 2018, or 2004. But things weren't back to pre-pandemic levels completely: The staff was entirely clad in face masks, a precaution they only recently brought back.
"We actually were maskless until about two weeks ago — which was a welcome change for just about all the staff as most feel more comfortable without them," says Steve Wong, a partner and the director of operations at the restaurant. "However, with this recent spike, my partners and I made the decision to reinstate the staff mask policy at both Oxalis and Place des Fêtes."
That spike is what's been called an "invisible" COVID wave, a surge of cases that has gone more or less unchecked and unrecognized by the public. National case counts have recently risen as high as 100,000 per day, with New York City still averaging over 3,000 new daily cases, yet The Guardian reports actual totals could be 30 times higher, with many new cases going unreported because of the prevalence of at-home testing. (The wave may have peaked in New York City, where cases have been dropping since late May.)
The pandemic, in other words, is far from over, but one reason the masks at Place des Fêtes are so striking is because they are one of the few examples of COVID safety precautions that are still in place in the city's bars and restaurants. Instead, even many of the workers who interact with the public for eight to ten hours at a time say they've grown largely ambivalent about the continued threat of this virus.
"I can tell you this: No one cares," says Randy Wood, a bartender who works in both Brooklyn and Manhattan. " I just started a new job and they didn't ask me for vaccination proof or anything like that." The reason? "I think COVID fatigue got everyone completely over it."
Tsepak Dolker, who manages the front-of-house at the popular Lower East Side restaurant Dhamaka, says she's still wearing masks at work, but that the decision has been left up to individuals. Other workers I talked to said they have absolutely no desire to wear them again — regardless of case counts. "That would be incredibly frustrating for me," says Ian, a bartender who works in Manhattan and who asked to leave his last name out of this story. He says that even if the risk of getting COVID is high, the risk of serious illness is low for many. "It seems like we're kind of at a point with COVID where it's just like, It's here, and you might get it, you might not, but it's probably not that big a deal."
Like others, he says the arrival of Omicron — when cases surged dramatically, but hospitalizations and deaths didn't among people who are vaccinated — was a turning point in attitudes among his coworkers. "People were pretty concerned then, but ever since, I don't know, February, no one really seems to care all that much about it."
Lamar Curtis, who works as a bartender in Hell's Kitchen, says "there's just less urgency in general," before conceding, "Just because people are fatigued, they think this is done — and that's not how it works."
Even workers who are following case trends say it is no longer their primary concern. One Manhattan line cook, who asked to remain anonymous, says he's taking precautions to protect his family — an infant son, a father-in-law with cancer — but that he can't stay home: "I have COVID tests. I need to do the responsible thing. I also need to work."
If the prevailing mood among hospitality workers is one of ambivalence, many say that's a result of how pandemic restrictions were handled in the first place, changing and being enforced in ways that often felt arbitrary. (One bartender tells me that when New York had a 10 p.m. curfew and indoor dining was banned, he ran a successful COVID "speakeasy" out of his place of work — and that when a police officer once visited, it was not to close down the place but to tell the bartender what to do to avoid being caught. When officials came by to see if the business was following rules like contact tracing, he says "they wouldn't even open the book.")
Ultimately, there is now a feeling of inertia, a sense that the public is "over COVID" and workers must move on, whether they like it or not. "If you're going to get it, you're going to get it," says Curtis. "All you hope for is that it's not a severe situation — and that's it."