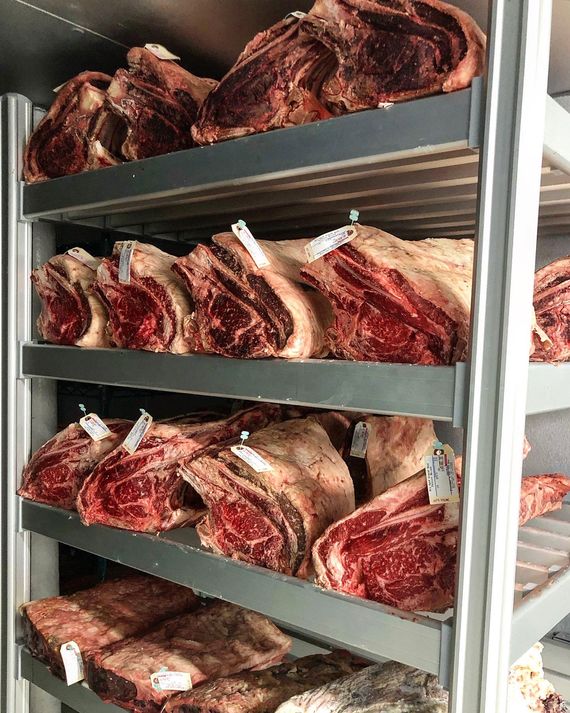 Steaks, on display.
Photo: Jason Yang
On July 22, 2021, John Adams, the CEO of Fleishers Craft Butchery, took a train from New York City to the company's shop in Westport, Connecticut. When Divone Thompson, the location manager, saw Adams, he believed he was being fired. Conditions within the company had deteriorated throughout the pandemic, and business at the four Fleishers locations had dropped.
Instead, Adams took the train north at the request of Rob Rosania, a cigar-chomping Bay Area real-estate developer and Champagne collector who owned Fleishers. Rosania, it turned out, had received a message from a regular customer complaining about a Black Lives Matter sign and an LGBTQ Pride sign that had been hanging in the store for months. Adams was there to remove the signs. Thompson, who is Black, expressed his desire to keep the signs up, but ultimately, Adams took them down himself.
By the time Adams apologized a few hours later, it was already too late. Managers at all four Fleishers locations had organized a walkout of staff, half of whom identified as persons of color or members of the LGBTQ+ community. "Despite being on a sinking ship, so to speak, we cared about each other and we cared about what we did," says Anthony DiLeva, an assistant manager at the Fleishers shop in Park Slope. Frustration among the staff had been growing — employees at the Brooklyn location, for example, complained about deteriorating working conditions, including broken equipment that remained unfixed — and the incident at the Westport store was the final straw. "We could deal with whatever silly ideas or decisions management wanted," DiLeva explains, "but once you started making people feel like they didn't belong — or basically boldly stating that, you know, a large customer base and a large part of your employees don't matter to you, then that's it."
After the July 23 walkout, most of the employees simply quit. All of the shops remained closed until this past March, when the Park Slope store reopened. Now it too has closed for good; Adams says he is negotiating with suppliers and landlords and hopes to "close the business gracefully."
Nobody would have foreseen this end back in 2009 when the New York Times took note of these "rock star butchers" in the artisanal, whole-animal trend that first took off at the original Fleishers in Kingston. "I don't think I'd be wrong in calling the Kingston shop the epicenter, the mecca of the good-meat movement," said Bryan Mayer, executive director of the Butchers Guild, who trained at Fleishers and once worked for the company. "Nobody was attempting to do what Josh and Jess did."
Josh and Jess are Joshua and Jessica Applestone, the husband-and-wife team who opened the first shop in 2004. Joshua, who wore his hair in a ponytail, named the business for his great-grandfather, Wolf Fleisher, a kosher butcher in Brooklyn. Harkening back to an era of small-scale butchery operations, the Applestones sourced whole animals directly from local farms and sold lesser-known sub-primal cuts.
The Applestones soon attracted attention and devised a unique approach to their wholesale business. Instead of breaking down whole steers into steaks and burgers, they could train butchers from other shops and then simply send whole carcasses directly to restaurants for their workers to break down in-house. Tom Mylan was their first student when he was an employee at Brooklyn's Marlow & Daughters restaurant group. Fleishers replicated the process with other restaurants, inspiring in-house butcher programs that began to appear at many NYC establishments. Mylan, meanwhile, would go on to find success at the Meat Hook, his own Williamsburg butcher shop.
Meanwhile, teaching became a lucrative revenue stream for the Applestones. They charged $10,000 for students to come work alongside them for eight weeks, sometimes living in their Airstream trailer. One student, Julie Powell, author of the cooking memoir Julie and Julia, recorded her experience at Fleishers in a follow-up memoir, Cleaving: "It was genuinely a Wild West–type thing."
The Applestones expanded Fleishers to Brooklyn. Sales appeared brisk, but people familiar with the company's financial situation at the time say losses began to mount. The Applestones left the company in 2013 and later opened a new venture, a meat-vending-machine project called Applestone Meat Co. (It closed last year.) In the founders' sudden absence, Fleishers sought salvation through a merger with a Connecticut butcher shop called Craft Meats, opened in 2011 by former Fleishers students. The shops — now in Kingston, Park Slope, and Westport — united under the name Fleishers Craft Butchery in 2015.
The combined businesses were still scrambling for cash when Rosania, a regular customer at the Westport shop, entered the picture, becoming the company's lead investor. He envisioned a future where Fleishers' products were a luxury good — which alienated many people on staff. "They come from a place of, like, really caring about their work and believing in something," says Zachary Pierce, a former employee. "Then he's like, 'We're just going to sell meat to rich people.'" In 2016, Fleishers opened stores in Greenwich, Connecticut, and on the Upper East Side. The original Kingston shop was closed, and during an annual all-staff trip to one of the company's farm suppliers, Rosania made his arrival by helicopter.
Given the expansion, it was nearly impossible for Fleishers to make a profit. "Whole-animal local agriculture is extremely difficult to scale," says Brent Young, a co-founder of the Meat Hook. "It's local for a reason. You can't be super well funded and ready to expand and also keep your supply chain supertight, because the finances don't work out."
In 2020, the COVID pandemic damaged both sales and morale at Fleishers. As many residents fled the city, customer traffic on the Upper East Side cratered completely, and the store closed for a month.
After the incident in Westport, Fleishers never again found its footing. Rosania eventually also apologized for removing the signs and even offered employees a raise if they would return after the walkout. For a brief moment this past spring, the reopening of the Brooklyn location might have given fans hope, but now Adams confirms the closure is permanent. "Knowing the absurdity of things that were going on," says Pierce, the former employee, "I was kind of surprised the whole thing didn't happen earlier."