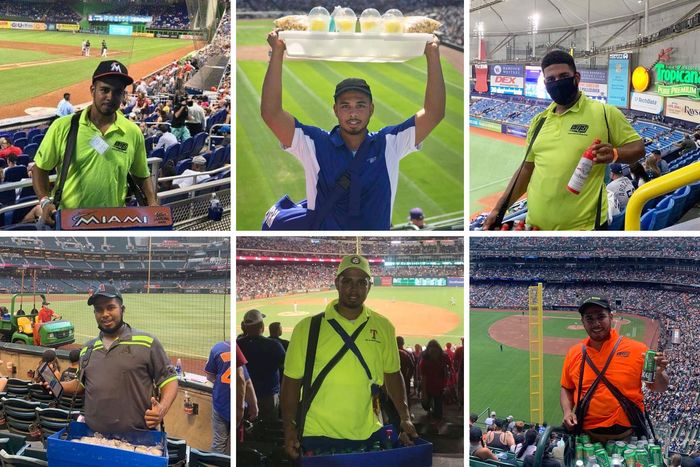 Reginald Duvalsaint in six of the 19 MLB ballparks he's worked in as a vendor.
Photo: Courtesy of Reginald Duvalsaint
Since 2017, Reginald Duvalsaint has been serving beers (and hot dogs and pretzels, but preferably beers) at stadiums across the country. Over the weekend, he was in San Francisco for the Giants' series against the Dodgers, and soon he'll head to Washington, D.C., for a Nationals game before making his way down to Florida to work a Tampa Bay Rays series. This, he says, is just what he likes to do, and so far he's hit 19 of the country's 30 parks. Duvalsaint, who technically lives in Philadelphia but spends most of the year on the road, says he'll work more than 300 events in a typical year, jumping from city to city to vend at baseball games all summer as well as football games (27 NFL stadiums and counting), concerts, and any other events that might be happening. He talked to Grub about the life of a traveling vendor, how he got caught up in it, and why Grateful Dead fans make the best customers.
I've heard of people traveling to visit different ballparks, but this is something different. How did you get started on this quest to work at all of these stadiums?
I got into vending by accident completely. I was on vacation at my parents' house in south Florida in 2017, and I saw an ad on Craigslist saying they needed help for the All-Star Game. I was like, Hey, you know what, I'm here for a couple days. Why not? It's only three days of work. And I signed up to do it. The first day was okay. I probably did maybe 200 or 300 bucks. Then the second day was the Home Run Derby, and I killed it on hot dogs. I probably made 400 or 500 bucks on hot dogs. I thought to myself, Wow, this is awesome. So it just kind of parlayed into the next gig and the next gig. Other vendors pointed me in directions of concerts and other events, and it just kind of took off from there.
When did it become about trying to work at every ballpark?
I'm a huge sports fan. When I was younger, I had started on a quest to try to go to all 30 parks. So then it just kind of became a sort of hybrid. Like, Why don't I try and work at all 30 parks, you know? I started to rack up a few ballparks. After the All-Star Game in 2017, I did maybe four or five. The same company had contracts at a few other parks that summer — I probably did some stuff in Washington, Cleveland, and Pittsburgh. I really enjoyed doing it, and I was like, What would it take to actually get to all the ballparks and all the NFL stadiums? And I realized if I really wanted to make this a mission, I'd have to work for several different companies that do different ballparks. And so you tell them you'd like to work, tell them that you're a good, earnest worker and you'd like to come out and try working at the ballpark. And it kind of grew from there.
And they're okay with that? Are they just looking for extra hands sometimes?
It depends on the size of the event. If it's like a big series, like it was in San Francisco this weekend when they played the Dodgers, the demand was a lot higher, and they needed more guys. As opposed to a regular weekday series like today against Kansas City. The demand isn't as high. And sometimes you'll have to sell the worst product as you're the least senior vendor.
What's the worst thing to sell?
The worst thing I've done was maybe popsicles.
Do they melt before you can sell them?
Sometimes if it's really hot, yeah. In general, it's always nice to be able to sell beer. That's the most profitable, and you get the most tips out of it.
I once met a vendor at Shea Stadium who was on a similar quest. Are there a lot of people who do this?
So there are quite a few traveling vendors, but not in a sense that they want to work at every park. To them, it's more to chase good events as opposed to trying to do every single venue. I think they're more motivated by the potential of money as opposed to doing it as a quest, if that makes sense. My motivation was more as a fan, you know what I mean? I'm still doing it as a worker, but a good portion of this is me as a fan.
Are you, like, especially good at this?
I feel like I have a knack for it. I just love engaging with the fans. I feel almost like a performer, like you're onstage in a sense. You have a moment to shine and people are listening to what you have to say for however brief a moment. It's just a matter of being a good salesman and getting them to buy what you have from you as opposed to somewhere else. But you try to have as much fun as you can. And I feel like it's done me well the past few years. So I'm happy.
What makes an interaction a good one aside from you give them a beer and they give you money? Do you have a trademark?
When it's slow, I like to think of myself more like a stand-up comedian. You try to have as much fun as possible. You joke; if you get a laugh out of a fan, that's definitely a positive.
What's your favorite ballpark to visit? And what's been your favorite to work in?
Favorite venue to visit is probably PNC Park in Pittsburgh. But I enjoyed doing the Atlanta Braves. The ballpark was new; it was nice. I had a good time working there, and the fans were really generous. It was a nice atmosphere.
Does this pay for itself? Even if the money is good, the travel has to add up.
It depends on how big the events are. Sometimes I'm doing it for the experience; I'm not gonna lie. There are some events that do well. In general, concerts and music festivals are better.
What's the most lucrative event you've worked?
Concerts are No. 1. Concerts and music festivals. Anything with the hippies. Dead & Company is a great crowd. You know, happy hippies that are generous to you. That goes a long way.
This interview has been edited for length and clarity.