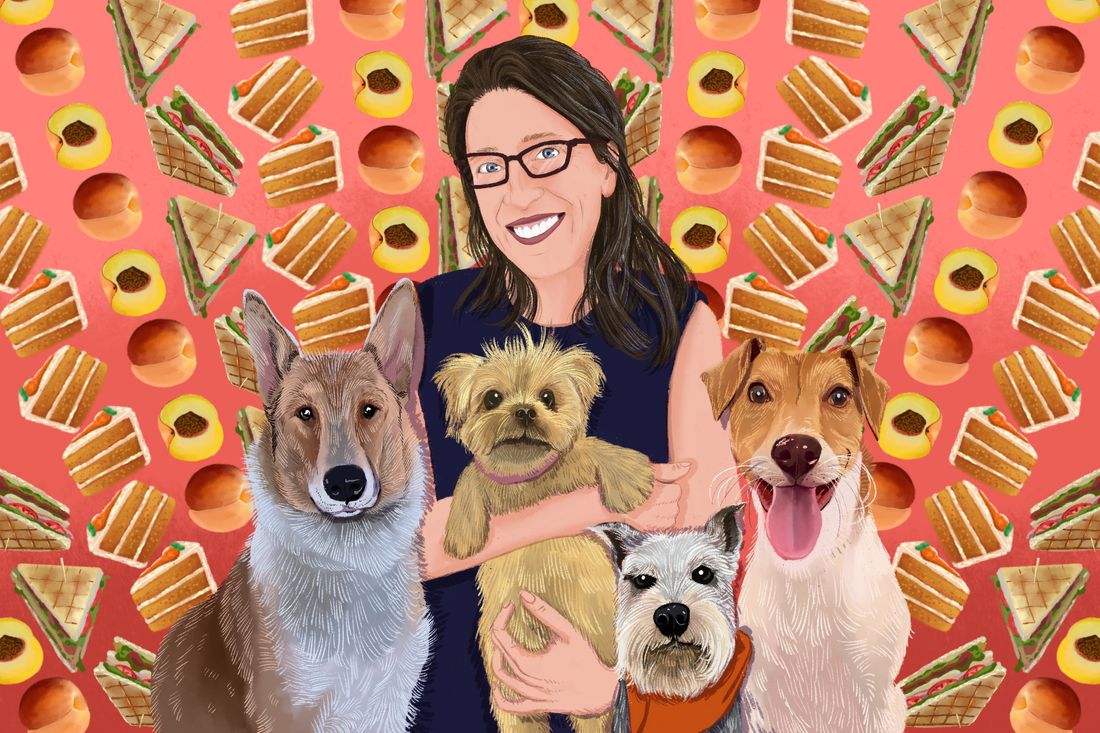 Dog cognition researcher Alexandra Horowitz with friends.
Illustration: Maanvi Kapur
The researcher and author Alexandra Horowitz has spent her entire professional life grappling with one question: What is up with dogs? "I'm interested in knowing what it's like to be a dog," she explains. "I study the mind of a dog." In addition to her work at Barnard's Dog Cognition Lab, she is the author of Inside of a Dog, Being a Dog, and more. This spring, she launched Off Leash, a podcast on the topic (dogs). And this past week, she finished recording the audiobook version of her latest book, The Year of the Puppy, tracking the development of her own dog, Quid. "It must be so hard to be the dog of a dog-cognition researcher," Horowitz says. "I can't ever turn it off: What are you doing now? What's this? This is familiar behavior; that's not familiar behavior. How are you going to react to that? It's this constant observation."
Tuesday, June 14
First thing every day is a tall glass of cool water even before getting out of bed. Mornings in our home, I feed all the littles — cat, dog, son — first. The cat gets a little ball of kibble that she can knock about to "kill," and the puppy gets a mixture of roasted sweet potatoes and something pitched as "dog food."
I heated up Field Roast plant-based breakfast sausages for myself and my son, Ogden. When we can find these Field Roast sausages at the grocery store, we buy eight packages at a time.
I also ate — as I do every morning without fail — half of a banana. I am what you might call "particular" about banana ripeness. My perfect banana has a touch of green but is ripe enough to yield when you crack the peel. Greener than that is inedible. Yellower than that is no longer a foodstuff.
Ogden is in middle school and somehow still enjoys my walking with him to school — so great. I'll take it. It's a lovely, lovely time even when it's winter and windy and our faces are frozen in despair. This day, it was gorgeous out, and the puppy, Quid, and I took our sweet time walking back.
At home, I made myself a coffee. I use an AeroPress, but I'm not devout — it's AeroPress now, but it was Chemex until a big Chemex incident (glass everywhere), and it was a French press until a big French-press incident (glass everywhere). The AeroPress has lasted longer probably because it's not made of glass. Sometime along the way, I got hooked on Greenstreet coffee out of Philadelphia, and for years I've ordered it from the Metropolitan Bakery, also in Philly. I prefer coffee black, but my tummy does not, so I topped it with oat milk, which was … fine.
I biked down to midtown, where I was recording the audiobook for The Year of the Puppy, which is about the aforementioned Quid. My books always have this combination of observations about my own dog and the science of dog cognition (hopefully as it relates to those observations). This one is all about the science of early dog development seen through the lens of our own pup's first year. I've never known a dog since day one before — I've always gotten dogs from shelters, often many months or years into their lives, and you really wonder about the biography of the dog before you knew them. You get glimpses, maybe sometimes you create a story, but I thought, I'd love to know a puppy from the beginning of their life and see all the things that they experienced. I'm not a person who would buy a puppy, and I'm not going to breed puppies, so that left me with this weird situation where I had to try to find a shelter or rescue group that had a pregnant mom. So I was observing different litters as they developed, and then quarantine happened, and I thought, You know? Maybe our puppy has to be in this litter. And now we have Quid.
I like recording my own books because I know how the sentences should sound. I also don't like recording my own books because I discover what words I was particularly fond of when writing the book ("regularly" and "mouthed" make frequent appearances in this one).
The great weirdness of this audiobook recording is that the director and engineer are remote, which means that I am just sitting in a little soundproof booth in midtown for hours by myself. The respite would be lunch, but again, it's just been me. This time, though, there were some audio pros finishing up lunch at the studio's shared table, and I soaked in their company while I shoveled in a chopped salad, falafel, and hummus from Hummus Kitchen and packed away the copious leftovers for later.
At 4:30, we called it a day, and Ogden and my husband, Ammon, biked down the West Side bike path to meet me. This makes it sound as if we do this all the time, but we don't. We should; despite the proliferation of full-on motorcycles on the path, I enjoy being on the edge of the city looking in. We stopped by Little Island and cycled to P.S. Kitchen for dinner. I had the delicious P.S. burger, which is a Beyond Burger with some kind of magic sauce — I think it's in the ranch family — and Ammon and I split a bowl of roasted Brussels sprouts, which I believe had a luxurious bath in a balsamic reduction before we met it.
We worked off some of the burger by biking home. Our family is very religious, and our religion is that we believe in dessert. I had a Blue Marble Black & White Cookie ice cream, spoon in the pint. Ogden had a Coolhaus ice-cream sandwich, and Ammon had both of those.
Wednesday June 15
I woke up early, which for me is around seven, and my first thought was, I forgot to put the dough away. Yesterday I began a loaf of no-knead sourdough, which is meant to be turned every hour then sit overnight in the fridge before being baked. It's the only recipe where I follow the quantities exactly. Each loaf comes out perfectly: crusty on top with great air holes in the middle. I cannot possibly claim responsibility. It's 75 percent because of the happily yeasty mother in my fridge and 25 percent because of the Dutch oven. I'm just there to get those two crazy kids together.
Unfortunately, it had assumed a life of its own. When I'd gotten it corralled in the Dutch oven for its final rise, I ate half a banana and three Field Roast sausages. I'd made a cold-brew coffee in the Growler keg and infused it with nitrogen via a nitrous-oxide cartridge, which makes it foamy, smooth, and sweet. It's worth putting in a little tiny bit of time if it's gonna taste like that.
Having eaten restaurant food for two of the last three meals, I still felt full from yesterday. All the home cooking we did during the pandemic did not prepare me for restaurant food. So I packed up fixings for a proper lunch. By "proper," I mean sandwiches. I could eat only sandwiches my whole life. I packed a smart BLT: Smart Bacon, spinach, tomato, veggie mayo, avocado, and rye bread. I love this sandwich.
After three hours of reading my book into a mic by myself in a very small soundproof room, I ate this sandwich as well as some avocado-and-mango sushi from Beyond Sushi, heavy on the wasabi. I've now recorded four of my five books, and it is always a humbling experience because the engineer is attuned to all the noises of the body. It's not unusual to be stopped and asked to repeat a sentence because of "stomach sounds." I sit there frozen, willing my stomach not to digest. Or, worse, "mouth sounds." For this, I sipped on water with a splash of Liquid IV, a kind of electrolyte-and-sugar powder that I have decided will eliminate my humiliating mouth sounds.
Back at home, I ate the other half-banana. I used to be a competitive Masters runner in the city, and I got the idea that half a banana was all I needed as a quick energy snack before running. My superstition extends to swimming, the sport of middle-aged runners everywhere, which I now do a couple of times of week instead. I swam a mile or so, surely consuming my fair share of chlorinated water, and then returned to wolf down the leftovers from yesterday's and today's lunches plus a slice of my sourdough with Miyoko's butter and chunky sea salt.
We finished the audiobook, 17 hours' worth of me talking, so I had a celebratory gin and tonic. I also found and consumed a very small chocolate pudding in the fridge with a very small spoon. Usually, if something's in the fridge, I'm the person who put it there, so this was exciting.
Thursday, June 16
Amazingly, I made it out of the house without half a banana. Half an hour later, nearly faint with exhaustion, I stopped by Absolute Bagels and got an everything bagel. It was still warm, and I felt restored.
In the late morning, we drove upstate and stopped by a farm store near us, MX Morningstar, where the smell of the strawberries convinced Ammon to buy a quart at double-digit prices. I carefully carved each of their tops off in a way that pulls out the little white pithy part in the center, preserving as much of the fruit as possible. I learned this particular knife move when I worked as a server at the Garden restaurant in Philadelphia in college. I was the only female server, and I sensed the owner was not that keen on female servers as they dressed me just like the men, bow tie and vest and all. Other times, they just stuck me in the dessert room, tasked with making desserts all night. I missed the tips the waitstaff got, but it was pretty okay to be surrounded by white-chocolate mousse. The strawberry accompaniments had to be cut just so.
Lunch was an open-faced peanut butter and jelly sandwich on sourdough warmed in the toaster. Why did I ever stop eating PB&J? Somebody fed me some bad info about how it was just for kids or something.
By afternoon, I was starting to get sleepy, but I rallied and took Quid for a run in a nearby park. Afterward I met my fellas for some pickleball at the local high-school tennis courts. By the time we got home, we were all famished, but I had my eye on a portobello banh mi recipe, so we all had to wait.
I felt very enterprising doing some quick pickling of julienned radishes and carrots, marinating the portobellos, upping the sriracha. Dessert was a couple of off-brand Oreos and more strawberries, which were sweeter than the cookies.
Friday June 17
In the morning, I went out to check the peach tree that we (optimistically) planted last year. I went to grad school in Southern California, and I really miss the miracle of California fruit on backyard trees. My favorite fruit — favorite food — is a peach, and each summer I await the first peaches with a mixture of excitement and trepidation because a mealy peach is an insult to the mouth.
I just had my first peach of the year from Frog Hollow Farm in California, sent to me by my brother, who knows of my predilection. It was fantastic. Last week, our baby tree had dozens of furry little peach-marbles on it, but someone had gotten to most of them and there were only about five left. Unless we put the tree in a glass bubble, it's just our way of feeding the local raccoons.
Lunch was a sandwich, with a chickpea-salad kind of filling that I first had at Moby's Teany a thousand years ago: smash the chickpeas and add mayo, mustard, pickles, celery, and kelp flakes. I add slices of the most perfect avocados you will ever have, from Davocadoguy. We used to get seltzer delivered in the glass bottles; now we get avocados delivered. They are all flawless. I don't really understand how he does it. I imagine someone named Dave staring at each avocado intently and seeing inside its soul. Whatever he does, it works. I spent the rest of the afternoon recording a keynote that I'm giving at a remote conference.
For dinner, we made black-bean burgers from a Mark Bittman recipe, but we added walnuts to give it some oomph. I ate it with a lot of ketchup because, despite all appearances, I am apparently still 12 years old.
Saturday June 18
In the morning, I headed to a local park where Quid could run off leash, covering five times the distance I walk. Afterward, we stopped by the local farmers' market and I picked up some beautiful cremini and shiitake mushrooms. At Copake General, I bought some cold sesame peanut noodles — I'd intended to have a few forkfuls but just finished it off as breakfast.
When I was growing up, we consumed fruit in prodigious amounts. There was no "one orange": We ate many oranges. A pound of grapes at a sitting. Now I'm the only fruit-obsessive in the family, and I try to keep it together. I do eat two oranges and a half-mango in the afternoon.
For my podcast with the Freakonomics Radio network, Off Leash, I talked with Tejal Rao, the California restaurant critic for the New York Times, and her dog, Lulu, about dogs and smell and smelling dogs. Tejal lost (and regained) her sense of smell recently, which puts her among the very small group of humans who really appreciate smells — as, I think, dogs do. She also sends out a weekly newsletter with veggie recipes, which I remembered had a mushroom Bolognese sauce, so I spent a couple of hours in the afternoon lazily chopping and simmering ingredients for the sauce.
While I was cooking, I treated myself to a pendennis, a gin-apricot liqueur cocktail I was introduced to by Jesse Sheidlower at the Threesome Tollbooth. Ammon got me the various more obscure ingredients like the just-so bitters and eau-de-vie. Jesse is a true connoisseur, so I feel a little sad to admit I didn't make it with the required simple syrup. (Sorry, Jesse.) I used lime juice from the one lime on our lime plant! The one lime that spent the past three months earnestly growing. It was a little explosion of smell, and it found all the sore areas in my mouth. No regrets.
Ammon had bought a package of bucatini noodles, which he'd been trying to find for months, and we cooked up the whole container.
After a respectful pause, dessert was served: Brave Robot Raspberry White Truffle ice cream. This pretty amazing ice cream is made with milk protein but without using cows. Science!